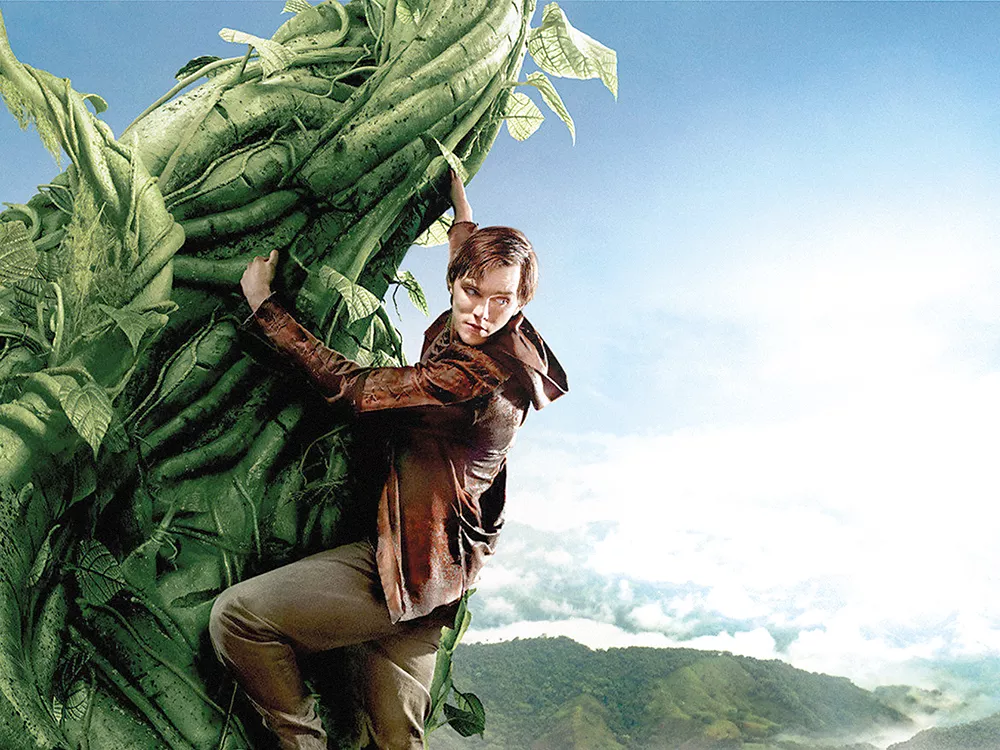 The first question that came to mind after watching this movie was why didn't they just call it Jack and the Beanstalk? After all, it's about a poor young lad whose mom sends him to town to sell their cow, but he instead trades it for some magic beans, which grow into a big beanstalk, which he climbs, and arrives at a place where he does battle with a giant. Well, OK, in this version he's selling his horse, and those magic beans (here referred to as "holy relics") have a history behind them, and they've added a damsel in distress, along with a population of giants up in the sky, not just one. But, c'mon, it's still Jack and the Beanstalk.
My second reaction was that it was engaging and exquisitely made. But that shouldn't have been a surprise. Director Bryan Singer has already done a handful of fine films, ranging from offbeat drama (The Usual Suspects, Valkyrie) to comic book adaptations (X-Men, Superman Returns), and he knows how to craft a solid movie. His move to the family film genre looks and feels just as good as everything he's done previously.
Yup, this is a family film, replete with heroes and villains and romance and fantastical adventures and, by the way, nasty giants who seem to have the most fun when biting off people's heads.
Wait, it's OK. It's a fairy tale. Fairy tales are often quite violent. But the violence here is done, for the most part, either in the distance or slightly off-camera. Honest, it's OK to bring the kids (I'd say age 7 and up).
The biggest difference between this story and the one we all grew up on is the addition of Princess Isabelle (Eleanor Tomlinson), the tomboyish, free-spirited daughter of King Brahmwell (Ian McShane), who is being forced to marry her off to the vile and ambitious Roderick (a joyously snarling Stanley Tucci). Upon running away from the castle, there's no wondering about who she'll bump into. Very soon, destiny brings her to the home of commoner Jack (Nicholas Hoult, currently in Warm Bodies), and then literally gets her tangled up in that infernal beanstalk and soon after, placed inside the cage of a giant. So there's your damsel-in-distress angle, one that's a bit of a stretch since this gal's so feisty, she likely could get herself out of any jam.
Singer and a trio of screenwriters have a good time mixing action and adventure with longings for freedom and a touch of angst. They have a little trouble when they also throw in some misguided attempts at physical humor, but the actors are all game at line delivery — some of it very funny — and a couple of them take the ball and run with it. Tucci, hidden under a Sheriff of Nottingham wig and behind an over-the-top British accent, is both dastardly and hilarious. But it's Bill Nighy, in one of those performance capture-CGI outings, who steals the show with both vigor and vinegar in his portrayal of the giant General Fallon. Part of the greatness of his character is that he's presented as a two-headed giant.
There are terrific visual effects all around, from the look and movement of the giants to the creation of this other world above the clouds. My favorite adaptation moment comes when it's revealed that four of General Fallon's comrades are named Fee, Fye, Foe, and Fumm.