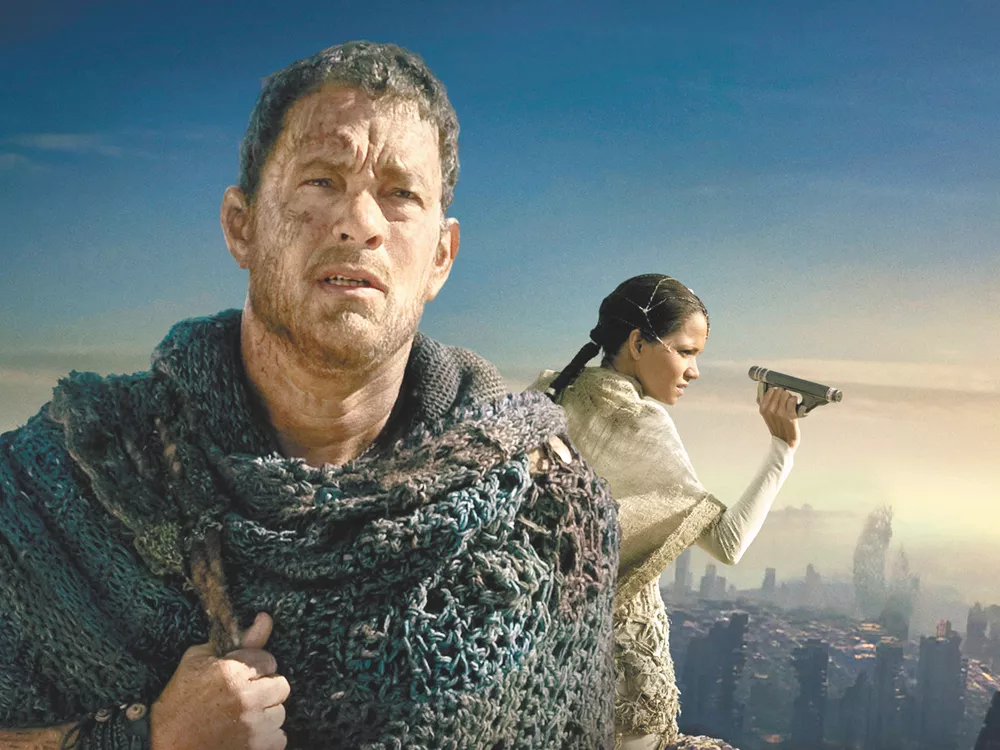 I've been doing this year-end honoring of the movies for a long time now, and I've decided that limiting the list to only 10 titles, then having to tag each of them with an absurd numerical value, is unfair to the movies.
To hell with a strict and straightforward list. Here instead are all my favorites, in alphabetical order. They're films that I intend to see at least twice, or in the case of Cloud Atlas, thrice.
ARBITRAGE — Richard Gere's best performance since The Hoax highlights this tense thriller about a hedge fund manager who suddenly has to deal with annoyances including a cash flow disruption and the accidental death of his mistress. It's a story of the world closing in on a guy who's always been above it all, and of loyalties morphing into mistrust.
THE AVENGERS — All of those Marvel Comics films from recent years meld into an action-packed and often wisecrackingly goofy celebration of good versus evil, under the multi-leveled direction and screenwriting of Joss Whedon. Starting with a Shakespearian-like sibling rivalry between Loki (Tom Hiddleston) and Thor (Chris Hemsworth), the film catapults itself into "mastery of the human race" territory, with good guys galore going up against armies of darkness. But a rich sense of humor permeates even the most dazzling visual effects.
THE BOURNE LEGACY — Nope, the series didn't die when director Paul Greengrass and star Matt Damon walked away. Directorial duties were taken over by Tony Gilroy, who wrote the first three entries, and the focus was shifted to another killer agent, Aaron Cross (Jeremy Renner) who is being hunted by the folks on his own side. The film features some regular Bourne tropes — running across rooftops, close-proximity fistfights — but ramps up the excitement way past that of its predecessors.
CHRONICLE — This low-budget sci-fier about a trio of teens who acquire superpowers, but use them, well, as if they were teens, features phenomenal visual effects, relaxed and believable acting from people I'd never seen before and inventive direction from first-timer Josh Trank. The plot is outlandish, but approached with the proper sense of wonder, it should make anyone watching feel like a kid again.
CLOUD ATLAS — You want me to pick one? Fine, I'll pick one. This, my favorite film of the year, is a knockout of substance and style. The dense and challenging David Mitchell novel gets a dazzling screen adaptation, courtesy of Andy and Lana Wachowski, and Tom Tykwer, telling six very different stories — all at once — and blending them into a philosophical mélange about the universality of the human spirit. It's at once a thriller, romance, dark comedy, historical drama and sci-fi epic, and one of the most ambitious films I've ever experienced.
THE DARK KNIGHT RISES — Visionary writer-director Christopher Nolan's trilogy comes to a ripping and extremely satisfactory end as Batman (Christian Bale) comes out of self-imposed retirement to take on vile and evil Bane (Tom Hardy). Both characters have a hell of a backstory that perfectly explains the pickle they now find themselves in. But surprise of surprises, it's Anne Hathaway as slinky, leather-clad Selina who regularly steals the show.
FLIGHT — What starts out as the most hellish airplane ride in movie history turns into an insightful character study of a man fighting a losing battle with the bottle. Denzel Washington doesn't do bad performances, and his string of great portrayals remains intact with his addled Whip Whitaker, who likes to down a couple of nips, snort a couple of lines and gulp some pure oxygen before climbing into the cockpit of his 767. Denzel owns the movie, but only when scenes aren't taken over by a candy man (John Goodman).
HOLY MOTORS — There's this guy named... well, his name doesn't matter and, actually, there's more than one guy. He's (they're all) played by French actor Deny Lavant, a small, wiry fellow who's got a hell of a face, and has for a few decades starred in films, including this one, by director Leos Caras. Lavant's characters go out each morning on "assignments," in various disguises, acting out other peoples' whims... or something.
THE IMPOSSIBLE — The deadly tsunami that hit the Philippines in 2004 kicks off this tale of a vacationing family trying to survive its wrath. Like Flight, the destruction is right at the beginning of the film, while the rest of it deals with physical and emotional consequences. Naomi Watts and Ewan McGregor are the parents trying to hold themselves and their kids together, after they've all been torn apart. It might not make it to Spokane before the end of 2012, but when it does, put it on your must-see list.
LINCOLN — Impatient critics have labeled Steven Spielberg's hunk of history too talky and too long. Obviously they're not listening to the words, and their underwear is on too tight. Spielberg and writer Tony Kushner give us a fascinating look at the last few months of Lincoln's life, when he was trying to end the War Between the States and pass the Emancipation Proclamation. Daniel Day-Lewis gives Lincoln a world-weary look and posture, but practically walks on air when he gets into storytelling mode.
SEVEN PSYCHOPATHS — No title has ever better described what a movie is about. And the folks featured here — Colin Farrell, Sam Rockwell, Woody Harrelson, Tom Waits, Christopher Walken, among them — fit the bill, with big guns or bad tempers or thirsts for booze that can't be quenched. Oddly, among all of the violence, this thing is damn funny. Just like writer-director Martin McDonagh's previous black comedy In Bruges.
SKYFALL — It's unofficially referred to as "Bond 23," but aficionados are calling it No. 1, as in the best of the Bond bunch (with the exception, of course, of everybody's real favorite, Goldfinger). Daniel Craig broods and brawls his way through this Sam Mendes-directed entry, which zooms in on a number of relationships: Bond and M (Judi Dench), M and the villainous Silva (Javier Bardem, curiously looking like Charlie Watts); Bond and the new Q (Ben Whishaw).
ZERO DARK THIRTY — Another one that is coming to town a little late is Kathryn Bigelow's tense, exciting story of the CIA's hunt for Osama bin Laden, which is about a lot more than that twisting, turning, oftentimes dead-ended pursuit. It's just as much about the real person — here called Maya (Jessica Chastain) — who dedicated her career to that goal. Confession: It's my second favorite film of the year.