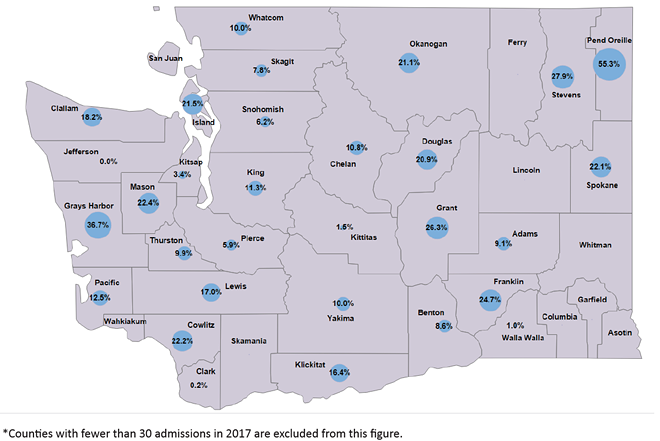 S
tate lawmakers in Olympia seem poised to pass
a bill that would practically ban the practice of incarcerating juveniles who commit noncriminal "status offenses," such as not going to school or running away from foster homes.
Currently, juvenile courts can legally incarcerate minors for truancy — defined as missing more than five days of school in a month or 10 or more days in a year unexcused — when petitioned by schools. Parents and legal guardians of kids or the state Department of Children, Youth and Families can also petition courts to jail minors when they run away from home or foster care placements and are deemed to be "at-risk."
Jailing juveniles for truancy or running away is common practice across the state. According to a report from the Washington State Center for Court Research, 28 of the states 39 counties logged at least 30 instances where youth were detained for status offenses in 2017. In Spokane County, status offense bookings accounted for roughly 22 percent of all admissions to juvenile detention.
"We know that detention causes trauma and exacerbates trauma," says Liz Trautman, director of public policy and advocacy for the Mockingbird Society, an interest group advocating for homeless youth that has lobbied for the bill. "It's not very effective way of changing behavior."
The legislation,
Senate Bill 5290
, would effectively walk these laws back, by banning the use of detention as a court sanction when kids are truant or run away from foster homes home by July 1 2019. By July 2022, courts won't be able to jail youth when their parents file at-risk youth (ARY) petitions — which are typically filed when kids are absent from home for at least 72 hours without parental consent or are otherwise beyond the parent's control — unless specific criteria are met, such as seeking input from the relevant parties and considering less restrictive alternatives.
Trautman says that the legislation would force courts to consider other existing services and placement options for truant and runaway youth in lieu of incarceration — such as counseling or residential or nonresidential drug treatment programs.
"These alternative sanctions have been in place for several years and the only change that this legislation makes is to remove juvenile detention as one of the [court] sanctions," she says.
The bill has been passed by lawmakers in both the state Senate and House and has been kicked back over to the Senate for final consideration of some additional changes before it can be sent to Gov. Jay Inslee's desk to get signed into law. They have until the last day of the legislative session on April 28 to do so.