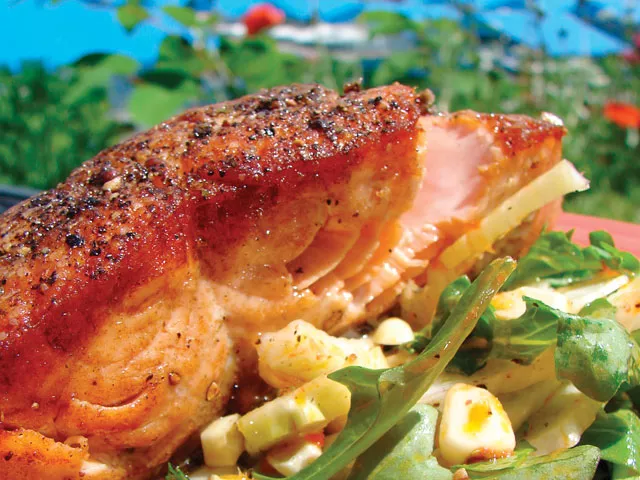 The sign taped to the distinctive glass panel garage doors makes the announcement in crayon letters: "ITALIA TRATTORIA OPENING SOON." Inside, behind temporary curtains, chef Anna Vogel and her partner Bethe Bowman are hard at work transforming the Café Marron space into a warm and comfortable trattoria that will serve great Italian food.
Rumors have been flying for some time about a possible sale of Café Marron, and now that the dust has settled it appears to have been a game of culinary musical chairs — with some potentially wonderful results for diners. Vogel stepped out of her position as chef at Luna to open Italia with Bowman. (Marcia and William Bond have operated Marron for five years and still own Luna.) Marron's most recent chef, Nicholas St. Clair, took his position at Marron there after working as Vogel's sous chef, and the gap left by Vogel at Luna has already been filled by Brian Hutchins, who served as chef at Luna back in the late '90s.
Both Vogel and Bowman are excited about Browne's Addition. "It is a great location for Italia," Bowman says, "accessible from both the north and south." Yet spend any time with the two of them and you realize that the ideal neighborhood setting will merely play a strong supporting role. "Anna's food is the main reason to come here," Bowman says with a grin. "We want to showcase the food."
Expect to find great dishes from both northern and southern Italy, along with specialties from less celebrated regions like Sardinia and some creative seafood entrees. After a number of positions around the world cooking more eclectic bistro food, Vogel is looking forward to her first opportunity to focus on a single national cuisine.
The vision at Italia is a welcoming neighborhood restaurant serving great Italian food — with much of it sourced locally — at an affordable price. Vogel and Bowman want diners to make Italia a regular spot for lunch, dinner and weekend brunches. To help make this possible, they plan to price lunch entrees under $15 and dinner entrees under $20. And turnover will be quick: Marron will be transformed to Italia by mid-July.
A quick transition like that is just fine with me. I'm looking forward to my first bowl of Vogel's spaghetti and meatballs. (KEVIN FINCH)
FANCY BOAT-IN DINING

Gremolata, Kurobuta, peperonata. Bring your Food Lover's Companion when dining at Sandpoint's Bistro (at the) Inn at Sand Creek. Or ask Bob Kessler, a walking encyclopedia who opened the restaurant this spring with wife, Mila Halperin.
Kurobuta, Kessler explains, is high-grade pork, similar to Japanese Kobe beef. The cheek — used in their pork tacos ($9) — is extremely tender. Humboldt Fog? Served with sautéed wild mushrooms ($12), it's California goat cheese with a layer of edible ash, explains Kessler, who relishes the context and history of every item on the menu, which he co-designed with chefs Jason Clarke and Luke Mason.
Food knowledge and passion were the foundation of Kessler's and Halperin's former venture, Hope Market Café, a community hub of sorts in Hope, Idaho, that hosted music and other events inside its shared space with Outskirts Gallery.
Kessler still retails wine from the Bistro, which boasts a six-page list of wine and beer housed in the cellar of this turn-of-the-century bank building. Although the Bistro has a full liquor license, said Kessler, the emphasis is on the dining experience.
That experience, for summer especially, is outside overlooking Sand Creek, including secluded spots tucked into the hillside (boat-in dining available). It's bright inside, with well-spaced tables in both halves of the elegant yet rustic space. (Remember their fireplace area for winter.)
The menu is a seasonal travel guide, starting with Kung Pao egg rolls and macadamia-peanut sauce ($13) or hummus with feta cheese gremolata (garlic, parsley, lemon), cucumber-tomato salad and Indian naan bread ($11). For lunch, try the Tuscan chicken sandwich with mozzarella, tomatoes, arugula lettuce, pesto and pain rustique bread ($15), served with caper and bacon fingerling potato salad, truffle-salted fries, or mixed baby greens. For dinner, there's wild Pacific salmon with peperonata (sweet peppers, garlic, onion), Israeli couscous grains, and rosemary crme fraiche ($28).
Or book a room at the Inn (upstairs) and wake up to Lake Pend Oreille with stout Umbria coffee or mimosas, followed by Sunday brunch with cinnamon French toast with applewood-smoked bacon ($9) or the eggs Benedict with prosciutto ham, farm eggs, fingerling potato hash and fresh fruit ($13). You won't need a guidebook to tell you you're in heaven. (CARRIE SCOZZARO)
Bistro at the Inn at Sand Creek, 105 S. First Ave., Sandpoint, Idaho, is open Wed 4 pm-9:30 pm, Thu-Sat 1 pm-9:30 pm, Sun brunch (call). Reservations recommended. Visit innatsandcreek.com or call (208) 265-2277.