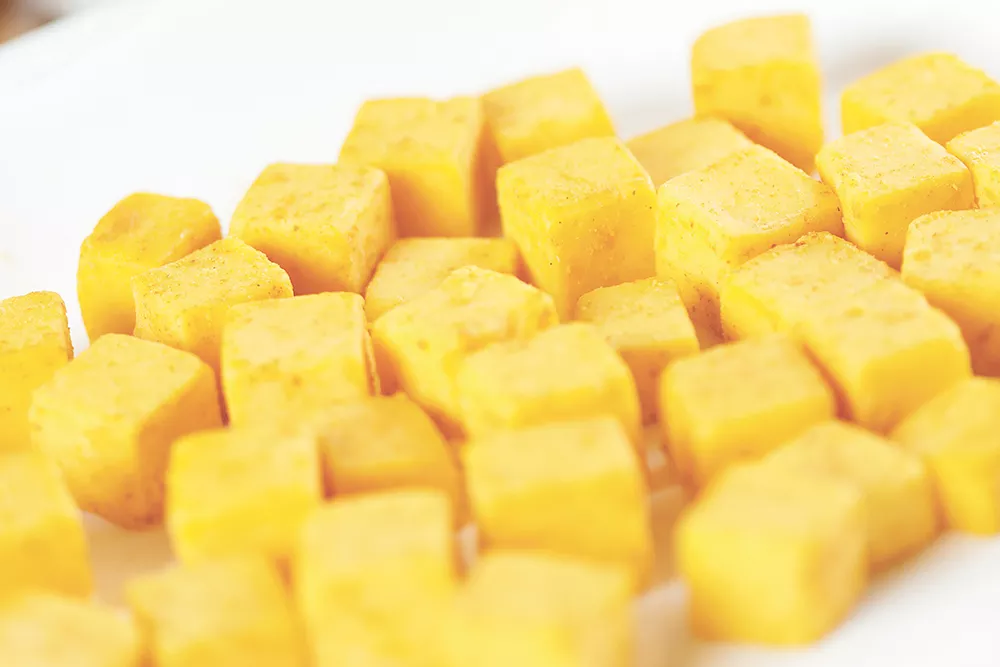 The ghost pepper boasts a rating of 1 million heat units on the Scoville scale. The Indian pepper, also known as bhut jolokia, held the "world's hottest pepper" title until it was bumped down the list by even hotter hybrid peppers. But still, it's 125 times hotter than a jalapeño.
That's why when Johnny Parkins uses ghost pepper to flavor his Ghost Pepper Cheese Bites, he uses a drug scale to measure out small bits of the fine powder.
"It's a really good, sharp cheddar cheese and just the right amount of ghost pepper to almost be too hot," Johnny says.
Ghost Pepper Cheese Bites are the first product from Northwest Cheesecrafters, the business Johnny and his wife, Sharon, created about a year ago at their home in Palouse. The idea to start the business came as a natural extension of Johnny's day job as production supervisor at the Washington State University Creamery, or as most people refer to him, the head cheesemaker.
Four years ago, Johnny and the assistant manager of Ferdinand's, WSU's ice cream shop, worked together on developing cheese flavors.
"We got every pepper known to man and tested them, and we came up with the ghost pepper flavor and we just loved it," says Johnny.
But because of the pepper's volatile nature, they decided they couldn't make a big production batch and have the ghost pepper flying off the creamery's big, shiny machinery and into students' lungs. Instead, they made a limited production which sold remarkably well out of Ferdinand's.
"So I looked at it and thought, 'Whoa, I could go sell [it],' because I'm always looking for things to do so I can stay home with Sharon and work at home, you know, the American dream," he says.
After meeting with WSU's Innovation Assessment Center to see if the school wanted any proprietary interest (they didn't), Johnny got the go-ahead to sell his own cheese product, similar to but different from the ghost pepper cheese he came up with at the school.
Although he's adept at the pasteurizing, heating, setting, chopping, pumping, stretching, salting, shoveling, wrapping, pressing and slicing of the cheesemaking process from his time teaching and helping students make the 1,600 pounds of cheese that comes out of the WSU creamery daily — including the ever-popular Cougar Gold and about 10 other flavors — Johnny works as what the dairy industry calls a cheese converter when he does his own cheese.
He buys aged sharp cheddar in bulk from a small Northwest company and gets his ground, oven-dried ghost pepper from a company in Texas, which gets it from India. Working down in a certified clean room that he hand-dug and built under his house, he thoroughly sanitizes and dons rubber boots, a lab coat, hair net and gloves to make his cheese snack.
"I cube it up and I season it up. I bag it up and I seal it. And that's what I do," he says.
One of his favorite parts is searching for cheeses, examining flavor profiles and judiciously selecting the kind he wants.
"One of the neat things about what I do, and how I do it, is there's a whole world of commercial cheese I get to taste," says Johnny.
When he chose a pepper to flavor the cheese, he wasn't looking for something "stupid hot," but rather something to complement the taste of the cheese without overwhelming it. But a spicy warning still comes on the package.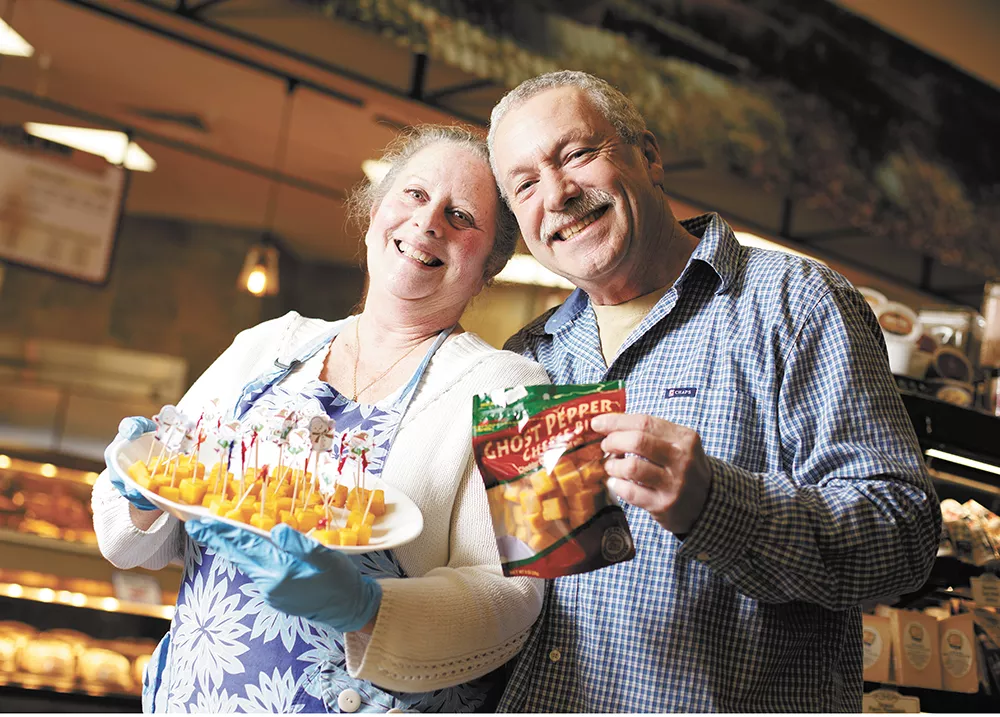 For Sharon, it's too hot to snack on alone, but she likes to incorporate Ghost Pepper Cheese Bites into dishes like scrambled eggs, bean dip, mac and cheese, or on top of a burger.
"It's not like jalapeño hot, where all you get is the burn," she says. "It has a really good flavor, so it gives you the hotness for just a little bit."
But if you're not used to hot stuff, it's intense, says Johnny.
"You can feel that, and your sinuses will loosen up and you may start sweating a little bit," he says. "Then you start thinking 'Is this ever going to stop?', but it keeps climbing through your head and then pops out the top, and it makes what I call a cerebral halo of ghost pepper flavor. And then you know it's going to be OK because it sort of popped out."
The two have plans for other cheeses beyond the ghost pepper flavor, which can be found in stores including McLeod's Palouse Market, the Moscow Food Co-op, Dissmore's IGA in Pullman and Rosauers in Moscow and Spokane. Next up? Likely an applewood smoked cheese. The couple plans to launch a Kickstarter campaign soon to help them get there, and on to making other cheeses. ♦
Northwest Cheesecrafters • nwcheesecrafters.com