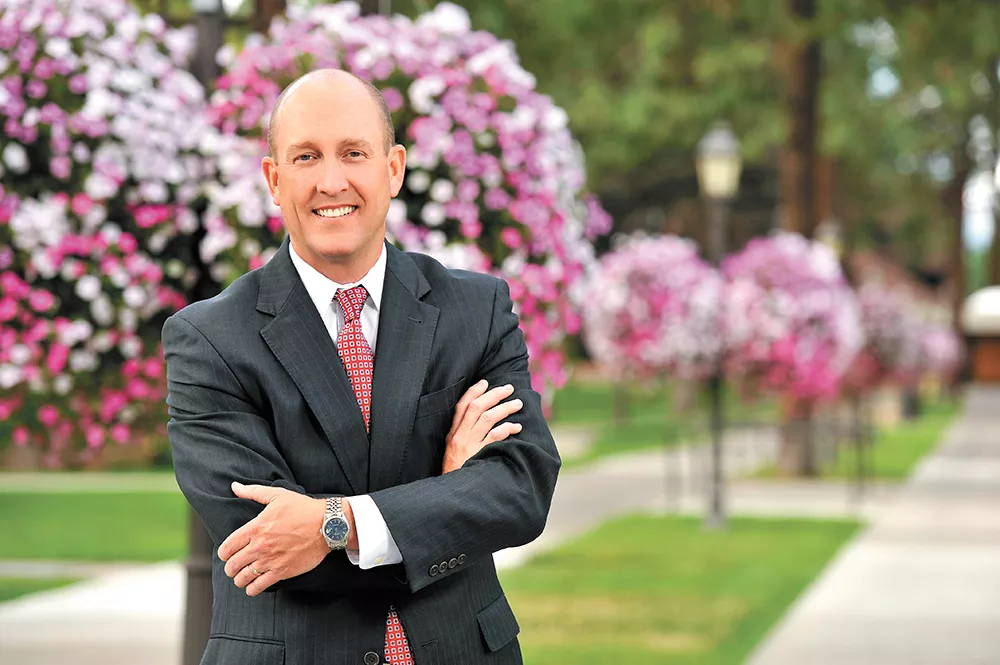 Last fall, when Beck Taylor learned that Whitworth University had a formal relationship with Planned Parenthood, he already knew he was in a no-win situation.
Taylor, Whitworth's president, could either keep the affiliation with the country's largest provider of abortion and other reproductive health services — an affiliation that allowed students to intern or volunteer with Planned Parenthood for credit — and upset pro-life students, alumni and stakeholders. Or he could end the relationship altogether, and upset those on the other side.
In April, he chose to end it. And even though it would have a small direct impact on Whitworth students — only a few in the course of five years had interned with Planned Parenthood, he says — news of the decision blew up, making national headlines, including Fox News.
Taylor was praised and criticized, celebrated and condemned.
For Taylor, those difficult decisions have become a routine, and are representative of what it's like to be the leader of a university, particularly a Christian school.
"We live in an age where many people want the institutions that they frequent — whether they be businesses, or churches, or newspapers, or higher education institutions — they want those institutions often to align perfectly with their own set of beliefs and ideas," Taylor says. "And that's impossible."
On any given day, Taylor finds himself hearing from "a chorus of voices" from both the right and the left, angry about some decision he made and threatening to withhold donations, even though they've often never donated to the university before. While the right may be pleased that the university cut ties with Planned Parenthood, the left may be pleased with Taylor expressing his support for undocumented and international students following President Trump's so-called "Muslim Ban," intended to prevent people from entering the U.S. from select Muslim-majority countries.
With increasing activism on college campuses across the country, the role of the university president has become especially politicized. Presidents are asked to navigate a narrow road between supporting their own students and upholding the values of the institution, with the goal of fostering a thoughtful discussion of ideas for all. When that's combined with religion, like at Whitworth, affiliated with the Presbyterian Church, it heightens expectations when it comes to the most contentious issues, putting religiously affiliated colleges in a unique position.
"It raises the stakes for people," Taylor says. "What do they say — never talk about politics or religion? Well, that's all we talk about here."
THE TERMS OF DEBATE
While activism on college campuses is nothing new, Taylor can easily identify when the level of activism really increased at Whitworth. It was just after the controversial police shooting of Michael Brown in Ferguson, Missouri, in August 2014.
For Taylor, the level of activism is not a concern. In fact, in December 2014, he participated in a "die-in," in which he and students and faculty lay on the ground, hoping to bring awareness to racial inequality. His concern is that across higher education, activism is being "lived out in ways, frankly, that I think are antithetical to liberal education."
Nancy Thomas, who studies higher education's role in democracy as director of the Institute for Democracy & Higher Education, says that since the most recent presidential election cycle, activism has gone "way up." The difference, more recently, is that there's more activism on behalf of conservative principles, Thomas says.
That has set up a robust national discussion about how college administrations should respond to campus protests or controversial speakers while still balancing student freedoms and creating constructive dialogue.
Private, religious colleges are positioned differently for this balancing act than other colleges. They don't have to follow First Amendment freedoms — such as free speech and freedom of the press — like public colleges do. The colleges may believe in those principles, but they don't have to follow them in the same way, Thomas says.
"I would say they have more leeway to quash it — they're not as constrained by the First Amendment," she says.
But that doesn't mean they don't face the same, or more, outside political pressure to uphold those values. Ask Thayne McCulloh, president of Gonzaga University, how it works out when the university tries to prevent a guest speaker's speech from being open to the public. Last year, a group of students invited Dinesh D'Souza, a controversial conservative author and a convicted felon, to speak at Gonzaga, but the university initially closed the speech to the public. After backlash from people locally and across the country, Gonzaga reversed course and opened it to the public.
"A lot of the issues that occur in the context of a campus become about a lot of other things, in the minds of people who hear about them, but might not be a part of that community," McCulloh says. "So I got some grief from some people who have very little everyday connection with Gonzaga, or with Spokane, to be honest."
Making those decisions becomes about determining the "terms and conditions" under which to engage the campus community in certain issues, McCulloh says. When it came to letting the public see D'Souza, McCulloh says it became characterized as a political decision. But in reality, he says it was more of an academic decision for the university — opening the event to the public creates a different learning environment for students than if it were a closed event.
That's the part that gets lost in the debate about free speech, says Thomas. Colleges still should have a level of academic freedom. If somebody says they believe the earth is flat, people shouldn't expect the institution to provide a venue and security services for that person to speak.
"And some of these speakers come with a lot of baggage — they're flamethrowers. They come with the intent of stirring things up," she says.
Taylor uses a vocabulary similar to McCulloh's when explaining why Whitworth cut ties with Planned Parenthood, saying the decision was about "setting the conditions" for a conversation about the issue. He says his first thought when he heard about the ties to Planned Parenthood was that it was "a step too far in one direction" as the university tries to host constructive dialogue on the issue. In other words, he thought it gave the appearance that Whitworth supported Planned Parenthood.
"I really did feel like having that relationship with an organization that is so politically charged and, frankly, is the largest single abortion provider in our country, did give that position too much power in the larger conversation we're trying to have," he says.
On these issues, Thomas says that religious institutions may get even more pressure than other colleges. In private religious colleges, there's already a perception that they censor student freedom, and that perception can ignite into outrage with one decision. Overall, Thomas advocates that presidents make decisions that set conditions for debate without relying on their own political opinions.
But for that reason, she questions Whitworth's decision to cut ties with Planned Parenthood.
"I think it's crazy to shut down internships with Planned Parenthood, because Planned Parenthood does a lot of good things," Thomas says. "I'm not sure Whitworth didn't have a right to do it — they're just gonna take a lot of flak for doing it."
'THE THIRD WAY'
Taylor is not too concerned with whether or not people are upset with his decisions. Instead of thinking in terms of left and right, he says his ultimate goal is to support students and advance the mission and values of the university.
"Leading a university is not a popularity contest," he says. "Again, my job is to ensure Whitworth remains faithful to its mission. And some days that's going to upset conservatives, and some days that's going to upset liberals."
The desire to support students is what leads him to speak out for undocumented and international students on campus. Having more students from other countries, and having more diversity, enriches the educational experience for all, he says.
Other students on campus are lesbian, gay, bisexual or transgender. Whitworth, he says, hasn't taken a "formal position" on the issue of human sexuality in the last couple of decades, but he says the campus is supportive of LGBT students.
"We welcome those students," Taylor says. "And I think while certainly those students want to advocate for issues that are important for them, I think many of those students would say they've received fair treatment here, if not a welcoming space."
As the job itself seemingly becomes more politicized, Taylor says he knows he will be accused of politicizing issues further simply by taking these positions for the university. But that's further from the truth, he says. His focus is on finding the "third way," by following the teachings of Jesus and pursuing "grace and truth" as a university.
"I know I have disappointed people with a lot of decisions I've made," Taylor says. "But at the end of the day, I sleep pretty well. I really do." ♦