Salt is an essential element for all animal life, including humans, who long ago realized the naturally occurring substance was an effective preservative and flavor enhancer.
In addition to the ubiquitous table salt and all its variants, so-called Himalayan salt is the only type that has evolved as a tool for cooking.
WHAT IS IT?

Himalayan salt hails from an ancient mine in the Punjab region of northern Pakistan, which, according to local lore, was discovered by Alexander the Great. But it wasn't until the 18th century that the conquering Brits struck gold, so to speak, bringing modern methods of excavation and collection to the site.
In the 20th century, marketing did its part to elevate Himalayan salt, first in the 1980s, when chunks of the dense, pinkish material that resembles alabaster marble were hollowed out to create supposedly health-yielding salt lamps. That, says semelier, or salt expert, Mark Bitterman, may have led to the idea of cooking directly on a salt slab. Bitterman, the James Beard Foundation award-winning author of Salted, championed salt block cooking in his 2013 book.
WHY SALT BLOCKS?

In addition to being visually appealing, Coeur d'Alene chef Lesa Lebeau says salt blocks can be a good tool to reduce added sodium. And she really likes the taste.
"It almost has an umami flavor," the chef says.
Lebeau graduated from the Academy of Culinary Education in Los Angeles, eventually working with Wolfgang Puck and cooking for a plethora of celebrities before relocating to Coeur d'Alene four years ago. She now teaches classes at the Culinary Stone, including one on salt block cooking.
Trace minerals in the salt — potassium, magnesium, calcium — are responsible for the block's flavor, while iron oxide gives Himalayan salt its unique pinkish color.
Even though most salts only contain about 40 percent sodium overall, total daily intake of sodium, versus the salt itself, is still recommended to be no more than a teaspoon of salt of any kind or source daily.
Yet with salt block cooking, says Lebeau, you don't need to add any seasoning. "If you do, use seasoning that is void of any sodium," she says. "I started the class because people get these as gifts and don't know how to use them."
HOW TO USE THEM

Salt blocks can be used hot or cold, says Lebeau. When preparing a steak or tenderloin Lebeau puts her salt block into a cold oven, turns it up to 450 degrees and lets the slab get really hot. Once she removes the hot block from the oven and places it on a trivet or towel, she "cooks" the room-temperature steak on the scorching salt block. For a rare prep, the meat may only need two minutes per side, depending on thickness, and four to six minutes for medium to well.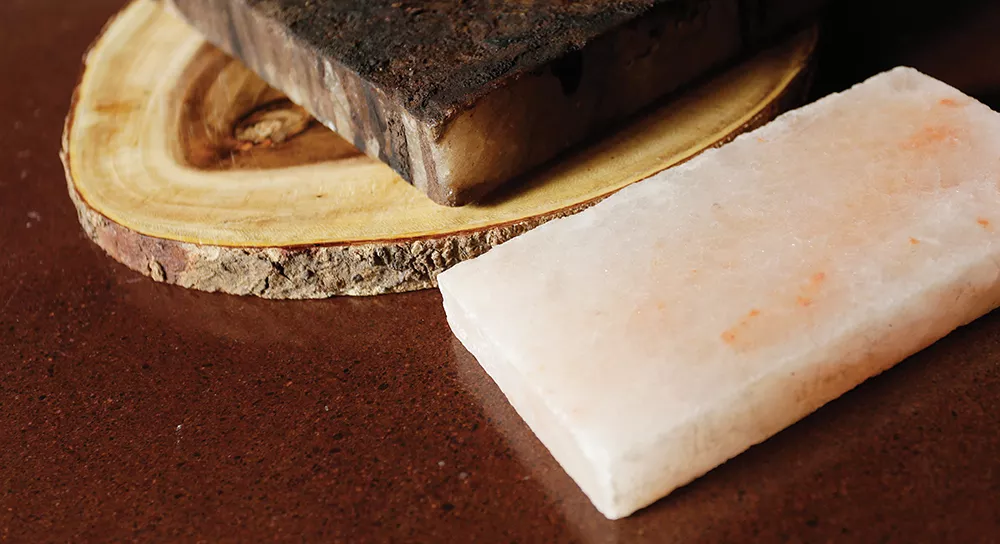 Because they're so dense, salt blocks hold their temperature a long time, allowing for very fast cooking, which is ideal for searing meat and vegetables, as well as seafood like prawns, which Lebeau typically cooks shell-on to diffuse saltiness.
Lebeau only leaves the food on the block a short period; the longer it remains on the block, the more the block sweats and the saltier the food tastes. Accumulated liquid can also erode the block's surface faster.
To clean a salt block, let it cool first, wipe it clean (scrape the surface if there's residual cooking material) let it dry thoroughly, wrap in a towel and store in a cool, dry place. Salt blocks are naturally anti-microbial and virtually germ-free.
A longer version of this story ran in the Jan., 10, 2019, issue of the Inlander.