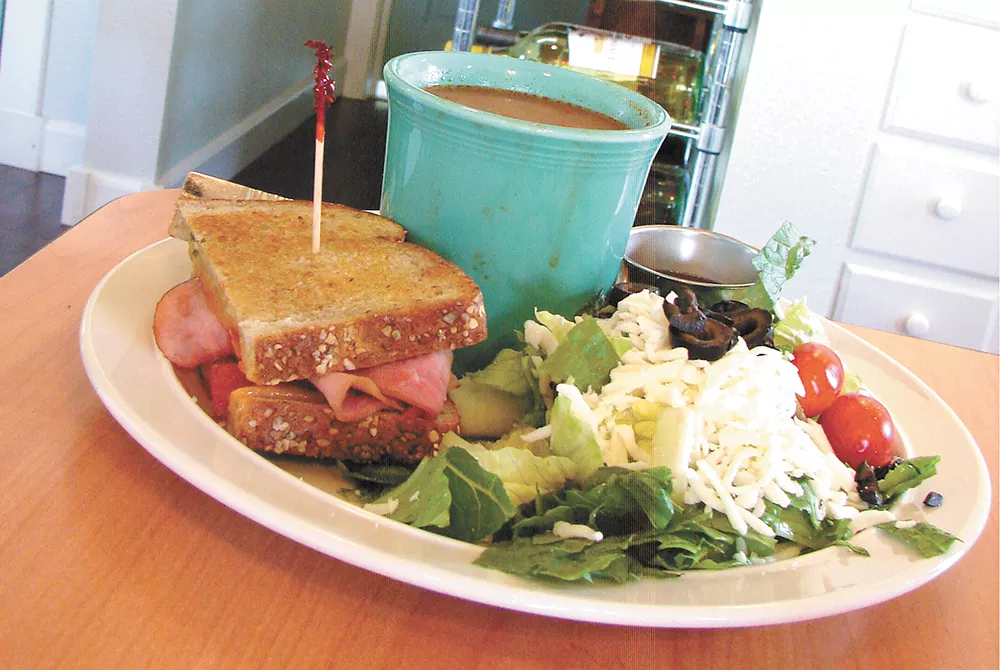 The pace may have slowed down a bit for State Line Speedway's former owners, Joe and Cindy Doellefeld, but not by much. Not since they opened Tilly's restaurant on Seventh Avenue in Post Falls.
After 24 years running the Speedway, the Doellefelds drew on a variety of past experiences to develop Tilly's. Their restaurant experience came from running the Speedway Diner, also located in Post Falls, which the new owner renamed the Saddle Sore Inn. Joe has marketing experience as former manager of a radio station in the Seattle-Tacoma area, and past president of the Post Falls Chamber of Commerce.
"People like to see the people who own it running it," says Joe, a tall, easygoing fellow who directs traffic in the dining room while Cindy is the driving force in the kitchen.
Tilly's might sound Irish — it was named in part for a place the Doellefelds saw while visiting Ireland — but its theme is Americana. Located in a converted turn-of-the-century, Victorian-style home, the place is bedecked with antique signs, automotive ephemera and assorted kitchen items like a string of colorful, vintage aprons. Whimsical touches include an oversized cloth chicken sitting in a seafoam-green high chair and a display of local artwork and cards.
A large blackboard announces the daily special, typically a half-sandwich, soup and salad like the grilled Italian ham-and-cheese with zesty marinara, salad (with choice of homemade dressing) and from-scratch vegetable barley soup ($7.50).
Standard sandwiches include the grilled roast beef and meatball ($7.95) or deli sandwich on oat nut bread with choice of meat and cheese ($6.25/$7.95). Try their Hearts of Palm salad ($8.50) or share the nachos ($7.50).
Beer and wine, as well as a small kids' menu ($3.75) are also available.
After your meal, don't be surprised when a chocolate chip cookie arrives fresh from the oven. It's just one of the many touches the Doellefelds have added to create a welcoming environment.♦
Tilly's on Seventh • 212 E. Seventh Ave., Post Falls • Open Mon-Fri, 11 am-3 pm; Fri-Sat, 11 am-10 pm • Facebook: Tilly's on Seventh • 208-262-9940