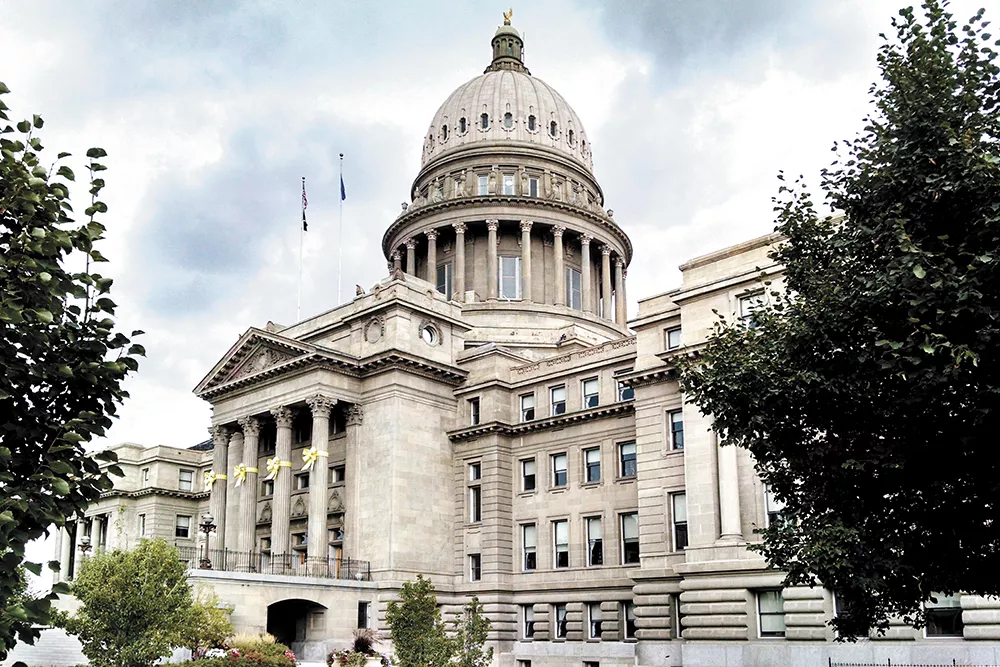 After over 60 percent of Idaho voters approved Proposition 2, a ballot initiative that expands Medicaid coverage to thousands across the state, lawmakers in Boise are pushing legislation that would make it harder to put initiatives before voters. And it's gaining steam.
The original proposal was cleared by the House and Senate, and now, after substantial public backlash, lawmakers are pushing a slightly amended version. But critics still argue that the continued effort to make it harder to put measures on the ballot amounts to nothing less than a subversion of democracy and the state Constitution, which codifies the ballot initiative process.
"Some of these legislators prefer to monopolize law-making power because they think they are the only ones who are qualified to make laws," Luke Mayville, co-founder of Reclaim Idaho, the group that originally pushed Prop 2, tells the Inlander. "Lobbyists and special interests groups want to concentrate power in the Legislature because they know it's far easier to sway 105 legislators than it is to sway hundreds of thousands of voters."
They're also calling on Republican Gov. Brad Little to veto the proposal if it gets to his desk. Little's press secretary declined to comment on the governor's position on the "pending legislation."
Back in March, Sen. C. Scott Grow (R-Eagle), proposed Senate Bill 1159, which would speed up the timeline for gathering signatures to put an initiative before voters. Currently, initiative backers are required to obtain signatures from 6 percent of voters in 18 legislative districts within the 18 months before a given election. Senate Bill 1159, however, would ramp that requirement up to gathering support from 10 percent of voters in 32 districts 180 days.
Grow has argued that the changes are intended to increase rural voters' influence on ballot initiatives and ensure that the state is governed as a republic rather than a direct democracy.
"Running a state government by voter initiative defeats the basic fundamental premise of the Constitution," Grow recently told the Inlander. "We elect representatives and we trust them with the responsibility."
But critics, like Mayville, say it's just a cover for lawmakers and special interests who don't want to cede power to voters.
"The proponents of these bills are claiming that they want to increase the participation of rural voters. The fact is that they are going to cut all Idaho citizens out of their ballot initiative process," Mayville says.
Mayville says that, if Senate Bill 1159 had been in effect when his organization was pushing to get Prop 2 on the ballot, it likely would have killed their efforts.
"I personally would never have thought it was possible to do it in the first place," he says. "Our team would not have launched the Medicaid expansion campaign to begin with."
Last year, the Medicaid expansion initiative qualified for the ballot in 21 districts. But under Grow's legislation, the measure would have passed muster in just 10 districts, 22 short of the new standard under his bill, according to the Idaho Statesman.
After heated debate, Senate Bill 1159 passed the state Senate by one vote, before getting kicked over to the House of Representatives. Lawmakers in that chamber passed it as well as an alternative version, House Bill 296. This measure reduces the new initiative qualification standards slightly by requiring signatures from 10 percent of voters in roughly 24 districts within nine months of an election.
Mayville says the amended House bill is just as bad as the original Senate version: "[It's] tantamount to saying 'here's a 40-foot wall, we're challenging you to jump over that,'" he says. "And then when we respond and say 'that's impossible,' they come back and say 'OK, now we've compromised. Here's a 30 foot wall.'"
Both proposals go back over to the Senate. If both are passed, they both go to Gov. Brad Little's desk. If the alternate doesn't pass the Senate, then only the original proposal, Senate Bill 1159, will go before the governor, per the Idaho Statesman.
Marissa Morrison, a spokeswoman for Little, declined to comment on either of the bills or the governor's thoughts on potentially vetoing the controversial proposals. "We, as is policy, do not issue statements on pending legislation during this deliberative process," Morrison tells the Inlander. "He has no public comment on this time."
His office has received significant constituent correspondence regarding the legislation — the vast majority of which opposes the bills, Morrison says. As of March 29, the governor had received 1,379 phone calls and 1,123 emails and letters regarding the proposals. Of the roughly 2,500 messages that the office has received, just nine supported the measure.
"There is close to zero support in the public for these bills," Mayville says.
He went on to call on Gov. Little to veto the legislation.
"Little campaigned on a promise of restoring trust in Idaho government," he says. "This a perfect opportunity for him to honor his campaign promise and veto these bills." ♦