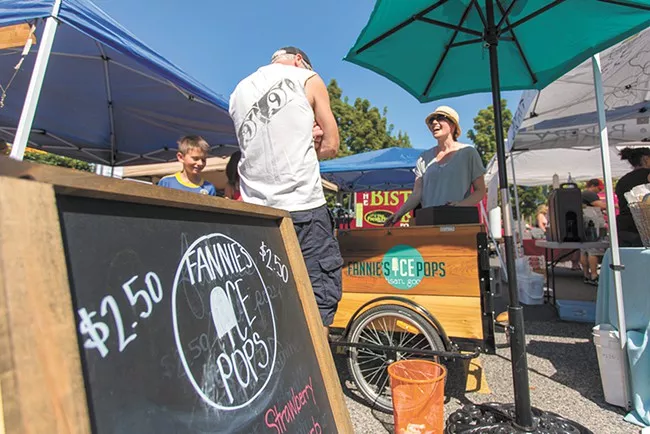 On a smoldering evening at the Thursday Market in the South Perry District, the line at Fannie's Ice Pops snakes around the corner. Under a parasol, Mandolyn Hume shares smiles as she peddles her refreshing, innovatively flavored ice pops. Eager, patient marketgoers step up to Hume's custom-made icicle tricycle and choose from diverse flavor combinations such as strawberry-balsamic vinegar, rhubarb-mint, cucumber-apple-lime-mint, cherry-almond, cherry-lime and strawberry lemonade.
Hume's ice pops are straightforward and pure: blended fruit is combined with organic evaporated cane juice, spices, herb-infused simple syrups and water, then frozen and packaged. There are no artificial flavors or colors, and Hume uses organic produce whenever possible.
"I make 10 pops at a time before I commit to 100. I scour the Internet for flavor combinations," says Hume.
Once a special education preschool teacher, Hume decided to reevaluate her career after she began a family of her own. A self-proclaimed food obsessive, Hume began making ice pops at home to test her skills in frozen confections.
"I've always been interested and oriented around foods and flavors that work together. I toy around with restaurant ideas all the time. This was a nice, low-overhead way to play with flavors without having the evening [restaurant] hours that are hard on my family," says Hume.
Hume's business model — and her company's name — was inspired by her great grandmother, Fannie, a farmer from Oregon's Willamette Valley. Fannie's Ice Pops honors the tradition of using seasonal, local produce in its purest form.
A frozen fudge bar for chocolate enthusiasts also is in the works.
"I'm hoping to find local chocolate people that I could use. Summer is fruit, seasonal and great, but sometimes you just want a good old-fashioned fudge bar," laughs Hume.
Devotees of Fannie's Ice Pops can find Hume and her tricycle of frozen treats at local and regional farmers markets and community events. Future plans include boxed ice pops at local groceries.
"Seeing people come back because they enjoyed an ice pop the first time is really amazing," says Hume.♦
Fannie's Ice Pops • See facebook.com/fanniesicepops for the cart's location.