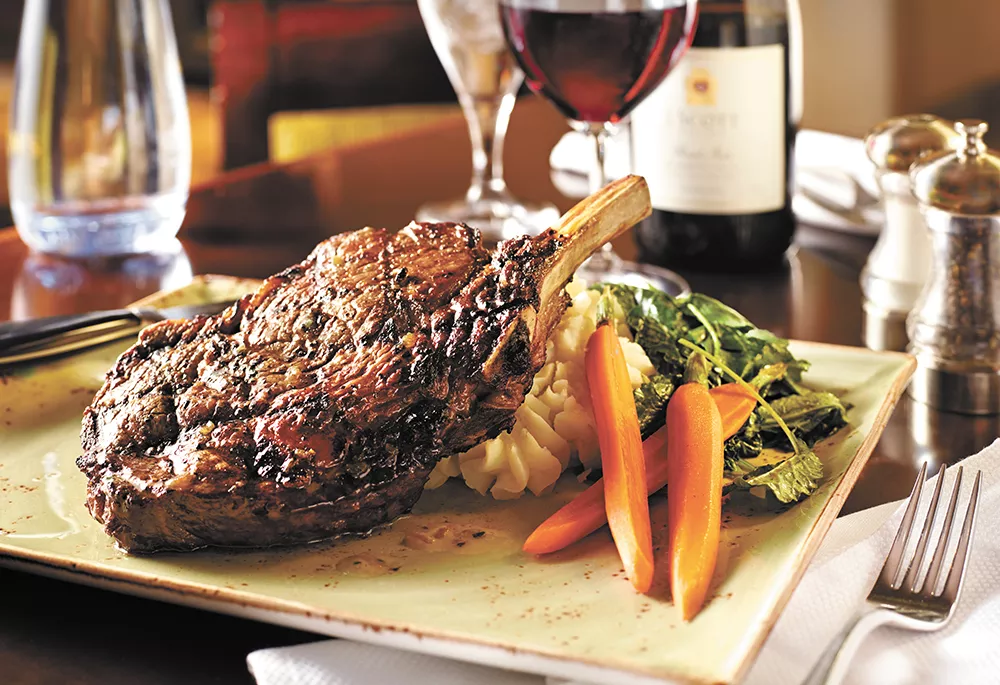 Chef Bob Rogers doesn't care about grill marks on his steaks. He knows other chefs might obsess about those parallel lines burned deep into the cut of beef, but he can't buy into that school of thinking.
"I say 'screw that.' I want the whole thing seared on the char grill. I don't want to leave a chance for any juices to get out," says Rogers, who runs the kitchen at the newly revamped Masselow's Steakhouse at Northern Quest Resort & Casino.
Rogers, who has been the chef at Masselow's since it opened about five years ago, has always cared about steaks, but now that he's officially running a steakhouse, grilling these cuts to perfection is even more at the top of his mind. Masselow's, named after a Kalispel Tribe chief who led his people more than a century ago, rebranded last month with a focus on prime steaks and a more accessible feel. That might come as a surprise to some who know Masselow's as one of the region's most high-end, respected restaurants, never shy about touting its four-diamond rating from the AAA.
"I didn't want to give up the five years of hard work of establishing [Masselow's reputation]," says Rogers. "But for that entire five years, the things I sold the very most were steaks. I had to ask myself, 'Why am I not capitalizing on this?'"
About half of the former Masselow's menu remains, and there are still seafood and other options to be found. Chances are, Rogers says, if you liked Masselow's before this revamp, you're not going to be disappointed. But when you walk into the space adjacent to the resort's lobby, you might notice one change that's as symbolic as it is stylistic.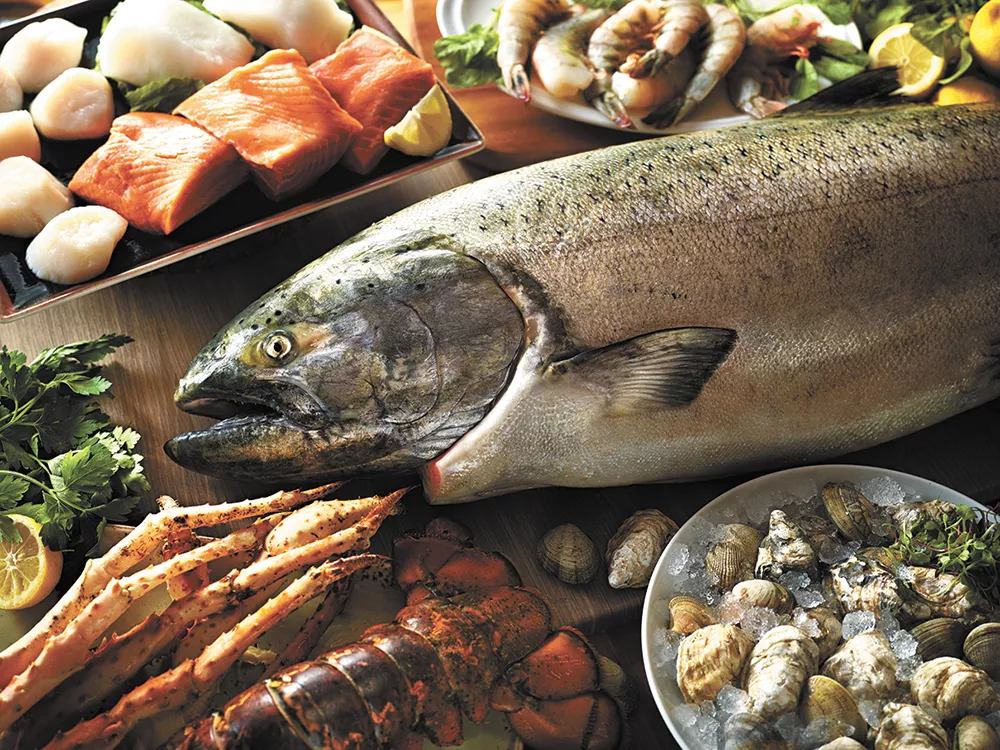 "We took linen off the tables. It's no longer a white-tablecloth restaurant," says Rogers. "We wanted people to walk into that room and know that it feels like a really great restaurant, but it doesn't feel like it's only for special events and you don't have to be dressed up."
He says someone in a cowboy hat and jeans shouldn't be intimidated to enter. What that guy in the 10-gallon hat might be intimidated by, however, is a 40-ounce porterhouse steak. That's by far the biggest and priciest ($110; the 24-ounce is $59) item on the slate, and to be fair, it's meant to be shared by two people. That hasn't, however, stopped more than a few people from demolishing it solo, Rogers says. The rest of the steak-and-chops menu includes rib-eye cuts, including a Dakota bison option, a New York served bone-in at 18 ounces ($51), an 8-ounce Manhattan cut ($32) and both 6- and 8-ounce filet mignon ($38/$48) offerings. On the non-beef side, there's a pork rib chop ($25) and double-cut lamb chops ($48 or $90 for a full rack) out of Ellensburg.
While Masselow's has focused on sourcing its menu primarily from the Northwest, sticking to that ideal became tougher when Rogers and company wanted to focus on USDA Prime grade beef. There were some Northwest options, he says, but none that could provide consistent cuts throughout the year to ensure the sort of consistency found in a respectable steakhouse.
"I do everything I can possibly do to buy as much food as I can locally, but my focus is also serving the best food that I can serve, instead of focusing on absolute regionality," says Rogers.
The solution was discovered in the Midwest, where Rogers found beef from producers who follow strict guidelines for their corn-fed cattle. When the meat arrives at the resort, there's not a whole lot done to it before the cut hits the restaurant's new broiler that can run either on wood or gas. A little sea salt and Tellicherry pepper is tossed on top, and after some time on the grill, it's topped with housemade steak butter before heading out to the dining room.
The addition of "steakhouse" to the restaurant's name doesn't mean Masselow's follows all steakhouse conventions. Most notably, the restaurant's lauded presentation remains. It's not just a juicy steak on a naked plate, like you might find elsewhere.
"The bottom line is that we went to more food that more people are familiar with, but I wanted it to still be composed — there should be some love on that plate," says Rogers. ♦
Masselow's Steakhouse at Northern Quest Resort & Casino • 100 N. Hayford Rd., Airway Heights • Open daily, 7 am-noon; Wed-Sat, 5 pm-10 pm; Sun, 5 pm-9 pm • masselows.com • 481-6000