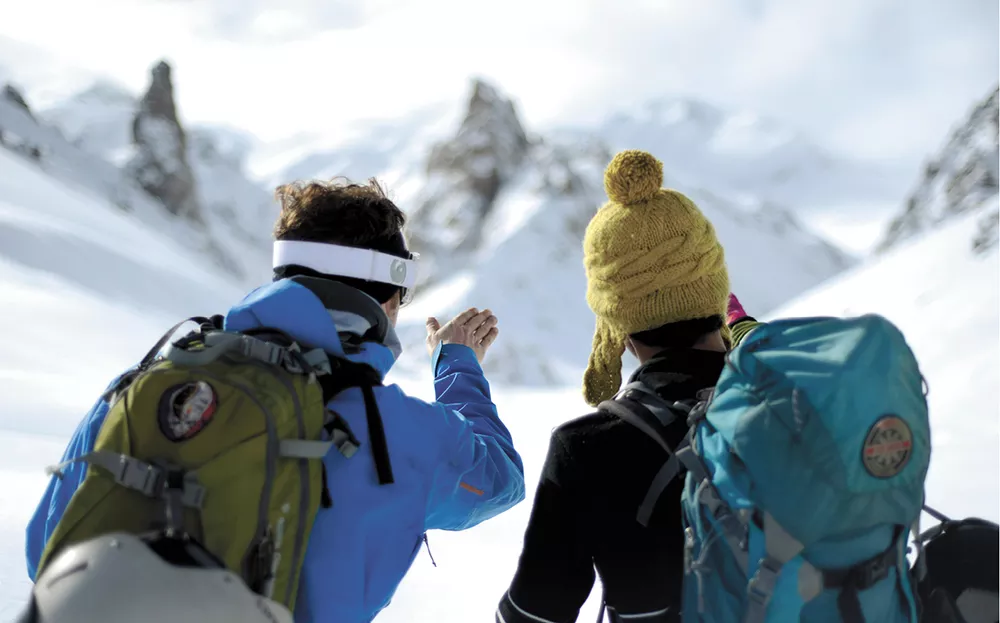 November 2013: 49 Degrees North
The bull wheel came to life with a clatter. The line was growing quickly, hoots and hollers in every direction. 49 Degrees North had come to life. Accompanied by friends Ryan Ricard and Lori LaBissoniere, we paired off like animals boarding Noah's Ark for the voyage into another ski season. For me, this is the beginning of skiing year-round.
December 2013: Schweitzer Mountain
The dry-rot camper was past its prime by two decades, but it was home to us and an angry nest of stowaway bees. Parked dead center in the Schweitzer parking lot, Ryan and I drank tallboy cans, cheated at cards and watched the snowflakes fall.
January 2014: Mt. Spokane
Friday Morning Fever again. Armed with my coffee, I wait for my 5:20 am pickup to tour up Mt. Spokane with a motley crew of skiers. This weekly addiction makes the 9-to-5 much more enjoyable.
February 2014: Schweitzer Backcountry
I have been holed up in the library for a month, the bar exam is around the corner, but I'm determined to ski every month. Ryan and I turn our beacons to "on" and slash turns on steep faces. Eating pocket pizza, talking ski gear and dreaming of tots and beer at Pucci's Pub. Life can't get any better.
March 2014: Bamiyan, Afghanistan
It looks like a dreamscape, not a war zone. Reuniting with my original ski partner, Spokane native Casey Johnson, we are here to ski powder in the Himalayas. It is beyond surreal. Peering down from 15,500 feet, we click in. Whacking out turn after turn on the treeless ridgeline, Casey and I can see the famous Buddhas of Bamiyan in the distance. I am the luckiest man on the planet. Tomorrow there is untracked, unexplored powder to be had. We ski hard, laugh harder and reminisce about our days of skiing in the Pacific Northwest.
April 2014: Sherman Pass, Colville National Forest
Were we really stalked by a mountain cat today? Ryan, Kyle Twohig, Austin White and I find refuge in the Snow Peak cabin. We nestle together, sipping whiskey and eating cured meats; all the while, the fire flickers off the hand-hewn logs. I love this place. I love this tradition.
May 2014: Mt. Adams, Southeast Washington
The trailhead is covered in snow. Landon Crecelius, Brad Pointer, Brett Barna, Ryan and I had been hiking for hours in the dark. It's late, and we are all tired and have a big day tomorrow. Rising early to a bluebird sky and strong legs, we plot our way up Mt. Adams for hours and descend the 7,000 feet in a matter of minutes, throwing up rooster tails of perfect spring corn.
June 2014: Eagle Cap Wilderness, Eastern Oregon
People don't know what to make of us. Skis strapped to our backs, Kyle West and I left the interpretive center atop Mt. Howard and head toward the Eagle Cap. The fog won't lift today, but we are victorious in our search for summer turns.
July 2014: Selkirk Mountain Range, North Idaho
From a distance, Jared Rixon, Ryan and I can see climbers ascending Chimney Rock. We stop our motorbikes at the trailhead and strap our skis and boots to our backs. It's good to celebrate Independence Day by popping over rocks and ripping the sun-cupped fall line of Mt. Roothaan.
August 2014: Glacier Peak, North Cascades
I am scared. Why is my ice axe buzzing? Brett Barna and I shouldn't be here. I want to take off my harness, which is full of highly conductive carabiners. We are too exposed. CLAP! The lightning seems to be chasing us from the peak. We've humped our gear for 35 miles, only to be rushed off the peak by Zeus' wrath. We retreat to the safety of the trees, miles away. I am reminded that a safe adventure is one where everyone returns home.
September 2014: Mt. Rainier
My suit hangs in the back seat as I pull out my skis and lace up my running shoes. I couldn't find a partner for this ascent. With my dad waiting in the car, I run up the trails of Mt. Rainer to Camp Muir. Snow is scarce in September, but I finally reach the blue glacial ice. Billy-goating around the yawning crevasses, I'm amazed at the lack of snow. The glacier is certainly receding; I've never seen crevasses this low. I'm back at the car in no time. One month to go.
October 2014: Mt. Hood, Oregon
Dawn couldn't have come any sooner. I rustle up the nerve to exit my sleeping bag in a downpour. I am soaked to the bone, and cold. But this is Month 12, and nothing is stopping me. The rain turns to snow. The flakes slowly wander down to cover my tracks. I feel a tremendous sense of accomplishment and pride as I link together 81 turns in October.♦