Ryan Lewis casually stretches, drinks a Red Bull and waits in the green room of Seattle's Neptune Theatre. The atmosphere is more reserved than one might expect. The room isn't packed with friends and family, and there's no party vibe. It's just Lewis and his small team of cohorts chilling out before they get down to business. It's almost time.
In the theater, a packed crowd mills around after a set by Cody ChesnuTT as part of Sasquatch! Festival's 2013 launch party. Everyone's now awaiting the announcement of this year's festival lineup and a set by indie rock mainstays Built to Spill. But first, a little surprise.
The event's MC announces that some very special guests are in the house — ones who happen to have the No. 1 song in America — and everyone begins losing their minds. The uproar peaks as Macklemore and Lewis take the stage and launch into "Thrift Shop," their hit single about bargain-bin fashion shopping. Macklemore, Ben Haggerty to his friends, has the audience hanging on every syllable with his effortless charisma, while Lewis mostly stays in the back, behind the equipment table, acting as DJ/hype man.
The crowd has officially been whipped into a frenzy — even the balcony dwellers are on their feet dancing. After playing two more singles ("Same Love" and "Can't Hold Us"), they announce that they're one of the Sasquatch! headliners. It's an unexpected and triumphant return home for Macklemore and Lewis, who in the past year went from buzzworthy Seattle sensation to chart-topping hitmakers. And while the duo is temporarily back in their home base of Seattle for the first time since embarking on a 75-show world tour — since singing for Ellen DeGeneres (twice), since being featured in NBA All-Star Game promos, since this whole thing blew up — there's no time to slow down. Then again, ever since his earliest days growing up in Spokane, the 24-year-old Lewis has only been trying to speed things up.
The Lewis clan is a tight-knit, middle-class, conservative Christian family who moved from Puyallup to a home near Browne's Mountain in Spokane when Lewis was 2. His parents, Scott and Julie Lewis, both worked for nonprofits, with his dad spending many years as regional director for the Christian youth organization Young Life. Lewis has also two sisters, Laura and Teresa, respectively two and four years older than him.
Lewis was an active kid who got involved in soccer, football, skateboarding, snowboarding and anything else that could get him outside and hold his interest. A big part of his upbringing revolved around Young Life, including spending 13 summers at the group's Malibu camp in British Columbia with the family.
On the surface, the Lewis household seemed to live a perfectly charmed life, but there was a deeper, more private struggle that the family had to face every day.
***
If you happen to catch Lewis with his sleeves rolled up, your eyes are instantly drawn to the red ink looping around the center of his right forearm and forming a ribbon. It's the type of striking tattoo that immediately elicits questions. Then, often, an awkward exchange follows.
"The moment somebody asks, 'What's your tattoo of?' they regret it," says Lewis, "because it's like, 'Oh shit. I just brought up some shit.'"
Lewis' mother has AIDS.
She got HIV in 1984 from a blood transfusion while giving birth to Teresa. It was a year before it became mandatory to screen blood donors for the disease. She wasn't diagnosed until six and a half years later, in August 1990 — the week that the Lewis family moved to Spokane. The doctor gave her five years to live, if she was lucky. The trauma of the news made for a rough start to the Lewises' Spokane days.
"This was an era when people were really shunned for having HIV," says Julie Lewis, who, defying the initial prognosis, has now lived 29 years with the disease. "So when we moved to Spokane, we didn't actually go public telling people for four more years."
That self-imposed secrecy also extended to the children. She and Scott held off telling the children about her disease until June 1994, when Ryan was 6. Scott took each of the kids individually to Manito Park to explain the situation. Later, Julie became part of the Spokane HIV/AIDS Speakers Bureau to share her story.
"It was a really interesting upbringing for my kids because literally most of the people who were on that speakers bureau, who were really good friends of our family, have died," says Julie.
While it's never been easy, rallying around Mom has made the Lewis family even closer.
"I think it really just opened up the door, as a kid, to life experiences that most of my friends didn't know anything about," Lewis says. "On one hand, you could look at it as a really hard, shitty life thing; on the other hand, she's been healthy for years. I didn't get it, my sisters didn't get it, my dad didn't get it. It could've been a totally different thing. I could not be here. And she could not be here. But she is."
***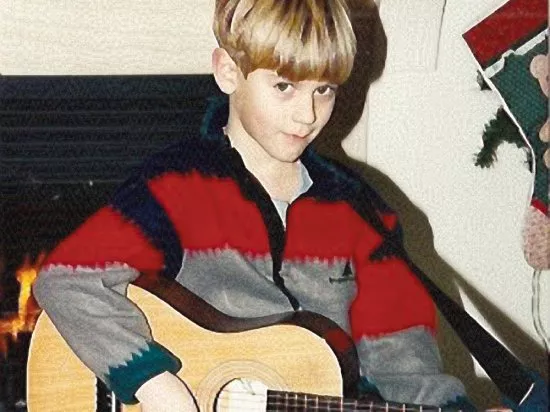 When he was 6, Lewis' parents bought him his first guitar. Around age 10, he went all-in on music, playing for three, four hours a day. While his parents were supportive of his new passion, music wasn't exactly part of the family tradition.
"I'm the only person in my entire extended family that plays an instrument or sings, really," Lewis says. "Which is kind of weird. I don't know where I got it from."
Lewis went through many musical phases. At the tail end of his days at Moran Prairie Elementary on Spokane's South Hill, he and his best friend Ryan Sanson went through a stage of bumping old-school hip-hop like Tupac and Snoop Dogg.
"We were the only two kids in our elementary school who wore FUBU," says Sanson. "We stuck with each other on that one, because we got a lot of crap for that. The whitest kids in school wearing FUBU."
That first hip-hop phase ended as Lewis entered junior high and began getting seriously into rock music. Lewis and Sanson (known among friends as "The Ryans" or "R²") began taking the bus to Guitar Center and spending hours playing all the instruments. Eventually they started their first rock band, One Example, in 2000, with Lewis writing the songs and playing guitar. The band mostly played local band competitions and youth centers. Beyond being his first band, One Example was Lewis' first exposure to the business side of the music. He made T-shirts, designed a website, worked promotion.
"It's like saying you had a girlfriend when you were in sixth grade," says Lewis. "It doesn't really count, but at the same time it kind of does."
In 2004, Lewis put One Example to rest and started Schema, a band dedicated to his new musical passion — screaming metal. He was really into the heavy sounds of the metal/scream/post-hardcore movement pushed by record labels like Solid State and Tooth and Nail. Bands like Norma Jean, Underoath, and The Bled became the only music he'd listen to.
The only musical problem that ever really arose in the Lewis household happened when Lewis was 12 and his father found he had bought three explicit CDs — a violation of the agreed-upon house policy banning them before high school. Feeling as though his son had betrayed his trust, Scott snapped the CDs in half.
"It's a big joke now," says Julie, "because his own music is probably not what I would've let him listen to, just because we didn't allow any explicit music in the house. We would've asked him to get the clean version of 'Thrift Shop.'"
As a teen Lewis mostly stayed out of trouble, keeping busy with music, skateboards and schoolboy pranks. While he wasn't an ace student at Ferris High, his parents and friends say it was more a case of him not making school a priority, and focusing his energy elsewhere.
In December 2004 — midway through his sophomore year of high school — the Lewis family moved to Seattle. Thus ended Lewis' Spokane days, but not his connection to the region.
"I have a lot of good things to say about Spokane," says Lewis. "I love the fact that I didn't grow up in Seattle. I grew up being outside all the time. I grew up with extremely, extremely different influences than what came later, which I think has allowed me to just be a more open-minded person. So I think I'm just grateful Spokane diversified me as a person."
***
The move from Ferris High's "jock school" atmosphere to the extremely artistically focused Roosevelt High in Seattle was a hard transition for Lewis, who became depressed. By his junior year, he started to feel like high school was an unfulfilling waste of his time and he needed to "escape out of there."
So he signed up for extra classes in the summer to graduate a year early in 2005. He enrolled at North Seattle Community College a short time later, where he got into graphic design and photography while working for the school newspaper. He started his own photography business, doing promotion photo shoots with Seattle hip-hop acts, and eventually enrolled in and earned a degree from the University of Washington.
While school could often be a drag, Lewis started occupying his time with a new passion: production. During his junior year of high school, he pirated the production software FruityLoops and began to explore its ins and outs. He also moved past his metal phase and became passionate about hip-hop groups like Wu-Tang Clan, Jedi Mind Tricks and Immortal Technique, and soon after he started listening to softer indie music like Beirut and Sufjan Stevens.
Things really began to change in 2006, when he logged onto MySpace and friend-requested an upcoming local rapper named Macklemore.
***
Macklemore rolled up to the Lewises' North Seattle house in his silver Honda Civic with a 10-inch subwoofer in the back. He walked into the house super blazed and wearing fuzzy purple velour sweats with bleach stains on them. He was a total character.
Macklemore had listened to a beat Lewis had made and posted to MySpace and sent him a message inquiring about the beat and the possibility of meeting up. Macklemore's first impression didn't faze Lewis, and the two quickly got down to business. Despite being five years older than Lewis and much further along in his career, Macklemore hit it off with Lewis almost immediately. Both could see the other was extremely hungry and motivated, and they shared the same aesthetics. After Lewis showed off his beats, samples and photography, they decided to set up a photo shoot a few days later. One of the samples eventually became "The Club" on Macklemore's The Unplanned Mixtape.
Over the next couple of years the pair became friends and worked together on music and photography projects, but Macklemore struggled to stay focused and would sometimes disappear for months. Macklemore was a drug addict. His drugs of choice were alcohol (to kick it socially) and weed (to hide away from the world), but he also dabbled in Percocet and cough syrup. When Macklemore was off the grid, Lewis kept busy with his photography and working with another local rapper named Symmetry on an LP.
When Macklemore finally went to rehab and got clean in 2008, things began to change. The two became even closer, with Lewis fostering a healthy environment for the newly sober MC. The energy that was once focused on drugs shifted to making music. That year the pair became an official collaborative unit and plotted their next move. In 2009, they released their first album, The VS. EP, which began to catch on thanks to "Otherside," Macklemore's deeply personal confession about his drug use.
The duo slowly grew their Seattle fanbase, with music videos playing a big role. From the over-the-top flamboyance that accompanied the absurdist party anthem "And We Danced" to "My Oh My," a heartfelt ode to the recently deceased voice of the Seattle Mariners, Dave Niehaus, each video drew in new fans. The guys realized they might be onto something when they unexpectedly sold out three consecutive shows at the Showbox at the Market in 2011.
Lewis and Macklemore soon headed into the studio to record their first LP, The Heist. Released last October, the album felt like a declaration of arrival. They expected to sell around 20,000 copies the first week, but instead sold 78,000 — debuting at No. 1 on iTunes and No. 2 on the Billboard charts. The album's first single, "Thrift Shop," immediately went into rotation at independent radio stations, but that wasn't good enough.
Macklemore and Lewis started doing promotions to push "Thrift Shop" toward pop radio. The effort paid off as the single found a second life. It slowly ascended the charts before hitting No. 1 in January, becoming only the second independent single to reach the top spot, and selling more than 3 million units to date.
But the fun of "Thrift Shop" isn't the only song on The Heist to make an impact. The pro-gay-marriage anthem "Same Love" soon followed, and its poignant message earned them an entirely new audience. And with the duo's steadfast determination to make it huge, the wave of success doesn't look to be waning anytime soon.
***
When talking to people about Lewis, two works repeatedly pop up: drive and focus.
"Ryan was either asleep or going hard at whatever he was into," says his father. "He wanted to be in the next phase of life 'now' and not have to wait for it to come.
"When Ryan was about 13, we were sitting in the Spokane Arena for an Easter service," Scott Lewis continues. "He turned to us and asked if we knew how much it would cost to rent that place out for a show. He thought if he got enough bands together for a battle of the bands, they could pull it off."
His ambition can still be seen in how Macklemore and Lewis have stayed independent and managed all aspects of their music and brand without the help of a label. In fact, their burgeoning empire is primarily a four-person operation: Macklemore, Lewis, the group's manager Zach Quillen, and Macklemore's fiancée Tricia Davis. Apart from a few people who handle merchandise, that's the entirety of their team.
While Macklemore is the star of the crew thanks to his distinctive lyrical voice, signature pompadour and swagger — and the simple fact that he's the man with the mic — there's a reason why it's "Macklemore and Ryan Lewis." The project really is about collaboration, but for now Lewis is comfortable being the proverbial "other guy." He's got enough behind-the-scenes duties to worry about, sometimes working as many as 90 hours a week.
"Ryan is much more than a typical producer," says Macklemore. "We are creative partners and do everything together. We operate more as a label than the typical MC/producer relationship. It's important to me that Ryan gets seen for whom he is, and that's 50 percent of everything."
"Ryan's a master of many trades," says Quillen. "I don't know if people realize the many things that he does to make this project what it is."
In addition to making the beats, creating the music arrangements, and producing, Lewis handles some of the duo's photography and photo editing, graphic design, web design, merchandising, co-directing, and cutting and coloring the music video. He also records, engineers, and mixes all the songs.
The workload can be borderline masochistic, but it has two major advantages: No label takes a fat chunk out of the profits, and the duo maintains complete artistic control.
"I'm not a control freak," says Lewis. "I think the fact that we embraced and strived for creative control of all these things is probably the biggest reason why we've done well. Because we care about the font that says "The Heist" — how thick the stroke is, how bold it's going to be — we care about what kind of gator texture is gonna be on the box. All the tiny little things f---ing matter."
***
Right now, Lewis doesn't have time to really think what's next. There's so much to do: Macklemore and Lewis landed the musical guest slot on this week's Saturday Night Live, they're finishing up putting together the video for "Can't Hold Us," and there's the matter of celebrating his 25th birthday in March. Of course, if he ever gets a breather, he's got plenty of ideas for new projects beyond a follow-up to The Heist. He'd love to produce the next record for Ray Dalton (who sings the chorus on "Can't Hold Us"), perhaps work with some other MCs, maybe even direct or score a feature film someday.
Before any of that, though, he is still working on adjusting to his new life.
"I don't know if I've ever had that 'Oh shit, we've made it' moment. Even now, 'Thrift Shop' is setting records. It's three times platinum. The whole thing is f---ing weird."