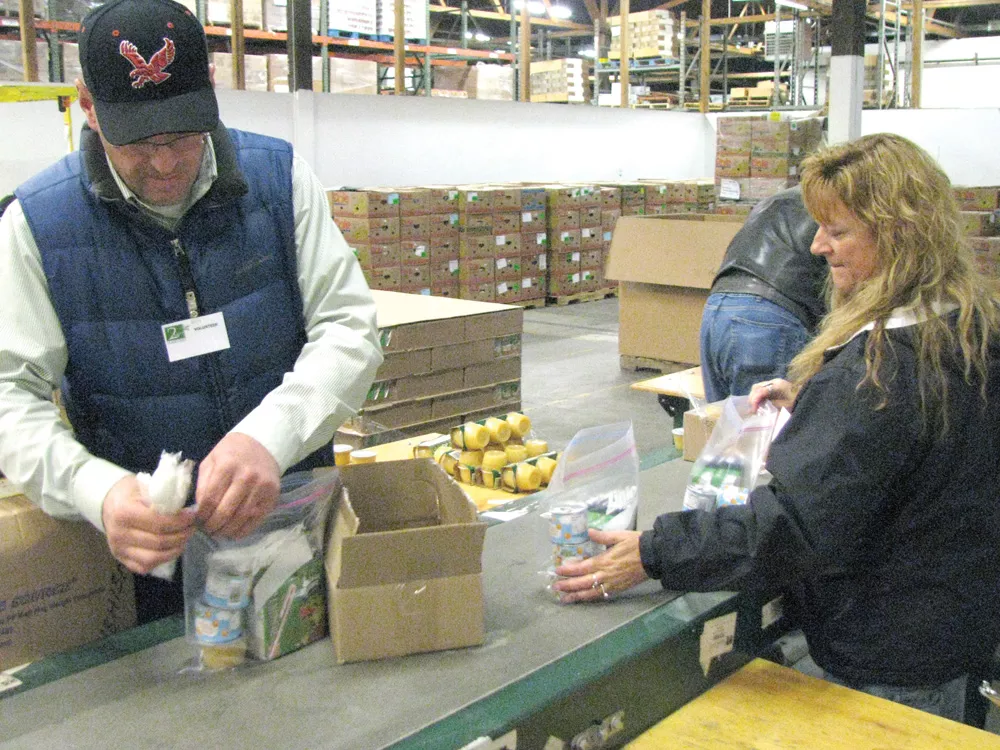 Inside the cold Second Harvest warehouse off East Trent, volunteers in an assembly line fill paper bags with milk cartons, Chef Boyardee mini-ravioli and packages of kid-friendly cereal. The mood is jovial, but the task isn't a happy one. These volunteers are assembling 3,000 kits containing meals and snacks for local school kids who aren't getting enough to eat. The kits are the cornerstone of the Backpack Program — an initiative that aims to meet the needs of students who receive free or reduced-cost meals at school during the week, but for whom food is hard to come by on the weekends.
Each week, Second Harvest food bank distributes 468 kits of food to schools in Spokane, Coeur d'Alene and the surrounding area that kids can take home in their backpacks on Fridays. Each kit contains two ready-to-eat breakfasts and dinners, snacks and milk.
The kits are paid for by donations and grants from various agencies, including the City of Spokane. It's part of a national program organized by Feeding America to address childhood hunger. In Spokane, the Backpack Program is administered by the nonprofit organization Communities in Schools, which works with on-site coordinators to provide resources for schools with high percentages of kids receiving free or subsidized meals. The percentage of kids requiring assistance varies greatly from school to school — last year, 85 percent of students at Shaw Middle School were eligible, compared to roughly 15 percent at Moran Prairie Elementary.
"The first year (2008) we served Cheney, Glover, and Chase middle schools, with eight to ten backpacks per school," says Sherry Barrett, the program director for Communities in Schools. This year, six schools are being served, with 150 kids receiving weekend food kits.
"It's a drop in the bucket," admits Barrett, but for the kids who are in the program, it's highly effective.
"Our data shows that if children have food insecurities, and we can allay those, they'll do better in school," she says. When food is scarce at home, kids start to get anxious on Friday, and on Monday morning they can't focus until they get a meal. "They miss a whole day of learning," says Barrett.
"A lot of these kids are trying to help their families," says Sheri Frantilla, coordinator of the program at Cheney Middle School, which serves 30 kids. Some students with siblings at home will share the contents of their backpacks so a younger brother or sister will have food for lunch during the week.
"Some of their stories are just heartbreaking," she says.
Frantilla relays the story of one student who frantically scarfed the food from his backpack kit on the bus ride home on Fridays. "He would eat his food as quickly as he could so his family wouldn't eat it," she says. "We arranged for the student to get an extra snack at school before going home."
"[Food] is definitely a huge impact," says Frantilla, citing the case of one middle school boy who had been put in a special class for kids with behavior problems. They figured out he was just hungry, says Frantilla, who began sending the boy home with snacks after school and a backpack kit on Fridays.
Within weeks, he moved into mainstream classes and eventually began to participate in afterschool activities.
For many in the program, Friday is the highlight of the week. "It gives me a reason to come to school," says Keni, a seventh-grader at Cheney Middle School. "It's really helped me and my family a lot."


The Backpack Program in Coeur d'Alene was begun in November 2010 by resident Sheri Bullock. After hearing about the program in other cities, Bullock was moved to action. She sent letters to everyone she knew, including Lake City Community Church, which now houses the program. Money poured in. "This community is amazing," Bullock says.
James Curb, homeless liaison for the Coeur d'Alene School District, says that even though students at Lakes Middle School were taking advantage of the free breakfast program, it clearly wasn't enough.
"The lunch lady was telling me how many kids were coming to school starving on Monday mornings," Curb says.
Lakes became the pilot school last year, serving 16 kids. This year, 102 kids in four schools are receiving food kits on Fridays.
"With the economy the way it is, these numbers aren't going to decrease anytime soon," says Bullock, who hopes to add 25 to 50 kids to the program after Christmas.
When it comes to asking for help, the first few weeks of school are often quiet as families adjust to the routine. Not so this year.
"Day One, families were calling that needed supplies, shoes, housing — the increase has been exponential," Curb says. "Even at the more affluent schools, there are kids in dire need."
Like at Woodland Middle School, which has a relatively low poverty level (39 percent of students receive free or reduced lunches).
"There are 30 to 50 kids the school would like to be able to serve with the Backpack Program, and that's just one school," Curb points out. "Families are working mightily to provide for their children. It's all they can do to merely survive."
Last year, there were 313 homeless kids identified in the Coeur d'Alene School district, 23 of them being preschoolers in the Head Start program. By feeding these and other kids, "we have an opportunity to remove educational barriers, partner with families and knit the community together," says Curb. "We're all in this together."
Sherry Barrett agrees. "It has to be the responsibility of the community. The school district does a great job with free breakfast and lunch, but feeding kids twice a day is insufficient," she says.
"We're making a difference but the need is greater," she adds. "Pay the rent or feed hungry teenage boys — that's a tough decision for families."
From more information on the Backpack Program visit www.ciswa.org or www.cdabackpackprogram.com.