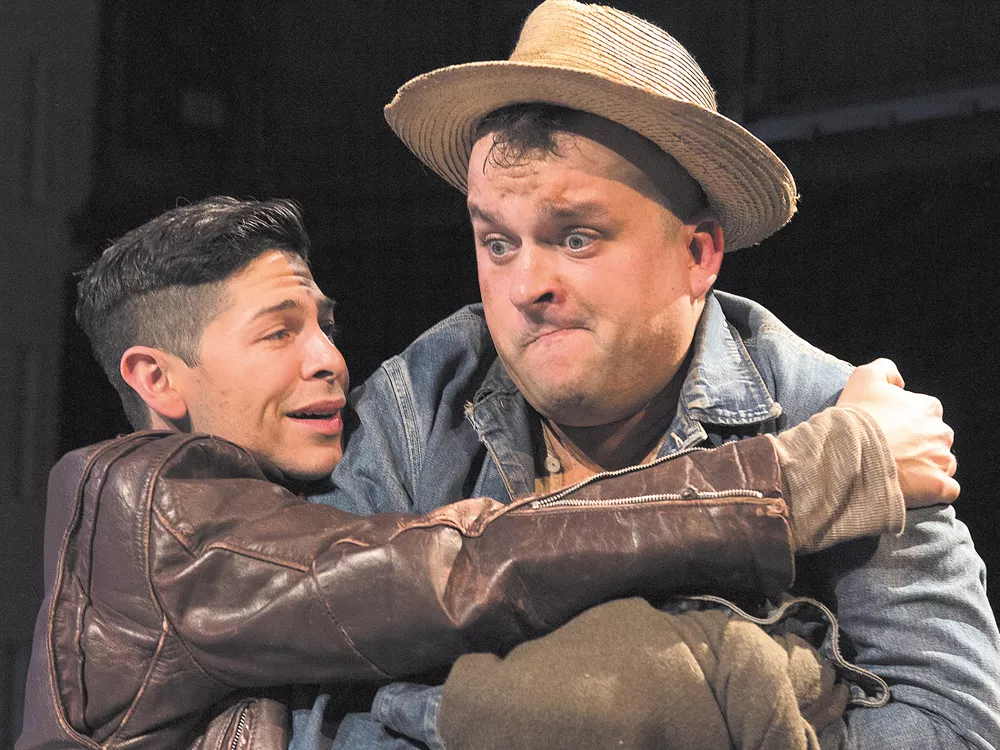 "Try to understand men, if you understand each other you will be kind to each other," wrote John Steinbeck in a 1938 journal entry. "Knowing a man well never leads to hate and nearly always leads to love."
At the time of that entry, the future author of The Grapes of Wrath had already put that philosophy into practice in his breakthrough novel, Tortilla Flat, as well as the novella Of Mice and Men. Tortilla Flat sympathetically applies the Arthurian legend to a group of carousing paisanos. Of Mice and Men, still Steinbeck's most widely read book, portrays a host of flawed farmhands with a compassion that is almost saint-like, making its concatenation of tragedy more powerful as a result.
Owing to that poignancy, Of Mice and Men has been filmed and dramatized numerous times, rarely altering the details of its original setting or plot, that is: two drifters, George and Lennie, move from ranch to ranch during the Great Depression in pursuit of employment, escape and ultimately their version of the American dream. Lennie, whose limited brainpower and boundless strength keep landing the duo in hot water, is contented by George's tales of someday owning rabbits for him to stroke.
For The Acting Company, the theater troupe that helped give actors like Kevin Kline and Rainn Wilson their start, Steinbeck's story offered a timely and powerful way to commemorate its 40th-anniversary season.
Joseph Midyett plays George opposite Christopher McFarland as Lennie in TAC's nationally touring production of Of Mice and Men. He says the novella's ease of dramatization comes from the fact that it was written with the stage in mind.
"From the get-go this was meant to be a play," Midyett says. "A lot of the text for the play is literally pulled straight from the novella. And before it made its Broadway debut, there were actually amateur performances of Of Mice and Men in work camps. The vernacular is written — almost like Shakespeare — to be heard and not so much to be read."
"Most of the time, [Steinbeck's] characters will express how they feel in words, and that is not the medium of novels. The medium of novels is descriptive narrative; the medium of plays is dialogue," he says.
Of Mice and Men also deals with compelling universals that transcend its setting. "It's about dreams and how close people come to dreams," says Midyett. "You go through it a lot as a human being. You want something, and you come close... that kind of heartbreak is in your everyday life."
To tell that story, TAC's production doesn't rely on an elaborate set. It can't. Every prop, every piece of scenery has to be reassembled and then disassembled almost every night. Furthermore, as Midyett points out, a "decadent" stage full of "glam" would miss the point. Steinbeck's focus was his characters, because, true to his ideals, he understood and loved them in his own way. The lasting appeal of Of Mice and Men lies in the way it allows us to come to understand and love them, too.
"Every good play, every good director emphasizes the characters and the story," Midyett says. "We come to the theater for story, to empathize with people and their plight. That's why Steinbeck wrote in that era, when a lot of America was going through quite of bit of hardship that are we seeing today. To really mine those moments and these characters is what this play is all about. There are nights when I can hear people sobbing. It's really beautiful. I've never experienced anything like that."
Of Mice and Men • Fri, Nov. 9, at 7:30 pm • WSU's Jones Theatre in Pullman • Sun, Nov. 12, at 7:30 pm, • Martin Woldson Theater at The Fox • $10 to $35 depending on venue • theactingcompany.org • 1-800-325-SEAT