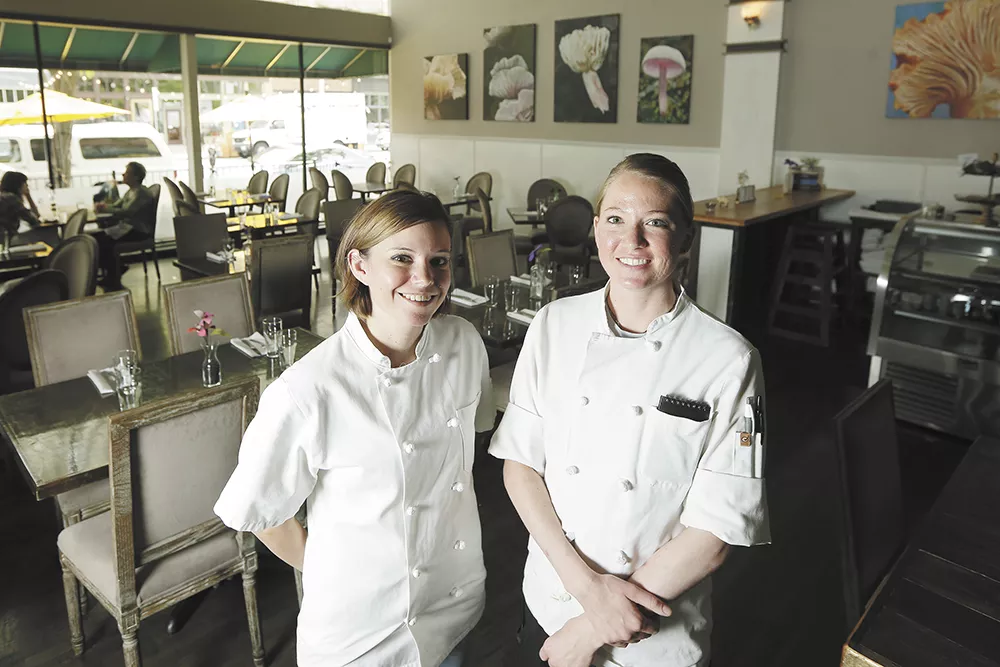 Sisters Abby and Lynette Pflueger have spent the better part of the past decade cooking and baking their way across the United States.
From Florida to Hawaii and up to the Northeast, the Spokane natives gradually moved up in the hospitality industry, working at retirement homes, grocery store bakeries and major chains. They say it's the perfect job for wanderlust types, because there are work opportunities essentially anywhere you go.
Even so, the Pflueger sisters chose to come back home a few years ago, and probably at no better time. They're contributing firsthand to the Inland Northwest's evolving culinary culture, as more and more locally owned eateries dot the urban landscape.
Lynette, 32, is the executive pastry chef for Santé Restaurant and Charcuterie, as well as its counterpart Common Crumb Bakery and the forthcoming Inland Pacific Kitchen. Abby, 29, is sous-chef at Santé.
These roles also happen to be the sisters' second stints working for award-winning Chef Jeremy Hansen, who owns both ventures with his wife Kate. Years back, Lynette worked as a part-time pastry chef at Santé, and Abby spent a short time washing dishes there before setting out again across the country.
"They're perfect for the team," Hansen says. "They're both very hard workers and they're passionate about what they're doing, and they care about the people around them."
It's not the first time the two have worked together for a common employer. Lynette, who graduated from culinary school at the Art Institute of California in 2006, recruited Abby to take a job at a bakery that Lynette was working at in Connecticut. Abby had no experience in professional baking or cooking, but she took on the challenge, learning as much as she could on the job and from Lynette.
"She was a great teacher and inspired me to learn and grow more and work harder," Abby recalls. "She kept moving up, and I wanted to move up, too."
Though the urge to pack up and start a new adventure in a different state still lingers for both women, the Pflueger sisters are happy to be home and near family again. They don't plan to leave again anytime soon.
"Every day is exciting," says Abby. "We do a lot of special dinners, and the menu changes constantly here with what we can get from farmers that's local and fresh. There's room to change and grow, and we have the opportunity to help open another restaurant."
She's referring to Hansen's next two projects, Hogwash Whiskey Den and Inland Pacific Kitchen, both set to open later this year in the Washington Cracker Co. Building.
Also this fall, the sisters will join Hansen as part of a small culinary team traveling to New York City to prepare a meal at the renowned James Beard Foundation, an esteemed, invitation-only opportunity.
"One thing I'm excited about with the stuff going on here is that you have the opportunity to move around and do different things without having to change your job, which is not a sustainable way to live your life," explains Lynette. After returning to Spokane in the fall of 2014, she jumped right into helping the Hansens open Common Crumb, an invaluable and entirely new experience for her.
Food has always been a major part of the sisters' lives. Lynette has fond childhood memories of helping her parents and grandmother in the kitchen. Their mother often made bread, and Lynette would summon all her strength to hold the bowl and keep it from rocking while their mom kneaded the dough. Going to culinary school was not a long-term goal she had growing up, but it seemed like a natural fit.
"I remember a couple years into it talking to my older sister about how I learned to do something from our grandma, and my sister didn't remember," Lynette recalls. "It seems like a lot of my memories were about food, and she didn't really remember that, so when we had that discussion, I was like, 'Maybe I chose the right career.' That's comforting."
As much as they enjoy the creativity and learning opportunities their careers offer, the sisters agree it's not without challenges, the least of which are the long, nontraditional work hours. Abby and Lynette's schedules are completely opposite — bakery shifts start between 3 and 6 am, while Abby's restaurant work begins in the midday. On days off they share together, the sisters often head to their mom's to cook dinner, or she prepares a Sunday night dinner for them.
"We've always thought of it as a way of showing love and appreciation," Abby says. "Cooking a meal for the family and having everyone sit down to eat." ♦