It all started with a homecoming dress. Alex Hansen's friend knew he was experimenting with creating clothing and asked if he could make her gown for the big dance. "It was a terrible dress," jokes Hansen, 17, sipping on an iced coffee in a downtown coffee shop before heading to his drama class at North Central High School.
He's self-deprecating about his early creations, but the fashion wunderkind is serious about his craft and his emerging clothing line, AKH Designs, which will be on display Saturday night at a runway show at Luxe Coffee House. The show, his second, features the 19 women's dresses that make up his summer line, most of which can then be ordered for customization.
Still a junior in high school (but taking Running Start classes at Spokane Falls Community College), Hansen hopes that sales of his designs will help him toward an education at a fashion school. Maybe London, maybe Los Angeles. He's not sure. He just knows he wants to learn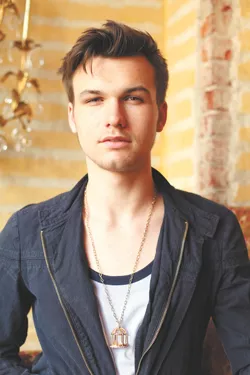 more than he's been able to glean from fashion idols like the late Alexander McQueen, because to this point (perhaps surprisingly) he's been self-taught.
"My mom showed me how to thread the sewing machine, and I just kept learning how to do things. I haven't really looked at a book, but over time I've developed more skills," says Hansen, neatly and precisely dressed in Capri pants, with a light jacket over a striped shirt.
Last August, Hansen held his first runway show. His parents, whom he credits with endless support, allowed him to use the warehouse of their printing business to gather about 100 people and display models in designs he says were inspired by a theme of "industrial decomposition." Hence, the warehouse, he says.
From there, the opportunities continued. Hansen was asked to create a pair of gowns for the Spokane AIDS Network Oscar Gala. He recently received an inquiry for his first wedding gown and, of course, more requests for homecoming and prom dresses than he could possibly accommodate. Although he's a classically trained cellist who played with the Spokane Youth Symphony and is skilled at the piano, painting, drawing and stage acting, Hansen has zeroed in on fashion, even if he happens to live in a city not exactly synonymous with cutting-edge style. Still, he's hoping his show and his clothing line can help improve the way his community looks at the way it dresses.
"You should be able to see someone coming down the street and wonder where they got what they're wearing," Hansen states as the aim of his designs.
"I want people to walk away from my show not only with an idea of professional fashion and couture fashion, but also … to be inspired to be more creative with what they wear every day."

AKH Designs Runway Show • Sat, June 2 at 9 pm • Luxe Coffee House • 1017 W. First Ave. • $10/advance, $15/ door • Tickets available at Luxe

Hair: Janet Carpenter
Makeup: Violet Mendoza
Thanks to Luxe Coffeehouse