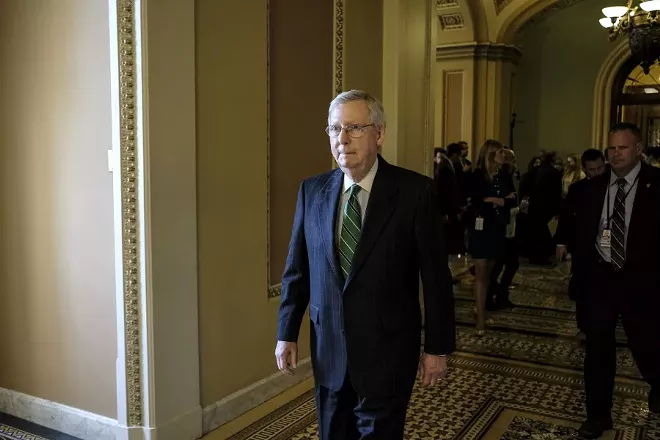 WASHINGTON — A fifth woman accused Roy Moore, the Republican Senate candidate in Alabama, on Monday of making sexual or romantic advances toward her when she was a teenager, as senior Republicans in Washington called for him to drop out of the race and threatened to expel him from the Senate if he wins.

The new accuser, Beverly Young Nelson, said at a news conference in New York that Moore attacked her when she was 16 and he was a prosecutor in Etowah County, Alabama. Nelson was represented at the news conference by Gloria Allred, a New York lawyer who has championed victims of sexual harassment.
"I tried fighting him off, while yelling at him to stop, but instead of stopping, he began squeezing my neck attempting to force my head onto his crotch," Nelson said in a statement she issued at the news conference. She said Moore warned her that "no one will believe you" if she told anyone about the encounter in his car.
Hours earlier, Sen. Mitch McConnell, the Republican leader, said Monday that Moore "should step aside" and that he believes the women who have accused Moore of sexual misconduct when they were teenagers.
"I believe the women, yes," McConnell said at a news conference in Louisville, Kentucky.
McConnell also said that encouraging a write-in candidate to run in the Dec. 12 special election is "an option we're looking at."
Sen. Cory Gardner of Colorado, speaking in his role as chairman of the National Republican Senatorial Committee, said that if Moore wins the special election, he should be expelled from the Senate, "because he does not meet the ethical and moral requirements of the United States Senate."
Moore showed no sign of leaving the race.
In an afternoon statement, Moore's campaign described Allred as "a sensationalist leading a witch hunt, and she is only around to create a spectacle."
One idea now being discussed, brought up by two different White House officials who spoke on condition of anonymity, would be for Gov. Kay Ivey of Alabama to immediately appoint Attorney General Jeff Sessions to what had been his seat when it becomes vacant again.