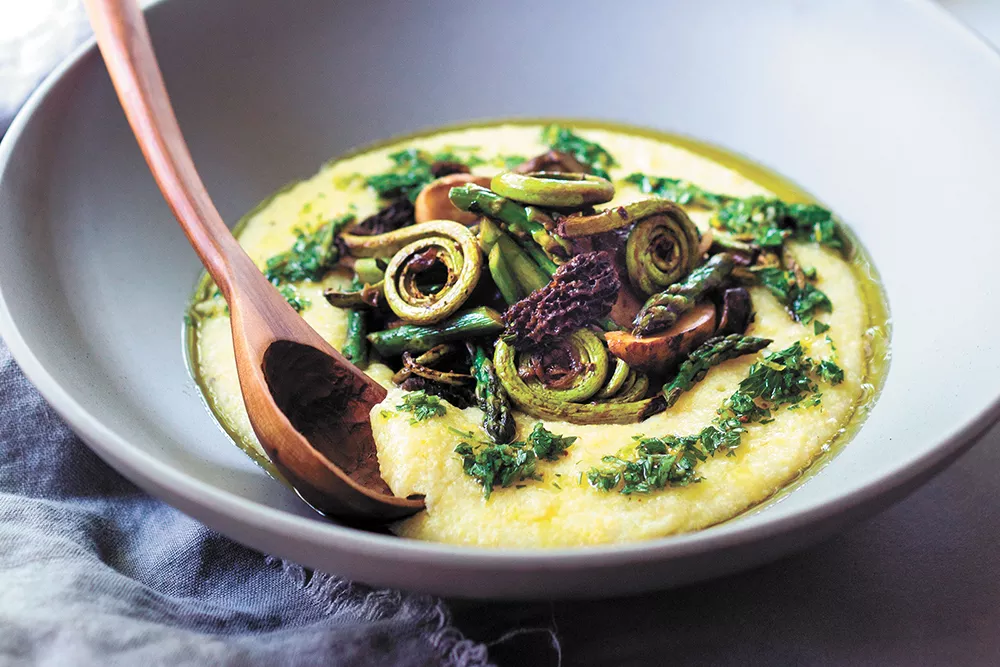 Wandering through the farmers market this week (my favorite thing to do), I picked up some beautiful spring veggies and put together a simple vegan meal. Soft creamy polenta cradles tender fiddlehead ferns, morel and porcini mushrooms and asparagus. A flavorful zesty herb sauce called gremolata is spooned over the top, and there you have it. Spring in a bowl. So simple, so easy; so elegant and flavorful. I could eat this every day.
I love this recipe because it's easily adaptable and could be made in any season, using any seasonal veggies you choose. For those requiring more protein, serve with grilled chicken or fish, or crumbled goat cheese. For today, I've kept it clean and lean, letting the veggies shine. The creamy polenta is made "creamy" with olive oil, but make sure to see recipe notes for other options.
Some of you know that I used to own a vegetarian restaurant in my previous life. One of the things that I like to do is pretend that what I share here (simplified, of course) would be the "special" of the week at the restaurant. (Please don't misunderstand, I absolutely do not want to have another restaurant — I loved it and, at the same time, am so happy to have moved on.) But this creamy polenta with spring veggies is one of those recipes I would love to serve up to you in the "make-believe" restaurant in my imagination. Of course it would be adorned in beautiful edible flowers.
For those of you unfamiliar with fiddlehead ferns or how to cook them, treat them like asparagus. They are the furled fronds of a young fern, harvested in the wild for use as a vegetable. Fiddlehead ferns can be sautéed, steamed, roasted, grilled or even pickled. They have a springy green flavor and are only around for a few short months, so if you see them, grab some!
For this recipe you'll start off with the creamy polenta. I used a coarse cornmeal, and a little goes a long way. A half cup makes two very hearty servings. It takes about 20 minutes on the stove to make this creamy polenta, and while it's cooking you can prepare the other components.
After the polenta is started on the stove, make the flavorful gremolata: chopped parsley, lemon and garlic, mixed with olive oil. So simple, but oh-so tasty. You can make the gremolata in a food processor or in a bowl.
You'll find a million uses for this tasty, zesty sauce: spooned over eggs, swirled into soups, layered into sandwiches or wraps, added to salads or over roasted veggies or grilled meats or fish.
Next you'll sauté your veggies. Start with the mushrooms, then add the shallot, asparagus and fiddleheads. Of course, you can substitute other more accessible veggies (see recipe notes). Cook the spring veggies until vibrant and tender.
Divide the creamy polenta between two bowls, or spoon it onto a big platter. Then pile the spring veggies on top. If the creamy polenta gets stiff while you finish cooking the spring veggies, simply reheat, whisking in a little more water until it's loose again.
If you like, add some sautéed pea shoots for garnish. Then drizzle with the flavorful gremolata. Place any leftover sauce into a sealed jar in the fridge; it will keep up to a week.
Creamy Polenta with Spring Veggies and Gremolata
Prep time: 10 minutes
Cook time: 20 minutes
Total time: 30 minutes
Serves 2, approximately 370 calories per serving
INGREDIENTS
Polenta
2-1/2 cups water
1/2 cup dry polenta or cornmeal
3/4 teaspoon salt
1 teaspoon granulated onion powder (or garlic powder)
1/4 teaspoon pepper (white pepper is nice)
2-3 tablespoons olive oil (or butter, or 1/4 cup goat cheese)
Spring veggies
1 cup morel mushrooms (brush clean, don't wet)
1 cup porcini mushrooms (brush clean, don't wet)
2 cups asparagus, tough ends removed and cut into 1-2 inch slices
1 cup fiddlehead ferns
1 handful pea shoots (optional)
Other veggie options (4-5 cups total): cremini mushrooms, springpeas, snow peas, english peas, edamame, green beans
1 tablespoon olive oil
1 shallot, chopped
2 tablespoons sherry wine, white wine or water
Salt and pepper to taste
1 teaspoon fresh thyme (or tarragon)
2 tablespoons gremolata
Gremolata
1 cup packed Italian parsley (small stems are OK)
1-2 garlic cloves
Zest of one small lemon, plus 1-2 teaspoons lemon juice
1/2 cup olive oil
1/8 teaspoon kosher salt and pepper, more to taste
Pinch of chile flakes (optional)
Place parsley, garlic and zest in a food processor and pulse until chopped.
Add oil, salt, pepper and lemon juice. Pulse again, until uniformly combined but not too smooth.
Add chile flakes for a touch of heat, if you like.
INSTRUCTIONS
Bring water to boil in a medium pot. Season with salt, pepper and spices. Once it's boiling, gradually whisk in the cornmeal, bring to a simmer, cover and turn heat to low. Mix again in 10 minutes. Then cook for another 10 minutes (20-25 minutes total). Stir in the olive oil, butter or goat cheese. Turn heat off.
While the polenta is cooking make the gremolata (instructions above). Set aside.
Cook the veggies. Cut veggies into bite sized pieces. In a large skillet, heat oil over medium heat. Add mushrooms first, and sauté until just tender, about 4-5 minutes. Add shallot and other veggies. Season with salt and pepper and stir often. Lower heat and take your time; cook about 5 minutes until al dente, or just fork tender. Give a splash of wine or water, turn heat up to medium to help cook off the wine. Taste and adjust salt, remembering the gremolata will add a lot of flavor, so keep the veggies simple. If you have very thick asparagus, or larger pieces of veggies, you could cover the pan for a few minutes to lightly steam them, being careful not to overcook or you may lose their lovely color. If using pea shoots as the garnish, make a well in the center of the pan and lightly sauté them (keeping them separate).
Assemble two bowls or make one large, beautiful platter or bowl and serve from there.
If polenta has thickened too much, reheat it, whisking in a little splash of water, until loose and creamy again. Retaste for salt. Pour polenta into bowls, top with a mound of the veggies, then with optional pea shoots. Spoon the flavorful gremolata around the veggies, over the polenta. ♦
Find this recipe and other seasonal dishes from Spokane chef, caterer and former Mizuna restaurant owner Sylvia Fountaine at feastingathome.com.