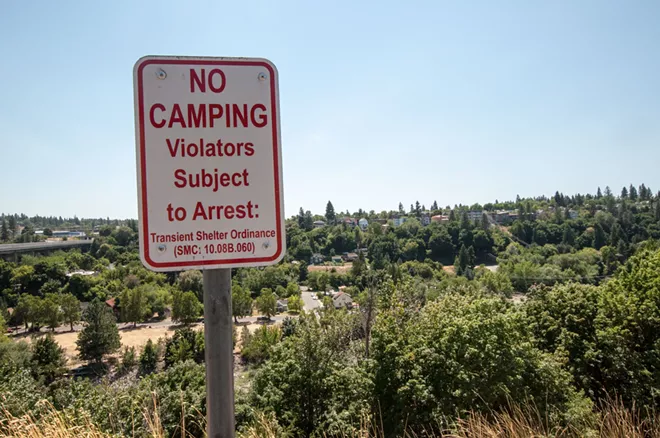 After a panel of the Ninth U.S. Circuit Court of Appeals judges ruled last September that Boise laws banning outdoor sleeping are unconstitutional if there are no shelter options available, the court has struck down an appeal of the verdict from city officials.
Six Boise residents who were cited for sleeping outside sued the city back in 2009, arguing that the measure violated the Eighth Amendment of the U.S. Constitution which prohibits cruel and unusual punishment. (The plaintiffs sought damages and an injunction on enforcement of the laws.) Last September, the Ninth Circuit Court agreed, prompting an appeal from the city of Boise.
Boise officials have not determined whether to appeal the September ruling to the U.S. Supreme Court, a city spokesperson tells the Idaho Statesman.
In Spokane, the rejection of the appeal maintains the current legal parameters for the city's own laws restricting public camping and sleeping. Currently, while municipal code bans camping in public spaces, under the sit-lie ordinance, law enforcement is only allowed to cite people sleeping in public downtown if there are open shelter beds available.
But city officials, who opened several overnight "warming centers" during the winter months, are planning to close some of these facilities by the end of April. Shelters at Salem Lutheran and Westminster are among those slated to close April 30, according to a March 27 press release.
Spokane City Councilman Breean Beggs tells the Inlander that the closures could make it difficult for the city to enforce the sit-lie ordinance while not running afoul of the Ninth Circuit Court's ruling.
"People thought these warming centers were just about temperature and it wasn't about that. It was about sleeping space because if there's no sleeping space, under the Boise decision, you can't enforce those kinds of laws," Beggs says. "My fear is that people will be sleeping again under the viaducts downtown and in the parks and along the river and we won't be able to do anything about it."