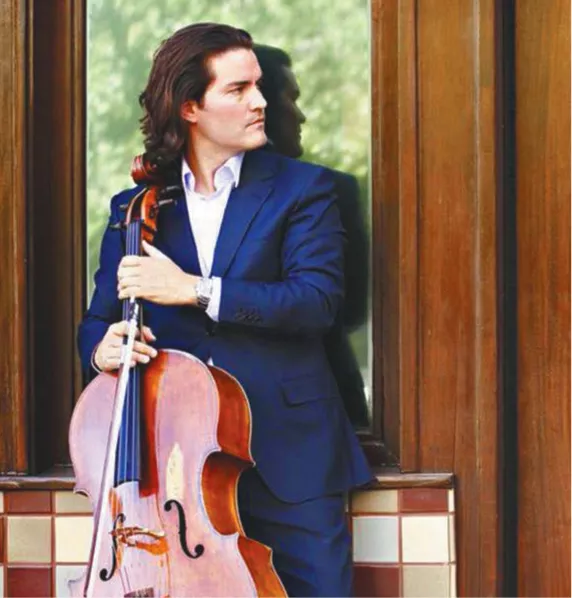 Confusion begins from the top, when the first chair violinist (concertmaster) comes out from the wings meeting the orchestra; here, you're supposed to clap. The A note is given from the oboe and tuning is initiated; no clapping when that's completed. The conductor materializes — do clap here. Silence then blankets the space. The maestro brings the baton up and the orchestra takes its cue to play. If the piece has multiple movements, clapping isn't correct in between; wait until the end.
It's because of these types of uncomfortable formalities that there's been a lot of dumbing-down of classical music to try to attract younger crowds. But cellist Zuill Bailey doesn't accept that that's the way to bring in an audience.
"Classical music is often seen as something off limits, but it's not at all," Bailey says from his home in El Paso, Texas. "The answer is more exposure, and the knowledge that what we're bringing in talent-wise is the best in the world."
This year, after Gunther Schuller retired, Bailey took over as director of the Northwest Bach Festival. Fittingly, Bailey has spent his life mastering Bach's works for the cello. Bailey says people should be awed and respectful at what classical music is in its most pure and enigmatic form.
"That's why I always dress up, not down, when I'm going to perform," he says.
Bailey's name is illustrious in the cello world. Starting his craft at age 4, he grew up not only in a musical family, but in an area outside of Washington, D.C., saturated in classical music. It's the kind of community Bailey wants to emulate no matter where he goes; it's what he wants to bring to Spokane.
How Bailey came to be here is rather serendipitous. A staple in the El Paso music scene as a teacher at University of Texas-El Paso and artistic director of El Paso Pro Musica, he took over duties in Sitka, Alaska, as artistic director of its music festival. Traveling between the two led to many layovers in Seattle, and an invitation to play the Bach Cello Suites at the Northwest Bach Festival a few years ago. From there a conversation was sparked.
"It's daunting because you're on the shoulder of giants, with Gunther, and I've been given the responsibility of not just investing ideas but also blood, sweat and tears," Bailey says. "I'm trying to give back what I was so prolifically given growing up."
What catapults someone's career as a soloist is somewhat of a mystery — a rare combination of technique, artistry and personality that can be difficult to explain. Bailey reasons he's been so successful — he graduated from Julliard and has played with almost every major national symphony — because of his self-awareness.
"I'm very comfortable being me," he explains. "At 20 years old I was given the advice to focus on what makes you, you. That's what people want to see on stage, a sincerity."
This weekend, Bailey lends his sincerity to the Spokane Symphony for the first time, bringing together the Bach Festival and Symphony. Bach will not be performed; instead the Schumann "Cello Concerto" and Tchaikovsky's "Rococo Variations" will emanate from the Fox Theater stage.
"This is a different kind of situation because I'm not saying 'goodbye,' I'm saying 'hello' with this concert," Bailey says. "I have made a decision that Spokane is a part of me now, and I admire so much what [symphony conductor] Eckart Preu is doing, the symphony has such an impact on the community. We get to share music together, this is why we do this." ♦
Spokane Symphony: Welcome to Zuill • Sat, Oct. 12 at 8 pm; Sun, Oct. 13 at 3 pm • Martin Woldson Theater at the Fox • 1001 W. Sprague • $15 and up • All-ages • spokanesymphony.org • 624-1200