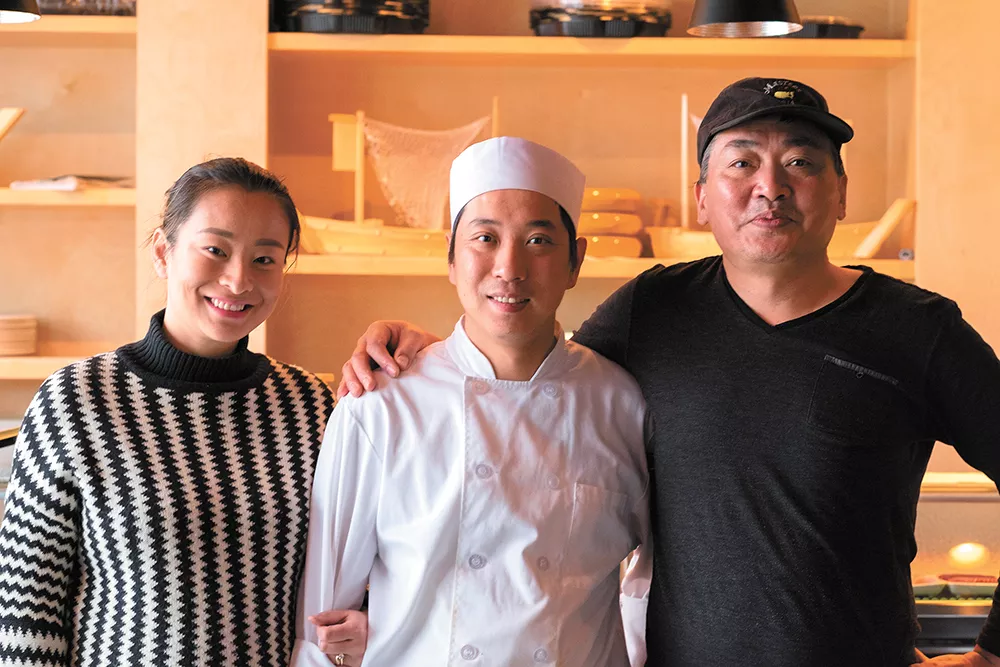 Your first clues are the maneki-neko, a Japanese lucky cat figurine, and the miniature wooden boats set against the trendy black walls, past the pale tabletops and gleaming sushi bar. Husband-and-wife owners George Liu and Xiaoyan Zhang are twisting together traditional and modern at their first restaurant, Izumi Sushi & Asian Bistro, which opened in December.
Even though it's their first endeavor, Liu and Zhang know they're ready — Liu has been training as a sushi chef for eight years all across the country, from working along the gulf in New Orleans to learning new sushi preparations in Colorado. They also brought in chef Yufu Ge, who has cooked authentic Chinese food for the past 30 years, to handle the bistro side of things.
"We want to let people know what real Asian food tastes like, from the ingredients to the chopsticks on the table," Zhang says. "And we've always wanted to create a menu that gave people more of a taste for raw fish."
They bring in a variety of seafood every week for the sushi-obsessed (and the sushi-curious), including abalone or monkfish liver. Catch the classic rolls like California and shrimp tempura, or treat yourself to a Po-Boy Roll or some juicy barbecued eel. Liu and the sushi chefs prepare the sushi right out front, from fish to dish.
Prefer your meat on the cooked side? They have General Tso's chicken, curry, chow mein, fried rice and more. For lunch, Izumi makes things easy with lots of specials and bento boxes, which come with an entrée, soup, rice and California rolls, and dinner goes well with some warm Japanese plum wine or hot sake from their full-service bar.
In the spring, they hope to introduce delivery, and in the summer they'll open up the patio where customers can enjoy craft cocktails with Japanese whisky. Perhaps they'll even open a second location if things go well, Zhang says. ♦
Izumi Sushi • 4334 S. Regal • Open Sun-Thu, 11 am-9 pm; Fri-Sat, 11 am-10 pm • facebook.com/izumisushispokane • 443-3865