The hot dog is cool again, and it has been for quite some time.
As a country, we bought $2.5 billion worth of hot dogs last year, according to the National Hot Dog and Sausage Council (no word on if they're currently hiring) and there's no sign that we're easing up. And on a culinary level, this is somewhat surprising, considering that hot dogs aren't the most pleasantly constructed meat delivery system. Apparently, though, we're willfully forgoing such concerns and letting the hot dog into our lives.
And with the trend hitting restaurants across the country for the past five years or so, a bun and a boiled frank topped with mustard, relish and ketchup is not the limit of the hot dog. We were quick to learn this when we set out to investigate the scope of Spokane's hot dog options.
For the purists, there remain the simple hot dog carts and ballpark options that rely more on tradition than reinvention. On the other hand, there are a few places in town that will put enough ancillary items atop your dog that you'll forget it's even a hot dog in the first place.
So for our latest In Search Of feature, we went between the buns (get your head out of the gutter) to see just how far this collective hot dog obsession has gone. Some of what we found might shock you.
---
THE STREET DOG
• Big Dog
• D&D Hot Dogs, 1026 W. Broadway
• $4
• Toppings: mustard, onions
Doug Bickford has every topping imaginable to make you one of his specialty dogs like the Mr. T (a burger/hot dog combo) or Big Dog Cheese (a quarter-pound dog slathered in cream cheese and freshly grated Tillamook cheddar). But when I want a quality street-cart hot dog, I keep it simple — two toppings, no more. At Bickford's cart, the dogs get steamed first, and then hit a hot grill for a few seconds before being nestled in a soft bun. Slathered with onions and yellow mustard, the quarter-pound all-beef dog attains its perfect iteration, not hiding under a pile of toppings, and not naked, either.
— DAN NAILEN
---
THE INDULGENCE
• I <3 Spokane
• Wild Dawgs, 102 N. Howard
• $7
• Toppings: cream cheese, grilled onions, mushrooms, bacon, ketchup, dip sauce, pineapple sauce, mozzarella, potato chip crumbles
One thing's obvious: this dog has a lot going on. With the most toppings/condiments of any option on this downtown Spokane hot dog shop's menu, a fork and knife are necessary. Wild Dawgs' staff is so unfazed by this need, they offer utensils without asking. Though it seems lost — buried under the deliciously savory, sweet, salty and tangy flavors of all those toppings — there really is a classic beef hot dog buried in that bun (sausage or veggie dogs can be swapped in for $1). Wild Dawgs also understands that any dog this loaded needs a sturdy bun to cradle all that flavor. These large, sub sandwich-style buns are toasted to perfection, and all dogs are served with a generous handful of Lay's classic potato chips.
— CHEY SCOTT
---
THE BACON LOVER'S DELIGHT
• The Bacon Wrapped Dog
• Big Red's, Parking lot at the corner of West Sunset Boulevard and South Government Way
• $6.50
• Toppings: Bacon, grilled onions, barbecue sauce, cream cheese
People working at Big Red's cramped food truck will hand you a tall stack of napkins to go along with this monstrosity; you'll need them all. Even if you eat it with a knife and fork, expect the sauces and juicy Chicago-made hot dog goodness to make a mess of your hands, arms and face — but your mouth won't complain about the indulgence. The hot dog is at least a foot long (I could only eat half of it in one sitting) and despite its unusual combination of toppings, the extra-crispy, thick bacon brings the sweet, savory and salty flavors together. This is a must-try for anyone who still worships at the alter of all things bacon.
— LAURA JOHNSON
---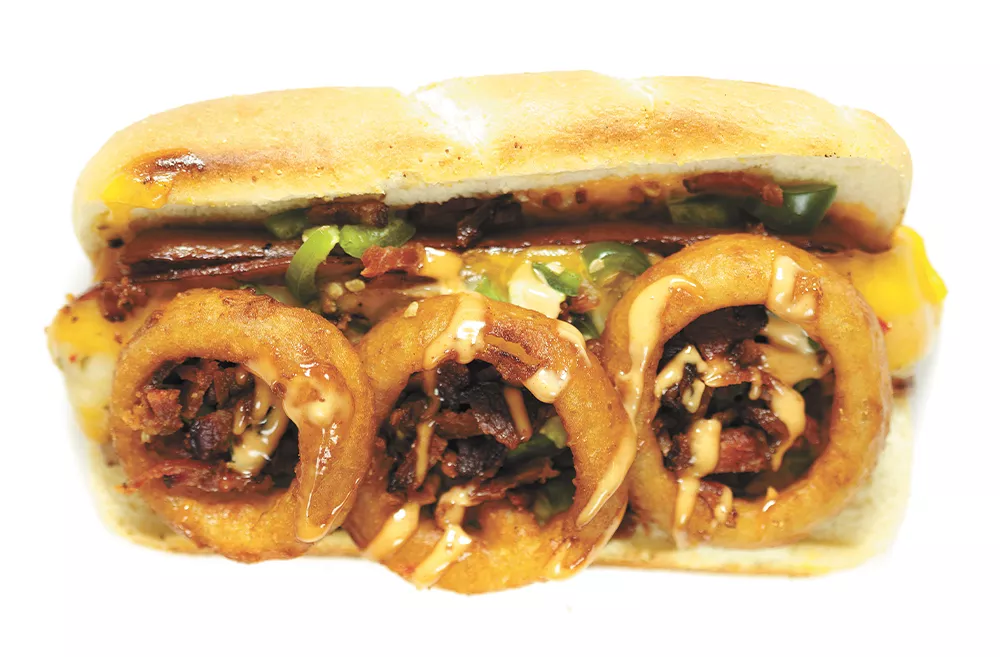 THE ULTIMATE PUB DOG
• The Rookie Runt Dog
• Waddell's Pub and Grill, 4318 S. Regal
• $9.95
• Toppings: Chopped jalapeños, cheddar and pepper jack cheese, bacon, grilled ham, housemade sauce, onion rings
The toppings you'll find on the Rookie Runt Dog at Waddell's are the stuff that go well with beer (and pants with an elastic waistband). Not only is it crowned with bacon, there's also grilled ham tucked beneath the juicy Nathan's frank that anchors this monstrosity and two different types of cheese. The guys behind the bar say it's one of the most-ordered dogs on the pub's extensive list of elaborately adorned franks. You might be thinking that spending 10 bucks on a hot dog is a little much, but once you hold this thing in your hands, the weight alone will let you know that the money was well spent. One tip: Beware of the chopped jalapeños, especially if you're eating it with bare hands (wear your favorite "hot dog gloves"), because that nose wipe a few minutes following completion of this thing will leave your face on fire.
— MIKE BOOKEY