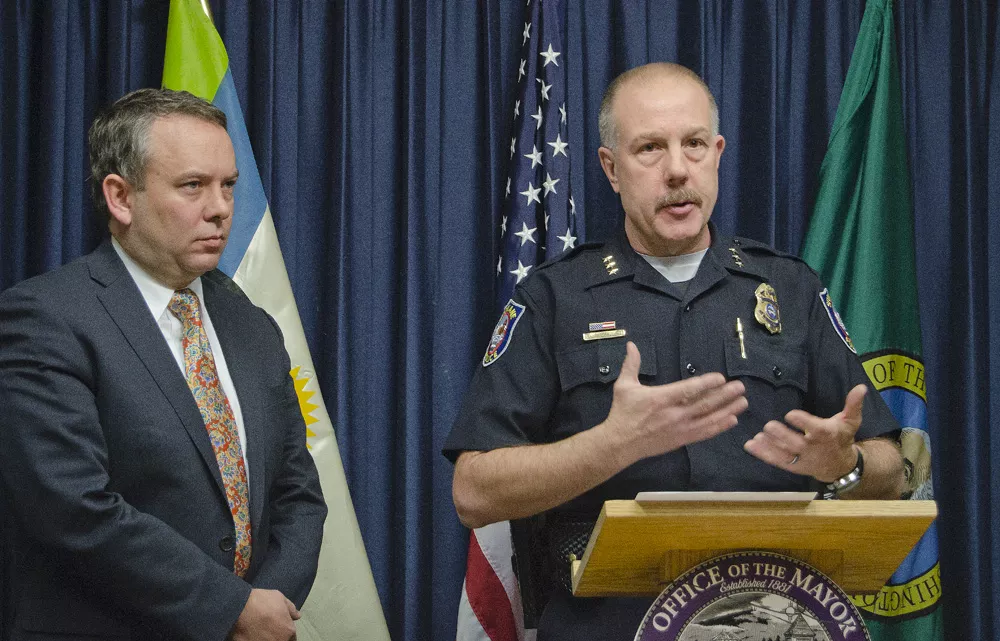 A CLASS ACTION
Three new plaintiffs have been added to an ongoing federal civil rights lawsuit pitting patients found NOT GUILTY BY REASON OF INSANITY against Washington state and the Department of Social and Health Services. All additional plaintiffs are NGRI patients at Eastern or Western State Hospitals, who together have been committed for more than 30 years despite being in remission or having no diagnosable mental illness. Two of the new plaintiffs currently receive no psychotropic drugs or antidepressants.
The amended complaint highlights several instances in which the plaintiffs have endured punitive and sometimes demeaning treatment from hospital staff. For example, plaintiff "B.T," a patient at Western State Hospital since 2009 who has no mental illness beyond a history of drug abuse and suffers from acute renal failure, is regularly shackled for doctors appointments outside his ward. According to the complaint, at one such appointment in 2013, "B.T. was not allowed to remove the shackles in order to toilet himself after a bowel movement. He was forced to sit in his own waste throughout the appointment and ride back to [Western]."
"There is no state law that says you have to shackle people," says the plaintiffs' attorney Andrew Biviano. "While safety is important, there is always a balance and it's tipped too far toward fear."
Filed last May in response to an Inlander investigation, the lawsuit alleges that current state laws and restrictions violate rights of NGRI patients to adequate mental health treatment and release. The case is scheduled to go to trial next year. (DEANNA PAN)
---
ETHICS 2.0
The board charged with making sure that Spokane city officials and elected officials behave ethically is likely to get a facelift early next year along with some new teeth.
In September of last year, City Attorney Nancy Isserlis began a revision of the city's ETHICS CODE, which will be considered for approval by Spokane City Council early in 2015. If approved, the city's seven-member Ethics Committee will become an Ethics Commission with new powers and a slightly expanded scope. The ethics code governs what kind of gifts employees and elected officials can take, what they have to disclose, what they can't disclose, use of city vehicles and equipment, as well as what sanctions they face if they break the rules.
Although Isserlis says that many of the changes to the city's ethics code, which she expects city council to pass, are housekeeping in nature, there are a few significant alterations. Isserlis says that the new code overhauls the complaint process, while also enhancing training for city employees and clarifying what gifts they can receive.
The new language will give the commission the new power to subpoena witnesses. Additionally, the modifications include a provision that bars city employees from steering business toward a person or a company with which they have a financial relationship.
Despite the overhaul, Isserlis points out "an ethics code is only as good as the people who are bound by it." (JAKE THOMAS)
---
SPD Audit Released
A long-awaited audit by the DEPARTMENT OF JUSTICE found no deliberate pattern of unnecessary force at the Spokane Police Department, but did identify 42 recommended reforms for improving officer accountability and community interactions. A number of findings criticize Police Chief Frank Straub's communication skills as well as some oft-used force techniques.
The report, compiled over 18 months by the COPS Division of the DOJ, analyzed five years worth of use-of-force incidents and officer-involved deaths. Most recommendations call for increased clarification of policies and procedures.
Interviews with officers suggested Straub had made many rapid changes in recent months without clearly communicating the reasons or new responsibilities involved. Straub acknowledged he had not always clearly articulated his departmental changes.
"It's important for me to hear that," Straub says. "I'm running a little bit faster than I should and not bringing the rest of the team along with me."
The report also called for greater scrutiny of neck restraint holds, which cut off blood flow and render people unconscious. After reviewing officer-involved shootings, the DOJ also recommended tighter policies over the use of tactical rifles. The Inlander will have additional coverage of the new DOJ report as well as analysis from the city's outgoing police ombudsman in next week's edition. (JACOB JONES)