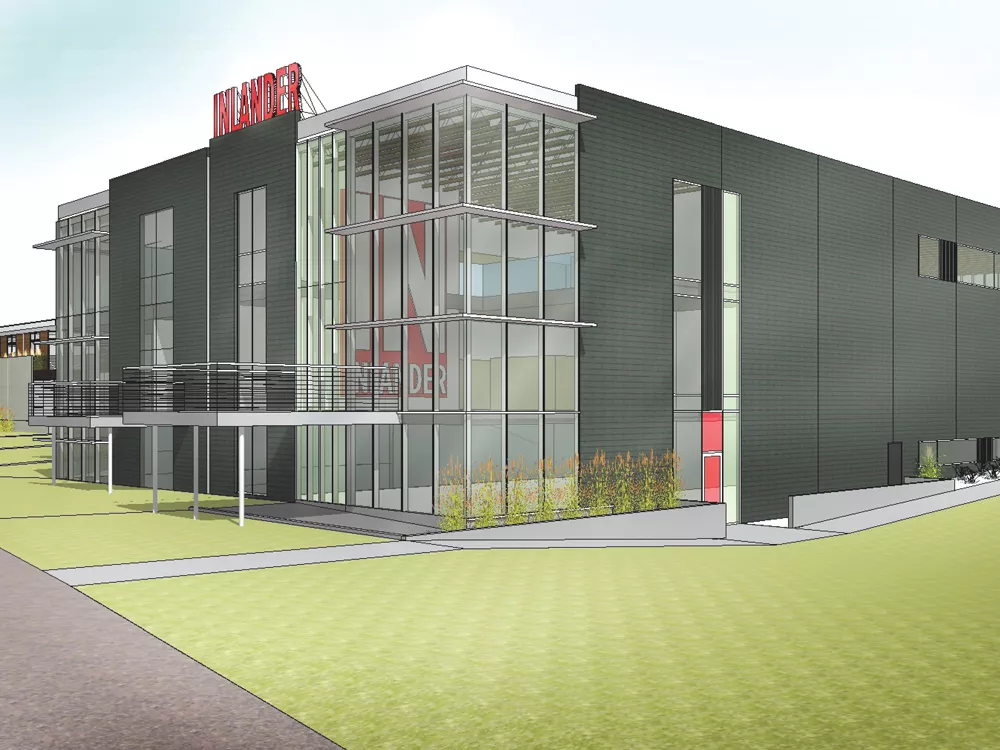 After 19 years, The Inlander is finally getting a home all its own. The weekly paper — a serial renter of assorted office spaces around Spokane — is set to build its own headquarters this fall.
"It'll hopefully be a permanent home for the newspaper and the company," says Publisher Ted S. McGregor Jr.
The Kendall Yards location will be the sixth home for The Inlander. A purchase agreement has been signed, and the sale should be official in July, McGregor says. Construction will cost about $1.2 million and The Inlander will own both the building and the land, he says. He declined to say how much the land purchase would cost.
About 11,000 square feet will be used by The Inlander, while another 2,000 square feet will be leased, according to McGregor.
"Their location of this building is in the center of the Kendall Yards business district, so they'll be one of what I'll call the 'anchor businesses' in the business district," says Jim Frank, chief executive officer of Greenstone Corporation.
Greenstone is behind the development of Kendall Yards, a 78- acre swath on the bluffs north of the Spokane River and to the western flank of downtown. Among the businesses already committed to the development are a property management firm, a restaurant and spa services, Frank says. The businesses come on the heels of 60 homes that have been built and sold, and another 35 under construction, he says.
The Inlander building will be connected to another one that will house Spa Paradiso. The spa is moving from the Davenport Hotel and will share space with a business yet to be named, spa director Sarah Schoonover says.
"We just felt that it's urban and it's modern," Schoonover says, referring to Kendall Yards. Spa Paradiso will close shop in the Davenport on July 22 and expects to open in the new location on Dec. 1.
David Blaine, currently the head chef at Latah Bistro, says he's also been recruited by Frank for a new restaurant.
"Basically, Jim called me up and said he had this spot and they were thinking of it," Blaine says. "It's a very unique opportunity. This kind of property doesn't come along very often."
To be called Central Food, the restaurant will be someplace you'd want to eat on a day-to-day basis, Blaine says.
"I've worked in a lot of places, and a lot of them are more special-occasion places," he says. "What I enjoy most is a neighborhood-style restaurant."