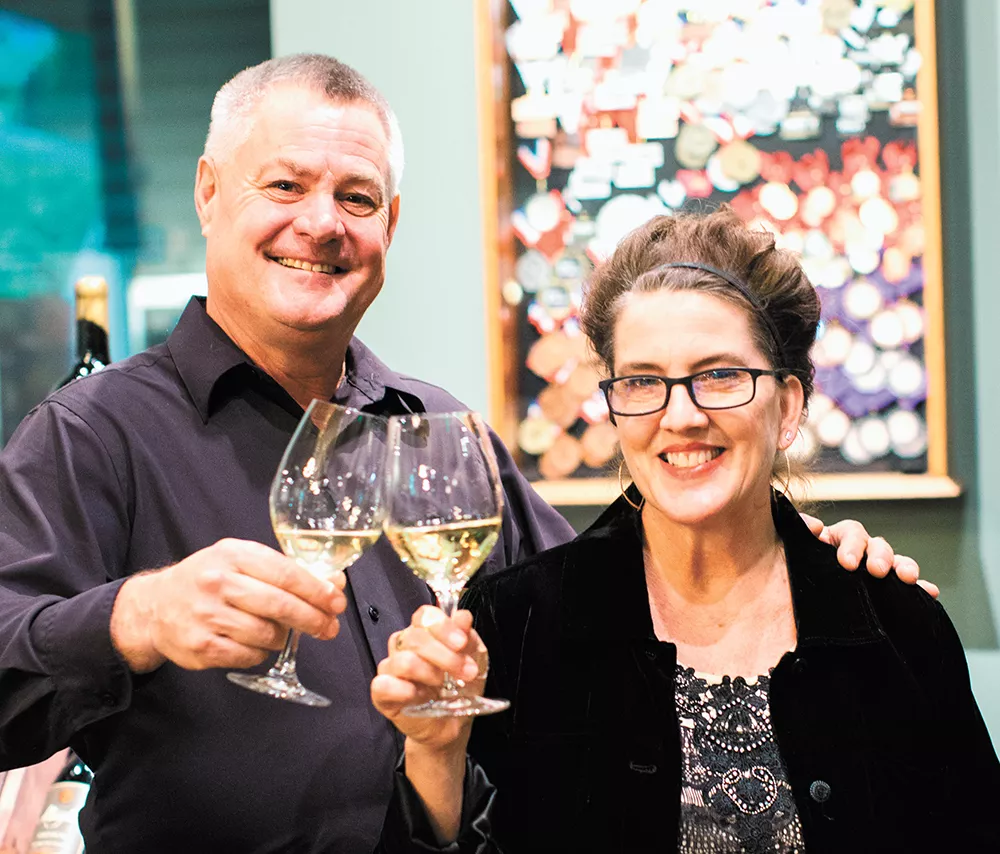 With sweeping, 180-degree views of the Spokane River gorge and downtown Spokane, the latest commercial tenant in Kendall Yards is poised to be a scenic — and flavorful — year-round attraction.
Maryhill Winery of Goldendale, Washington, opened its architecturally stunning, 5,000-square-foot tasting room and retail space this past weekend, just in time for the start of the holiday season. During last Friday's friends-and-family event before a two-day public grand opening, the tasting room was packed with cheery guests eager to sample some of the award-winning winery's 64 bottled wines, made from 36 varietals of grapes grown throughout the Columbia Valley's diverse appellations.
To visually showcase the wide-ranging characteristics of Maryhill's 24 vineyard sources spanning eight of Washington state's 14 designated American Viticultural Areas (AVAs), a focal wall in the new tasting room displays images with the names of all of those vineyards, as well as large glass bottles containing samples of the unique soil makeups of each. Some of these specimens are a pale, ashy grey, while others sediments are rich, earthy browns.
As for the winery's expansion into the Lilac City, it made complete sense for owners and Spokane natives Craig and Vicki Leuthold to stretch Maryhill's reach closer to home. Yet the decision to do so came about by chance, almost one year ago.
"The opportunity to be located in Kendall Yards was a deciding factor," says Craig Leuthold. "We were home last year, and were at a wine tasting down here at Craftsman Cellars. Some friends of ours were having a Christmas party and we were walking down the street to go eat at Wandering Table. I saw the sign for new construction, and a big hole in the ground... I didn't think think much of it, and then in the middle of the night I thought, 'Oh my gosh, it would be really cool to have a tasting room there,' and here we are 11 months later, opening our doors."
Prior to the tasting room's debut, Maryhill's local fans could find around eight or so of its main offerings at retailers in the area (its many wines are also sold online). Now, Leuthold says, Inland Northwest wine lovers have access to all 64 of its bottled wines. This includes the exclusive and limited release Proprietor's Reserve wines, along with its Vineyard Series, which showcases grapes from designated vineyards in small batches. The latter are exclusive to Maryhill's Premium Wine Club members.
In addition to a large, open space for tastings, events and retail, the Spokane tasting room includes an attached, private Wine Club Room, which the public can also visit to sample wines for a $20 fee. Craig Leuthold says that through the end of the year, visitors to the tasting room can take advantage of half-off Maryhill's wine club membership fee of $50. Membership includes access to three cases of wine a year (for an additional cost) and 25 percent off any retail bottles, along with other benefits.
Beyond daily hours for the public to taste ($10/flight; waived with a $20 wine purchase) and shop for its award-winning products — Maryhill has received more than 3,000 accolades for its wines since its debut in 2001; dozens of these awards are displayed in three large cases inside the new tasting room — the space is also available for private events for up to 250 people. Come spring, the scenic patio overlooking the Spokane River will seat close to 50.
The Leutholds also envision hosting special events for the public, such as vertical tastings of select vineyard appellation vintages. All of the tasting room's bar tops, hand-built by Craig and featuring oak wine-barrel stays along their fronts, are on wheels, allowing for a variety of room configurations. The Wine Club Room is also host to a massive, circa-1880 Brunswick bar.
While the winery is outfitted to serve catered food, it doesn't plan to serve much of its own, instead allowing customers to bring in outside food, such as orders from nearby restaurants like Veraci Pizza, and a forthcoming sushi bar in an adjacent space.
"We have a basic kitchen and a pizza oven, so we'll have warm foccacia and baked Brie and single-serve pizza," Leuthold explains. "With all the restaurants here, we didn't feel it was necessary to have food. Down at Maryhill [in Goldendale] we encourage people to bring picnics, and we encourage the same thing here."
There's also a self-serve cold case stocked with hummus and cheese to be paired with gourmet-style crackers sold on site.
Now that they have a new business footprint across the state from their winery's headquarters, the Leutholds are looking forward to spending more time in Spokane, where they both lived before founding the winery in 1999. They now hope to split their time between Spokane and Goldendale.
"We are super excited to be here," Leuthold says. "It's really fun for Vicki and I, and we couldn't be happier with the way the space turned out. It's so inviting, and I think it's going to be a great statement for Kendall Yards. We're just excited to be a part of the community." ♦
Maryhill Winery Spokane • 1303 W. Summit Pkwy., Suite 100 • Open daily from noon-8 pm • maryhillwinery.com or facebook.com/maryhillspokane • 443-3832