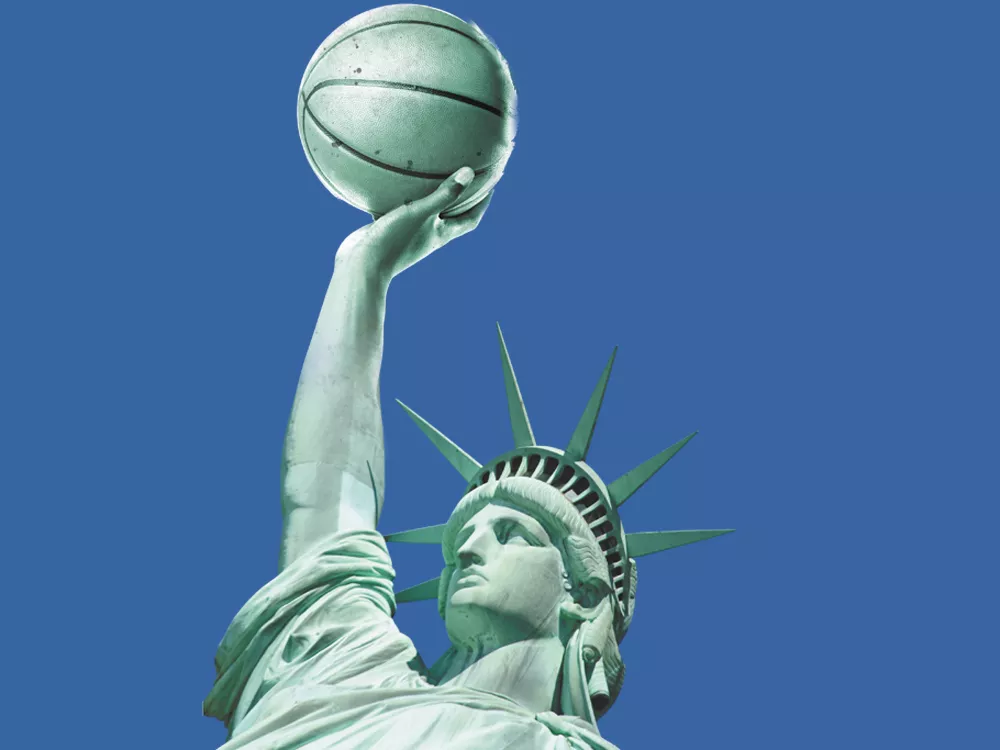 W
hat would a monument
inspired by the monumental event known as Hoopfest look like?
That's just what Hoopfest's executive director, Rick Steltenpohl, wanted to know. So roughly six months ago, he developed a committee of Hoopfest folks and representatives of the Parks Department and the city's Arts Commission to explore creating a sculpture honoring the organization's 25-year anniversary.
Although still two years away, Hoopfest has committed $350,000 for a sculpture and some adjacent artwork to be installed inside Riverfront Park at Wall Street and Spokane Falls Boulevard. Working with the Parks Board, which, like other city departments, is anticipating the impact of a $10 million budget shortfall, Hoopfest signed a memorandum of understanding for the sculpture project.
Hoopfest will begin fundraising once the final artist has been selected towards the end of July or early August. Until then, the committee members — including Spokane Arts Commission's Karen Mobley and Parks Board member Chris Wright — are keeping mum on just whom that might be. "We maintain a database of more than 1,000 artists," said Mobley, who narrowed that list based on Hoopfest's criteria. "They wanted experienced artists who can handle a technically complex, high-budget project," says Mobley, who helps manage the city's 229 public art pieces, including its popular Sculpture Walk.
Slated for installation somewhere between David Govedare's "The Joy of Running Together" (aka Bloomsday Runners) and "Rotary Riverfront Fountain" by Harold Balazs and Bob Perron, the Hoopfest sculpture would join a core of communitythemed artworks. Other privately funded and privately initiated civic-minded sculptures in the city's collection include Dorothy Fowler's commemorative to Columbia Space Shuttle's Michael P. Anderson.
"We're grateful that [Hoopfest is] still so meaningful and vital to so many different families," says Steltenphol of the event with an estimated attendance of more than 250,000 players and fans across 42 city blocks. He sees the sculpture as a way of giving back to the community that took a chance on closing city streets to host a 3-on-3 tournament.
They're also looking for the "wow" factor, says Steltenpohl, and something that captures the energy of Hoopfest. That was the directive to the seven artists asked to submit concept drawings and examples of their work. That list is now down to three, from which one artist will be selected and a design fine-tuned, says Steltenpohl.
"We've been inspired by the submissions," says Steltenphol, who is looking forward to planning the rest of the celebration, too. "I get the same feeling every year — that people are excited to be a part of it."

Like Bloomsday, Hoopfest will soon be honored with a statue downtown, and, no, it won't look like this.