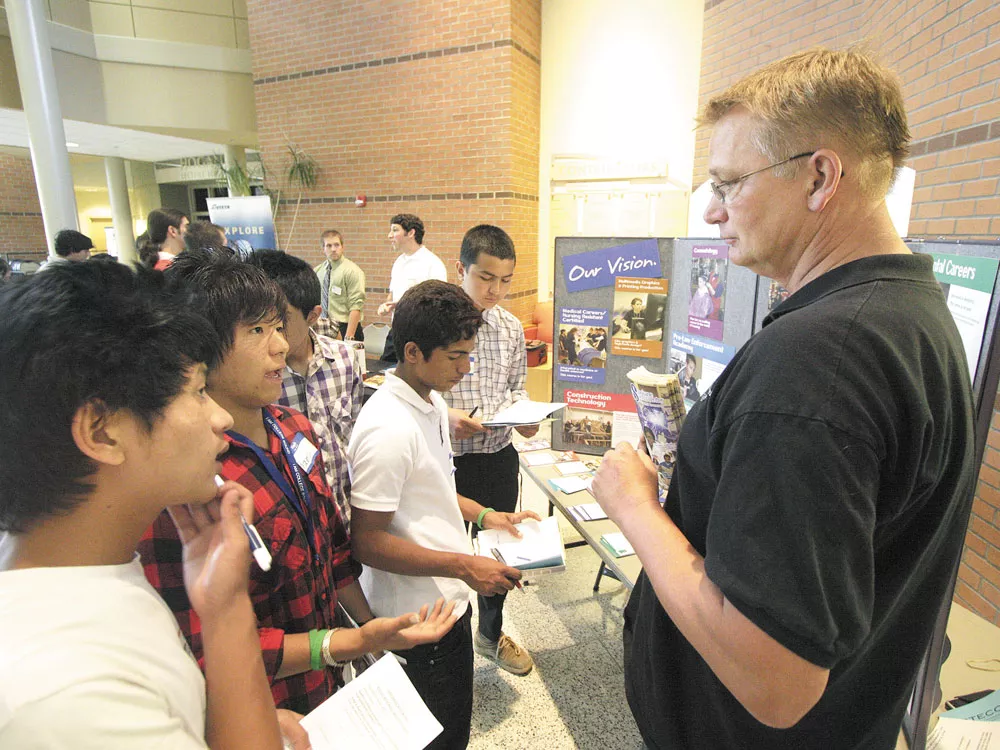 At first glance, the lobby of Gonzaga's Jepson School of Business Administration resembled nothing so much as a middle-school dance. A line of teenagers waited shyly along the near side, staring out across an empty floor to where their partners also stood, waiting. Erin Welch Meuer, who was chaperoning, stood between the two groups and tried to facilitate a somewhat awkward initial greeting.
But unlike those awkward 12-year-olds jamming to the latest beats, once the signal was given — and the teens were relieved of having to introduce themselves to the entire group — they scampered forward, eager to interact, engage and learn. Clutching little blue booklets that listed short profiles of each organization and a few "interview primers" that were supposed to serve as guides for their conversations, they fanned out over the room.
The teens were students at the Business and Technology English language Career Camp, a summer camp of sorts for refugees and immigrants to better their understanding of their adopted country's native tongue. BTECC is a part of a much larger Summer Institute held for teachers who want to teach English to students of other languages. The SI actually teaches both educators and students; the educators are graduate students learning how to teach, and the students are kids who are still learning English.
The students in the lobby are juniors and seniors in high school
. They come from all over the map — the Marshall Islands, Burma, Bhutan, Russia, China, and elsewhere — but even their home countries don't tell the whole story. Much as you wouldn't lump an Iowan and a Californian under the generic "American" heading and expect them to be utterly similar, any two students — even if from the same country — wouldn't necessarily have the same experiences.
Pranesh Rai, for example, is a junior at Mead High School. He's also a Nepalese refugee who's been in the United States for less than a year and a half. When he speaks, it's with an almost unmatched self-confidence that nevertheless seems earned.
Like most of the students, he seems to know what questions I'm going to ask, like "Where are you from?" and "What's different in America?" Unlike most of the students, he goes out of his way to provide thorough answers.
"There's no similarity between Nepal and here. It's different," he says. "We are refugees, so we lived in one small camp … they don't have enough money to give an education to us."
Despite only having been in America for 15 months, Rai knows what he's going to do: "I'm going to graduate next year, go to community college and get some skills, then go to Eastern Washington University."
Grace Allen, a 17-year-old junior at University High School, moved here from China four years ago. She, too, prefers America to China and, like Rai, is pretty confident about what she's going to do.
"[I plan to] go to college. I want to learn more Chinese and English, because I want to be a translator," she says.
By and large, the students seemed engaged, going from table to table and learning about options that — until they came to BTECC — most of them didn't even know were available to them.
But the program's triumph is evident in ways other than just students effusing their desire to continue their education. The booklets, with their handy dialogue instructions, became afterthoughts for all but two or three students. Instead, the kids stood in front of the tables in pairs or groups of threes, assertively and politely asking questions that were important to them, not just what the program thought would be useful for them to know.
When I asked Meuer, the facilitator, if she was seeing more engagement with this new model, her reaction wasn't exactly understated.
"Wow. Wow, wow, wow, wow," she says. Meuer's commitment to the students is obvious. When one young woman sits on a chair apart from the action, Meuer walks over to her, warmth and kindness evident in her voice, to greet the student by name and nudge her to participate. Meuer's is not the professional smile that adorns the faces of those who are ordered to be courteous and nice as part of their job training. She genuinely cares.
This pseudo-career/college fair marks the end of the program for these teens, and is supposed to signify — to them — their ability to interact comfortably. It also, however, has a larger significance for Meuer.
"I remember when I was in high school, college is all over the place. 'We want a part of your future. You're going to have a bright future. You're gonna be awesome.' It never ends," she says. "And people come into your school trying to get you into their college. I wanted these students to have that feeling."
Later, Meuer stops to talk again. She looks a bit harried, having to corral all these students, but she seems happy, almost exuberant. Words are tumbling out quickly, but with an intensity that wasn't present before.
"We wanted students to know what their future was and that people wanted a part of their future, wanted them to succeed," she says. "But we also wanted the community to know what its future is going to be."