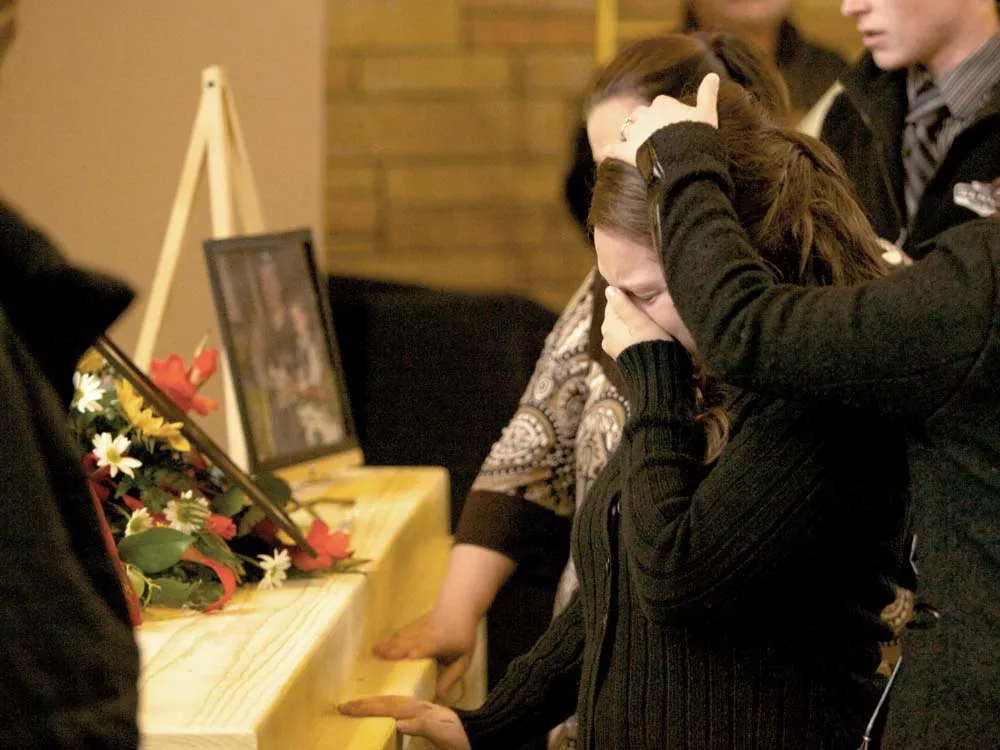 Standing at the front of a hushed chapel, Gary Fox lights incense and, with a feather, wafts smoke before members of Kenneth Dennis's family seated in the first row.
Fox then picks up a small drum and baton, beating the drum softly and then louder. He turns to the large, gray windows and lets out a wail for Dennis, a descendant of the Turtle Mountain Band of Chippewa Indians.
Later, a photo slideshow begins on a video monitor above the fireplace, celebrating Dennis's 26 years. A photo of Dennis in elementary school pops up as a song begins, "I'm gonna miss that smile." Then there are more school portraits and later an image of Dennis with his family. Through the photos, his life advances — camping as a young man and eventually embracing his own daughter and lying with her in bed.
Kenneth Dennis died Jan. 16 when police came to his home after receiving a report of domestic violence. He was shot three times in front of his fiancée and 2-year-old daughter. In media interviews, the fiancée, Crystal Barrett, has said the police did not announce themselves, and when they barged through the door, Kenneth grabbed a knife that was on the mantle. Barrett says the police didn't ask Kenneth to drop the knife before shooting him.
A search warrant filed in District Court last week says that Dennis was shot after almost stabbing one of the officers. A 13-inch knife was found near Dennis's body, according to reports One of the officers involved was an 18-year veteran with the Spokane Police and the other had two years experience with the SPD.
The warrant also says the 911 call came from Barrett's friend Cassandra L. Shear. Shear called police twice that night, first saying that Barrett "was locked inside the house and was being pushed by her intoxicated boyfriend," and then to say she wasn't allowed back in the house with the couple.
Dennis was the fifth citizen shot and killed by local law enforcement since August. Two other people shot by police survived.
"I still can't believe he's gone," his youngest brother, Jason, said during Monday's service.
"How can you not believe something that is right in front of you?" Dennis's uncle Lenny wears a white T-shirt with Kenneth's smiling face on the front. "Rest in Peace" is written in blue cursive above the photo and "July 26, 1984 to January 16, 2011" runs along the bottom. Other family members and friends wear the same shirt.
"Kenny was a good kid. He was my fishing partner. He was at the lakes all the time," Lenny says. "It's just a shock. Kenny didn't even have a chance."
Barbara Dennis, one of Kenny's cousins, says the family wants some justice after everything that happened. "We want to feel like we can trust the police. It's what we were raised to do," she says.
Rain drizzles down outside the chapel as the mourners file out, hugging and wiping one another's tears. The mass parts as Gary Fox wails once again, his cry piercing the hushed conversations. As he beats the drum, members of the family walk behind him, bearing Kenneth Dennis's body.

The Dennis family has set up an account to help pay for the funeral. Donations can be made at Wells Fargo Bank under the name Kenneth Dennis.