When considering gifts for your favorite powder hound, it's important to remember that skiing and snowboarding are more than just what's on your feet. Shredding is great, but so is staying warm and looking good while doing it. To that end, here's a collection of ideas that literally extend from head to toe, and from skin to wind.
Whitefish Hat
$56, REI
Momma always said heat escapes fastest through your noggin. Outdoor Research offers the most efficient and stylish way to keep it in. The Whitefish Hat is an ideal companion for any wintertime adventure, with earflaps that can pin back inside a toasty bar and a built-in facemask that will fend off frostnip on the trek home.
Oakley Wind Jacket 2.0
$153, Sports Creel
Goggles are great, but boy howdy can they fog up on a warm day. Sunglasses are great too, but when you hit top speed, those tears can be a problem. Oakley split the difference with the Wind Jacket 2.0, a hybrid lense that promises the coverage of goggles with the easy-off comfort of glasses. Just don't sit on them in the car.
Airblaster Ninja Suit
$120, backcountry.com
Nothing makes a cold chairlift ride more miserable than a base-layer top that creeps up in the back. With the Airblaster Ninja Suit, the days of wind-nipped lower backs are over. This polyester-and-lycra onesie covers every inch of skin from scalp to ankle. And for the whimsical rider, it even comes in pizza slice print.
Duckworth Woolcloud Vest
$225, Alpine Shop (Sandpoint)

When it comes to staying warm, the core is key. What better solution than wrapping your torso in Montana-grown Merino wool? Duckworth has become one of the region's leading brands in locally sourced insulation, and the Woolcloud Vest (available at the Alpine Shop in men's and women's) carries that trend forward, whether it's one layer in several or an apres-ski fashion statement.
Flylow Tough Guy Glove
$35, Mountain Gear
Others might play around with fancy-shmancy heated gloves. But anyone who's spent hours on a rope tow knows that there's elegance in simplicity. Look around any lift line and you'll notice the Flylow is a mainstay among hardcore riders in the Pacific Northwest. That's because these gloves ain't just for skiing. They're for anything winter might throw at you.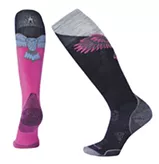 Women's PhD Pro Freeski Socks
$30, Smartwool
Odds are no one really wants people ogling their ski socks, especially after a long day on the slopes. The PhD Pro Freeski remains a work of art anyway, with shades of pink giving way to spread-winged owl in brilliant blue on the calf. A pair of these promises the same degree of warmth and comfort we've all come to expect from Smartwool, which itself is enough to keep any wearer floating on air.
Blizzard Black Pearl 88
$600, Alpine Haus
Billed by Blizzard as an all-mountain workhorse, this season's Black Pearl 88 can handle anything a hard-charging woman wants. The slim 88-millimeter waist will carve strong turns in the iciest conditions, and the reverse camber makes staying aloft on powder days a snap. If you're going to put a pair of skis under the tree this year, it's best to be sure they'll last from the season's earliest days to its last.
Lib Tech Stump Ape 157
$620, 7B Boardshop (Sandpoint)
Life in the Inland Northwest is good for a lot of things, but the biggest one is riding powder. If you're really looking to treat that crazy snowboarder in your family this Christmas, you'll take that as a cue. Lib Tech's new Stump Ape is the kind of directional, ultra-wide board built for big fluffy snowstorms. Plus, with this wide a platform, even folks with big feet can shred like pros.
Liftopia Gift Card
$50 to $250, liftopia.com
If you truly want to give the gift of skiing this year, there is perhaps no better place to focus than the jacket zipper of your giftee. Liftopia offers gift cards in varying amounts, which can then be used on advance lift pass deals at a host of resorts across the Pacific Northwest including Mt. Spokane, Schweitzer and Lookout. Who knows, your gift could be what spurs that beloved skier or snowboarder to hit the road and shred an exciting new mountain this season. ♦