You show me a "cult classic" movie, and I'll show you a flick that was probably commercially ignored and critically lambasted when it arrived in theaters. Super Troopers, released commercially in 2002, didn't reach $20 million in box office gross, and critics generally derided it as "lowbrow," "juvenile" and just "occasionally amusing."
Fifteen years later, though, the comedy about a bunch of ne'er-do-well Vermont state troopers enjoys a hallowed spot among a certain set of comedy fans — check out that 90 percent audience score on RottenTomatoes.com. And it helped launch the careers of the Broken Lizard comedy troupe's members, who wrote, acted in, and in the case of Jay Chandrasekhar, directed the movie.
For the Broken Lizard guys, just getting Super Troopers into theaters was a victory for a crew who met as hard-partying college kids at Colgate University in upstate New York.
"We made a movie but we didn't think anyone would see it," says Chandrasekhar from a Los Angeles set where he's shooting an ABC pilot. "We were just trying to bash our way into show business. We did not expect anything at all. Then we were at Sundance [Film Festival] and Patrick Swayze came up to one of the guys and said, 'You're in that movie with the cops!' And we are huge Swayze fans. We couldn't even process that. And it just gets bigger and bigger every year. That movie just keeps growing."
For Broken Lizard, Super Troopers' success on DVD allowed them to go on to make more features, including Broken Lizard's Club Dread, Beerfest and (soon) Super Troopers 2, while Chandrasekhar went on to become a busy director outside his group of college buddies; he's helmed multiple episodes of shows like Arrested Development, Happy Endings, New Girl and Community, among many others, through the years.
Chandrasekhar tells the story behind Broken Lizard and his life as a suburban Chicago kid-turned-comedy icon in a new book, Mustache Shenanigans: Making Super Troopers and Other Adventures in Comedy. He'll read and sign the book at Auntie's on Saturday, and headline at the Spokane Comedy Club Thursday through Saturday this week.
While Super Troopers fans will obviously revel in the behind-the-scenes antics of the Broken Lizard crew's creative process and getting the story of Thorny, Rod and Rabbit to the screen, there's a lot to enjoy for people interested in the sausage-making aspect of the film biz — the ins and outs of dealing with financing and production houses when all Chandrasekhar and his buddies wanted to do was make funny movies, not learn a whole new business.
Particularly engaging is a section about Puddle Cruiser, the movie the troupe made pre-Super Troopers that was oh-so-close to getting a distribution deal, only to fall short.
"We were knocking right on the door, and on the other side of the door were [directors] Kevin Smith and Ed Burns and Quentin Tarantino," Chandrasekhar says of the 1996 movie that was finally released on DVD in 2005. "They were all right there on the other side of the door, and we were right there, and we couldn't get in until the second try [with Super Troopers].
"And really, Super Troopers was a long and twisting road that should have ended with us not making the movie. But it happened."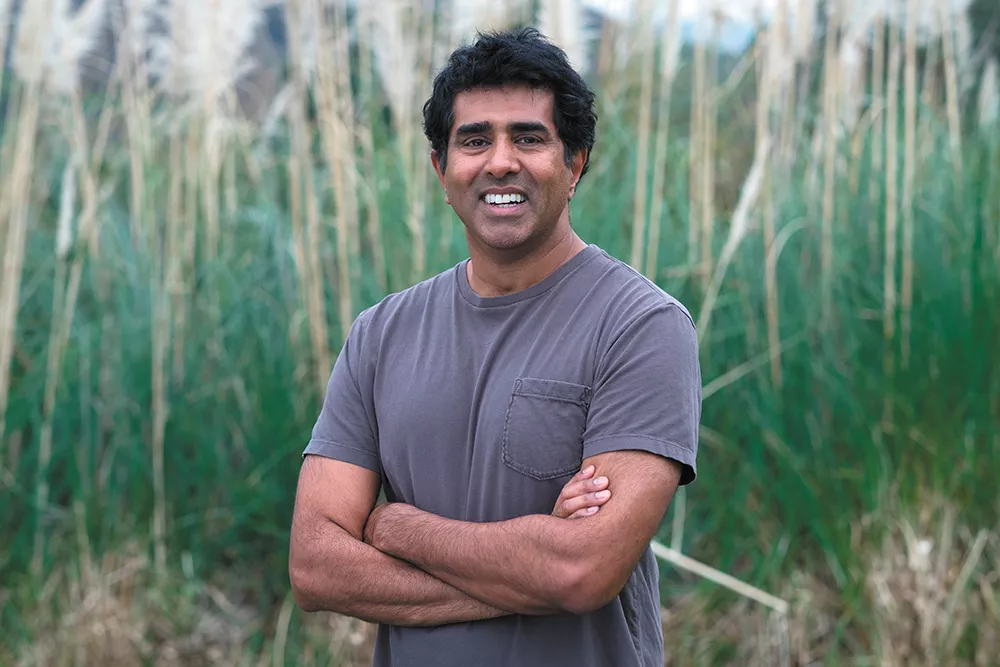 Writing the book, he says, was a way to tell the truth behind some of the widespread anecdotes and twisted tales about Broken Lizard, and "to set the record straight that I'm not from Canada."
More seriously, he says he wanted to get into the "real nitty-gritty" of making movies, and tell the story about being an Indian, the son of two immigrant doctors, and growing up in the suburbs of Chicago. Chandrasekhar says that Mustache Shenanigans is also "the story of a hard-partying lifestyle."
That will come as no surprise to fans of Broken Lizard's comedy, but it did come as a bit of a surprise to his parents when they read the book.
"My mother and father learned of my excessive drug use and sexual history," Chandrasekhar says, "and interestingly, my father was like, 'I guess I'm grateful that you're alive. And part of me is jealous. You really lived a different life than I ended up living.'"
It's a life that has informed many of the stories he tells in his films, his live shows (although he promises that his stand-up tales are a lot more "dirty and wild") and his book. Writing a book required a somewhat different thought process and focus than other forms of expression, he says, but ultimately, everything he likes to do is somewhat similar: "You set up a premise, tell some jokes, then bring it together.
"I feel like there's a certain kind of human addicted to stories," Chandrasekhar says. "I'm one of them. I feel like all of us are, to some degree." ♦
Jay Chandrasekhar • Thu, April 13 at 8 pm • $16/$24 • Fri-Sat, April 14-15 at 7:30 and 10:30 pm • $20/$28 • Spokane Comedy Club • 315 W. Sprague • spokanecomedyclub.com • 318-9998
Jay Chandrasekhar reading/signing • Sat, April 15 at 2 pm • Free • Auntie's Bookstore • 402 W. Main • auntiesbooks.com • 838-0206