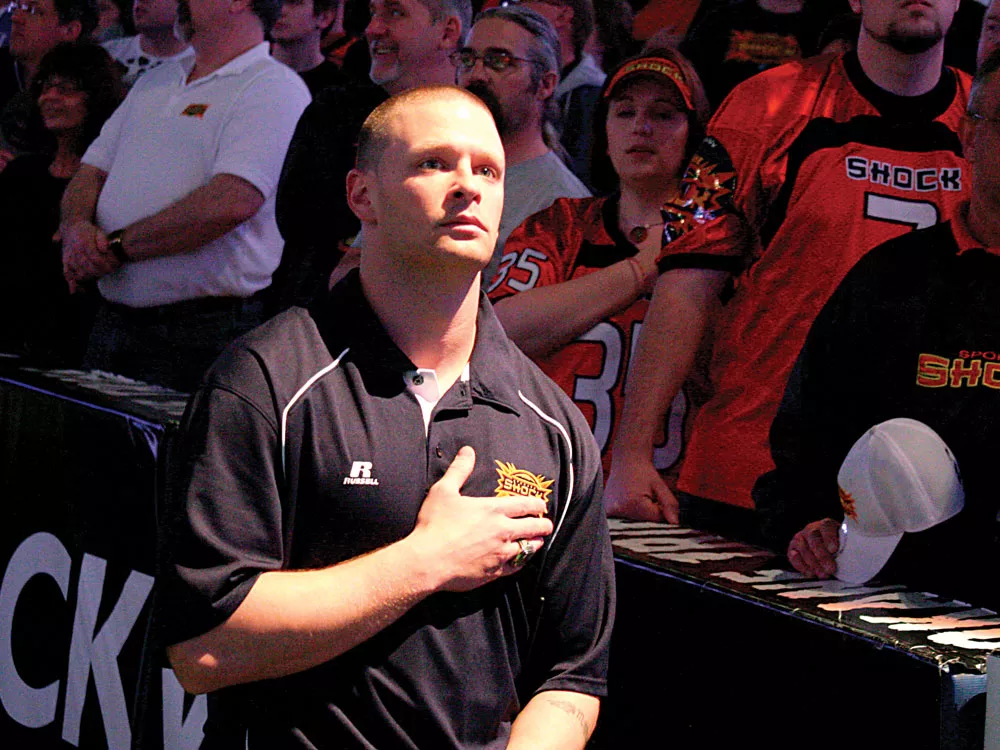 People look at Rob Keefe today, and they see a winner. A leader. An overwhelming success. Not so many years ago, people looked at Keefe and saw a loser. A follower. An overwhelming failure.
"I'm just glad to be alive," Keefe says. On Friday night, Keefe — a firstyear head coach at the tender age of 29 — leads the Spokane Shock into the ArenaBowl. The Arena Football League championship will be decided before a national television audience (5 pm, NFL Network) and a packed house at the Spokane Arena.
Back in the Washington, D.C., area where Keefe was born and raised, more than a few NFL Network viewers will be saying, "That can't be the Rob Keefe we knew."
That would be the Rob Keefe who was a benchwarmer in football in high school and barely graduated. Who drank too much alcohol and smoked too much pot. Who was brought home by the cops in the wee hours more times than he — not to mention his parents — care to remember.
"I just really saw a lot of hurt, a lot of pain that I was giving my parents," Keefe says.
And then, seemingly overnight, everything changed. During a year of prep school in rural Maine, Keefe gained size, confidence and, most importantly, a sense of purpose. He transformed himself from a high school nobody into an honor student and star football player.
"I just learned how to be proud of myself," Keefe says.
Keefe gambled and won when he chose to attend Mercyhurst College without a football scholarship. Keefe eventually earned a scholarship, not to mention all-league honors and a degree in criminal justice, at the NCAA Division II school in Erie, Pa.
NFL teams were not interested in a self-described "white defensive back," but Keefe was determined to play pro football. After spotting a flyer at a Gold's Gym, Keefe forked out $50 to attend a tryout for the Columbus (Ga.) Warhogs in arenafootball2 in 2004.
The good news? Keefe made the team.
The bad news? Keefe, uh, made the team.
The Warhogs, Keefe soon discovered, were "pro" only in the strictest sense. Keefe spent the season sleeping on a pull-out couch in an apartment he shared with three teammates (including Kyle Rowley, now the star quarterback of the Shock). Crowds were small and bus trips long. Keefe drove a forklift during the day to augment his af2 salary of less than $1,000 a month.
"My parents were like, 'What are you doing with your life?'" Keefe recalls.
Keefe made three stops in af2 the following season before joining Spokane's af2 expansion team in 2006. He quickly established himself as one of the most talented and popular players on the Shock. That led to a year in the AFL with Philadelphia in 2008, but no sooner did the Soul win the ArenaBowl than the league went bankrupt.
Keefe stayed in the Philadelphia area to work out after getting feelers from NFL and Canadian Football League teams. Then, suddenly, his life took another U-turn.
Keefe put in a call to Shock management and talked himself into an assistant coaching job. He agreed to work for a measly $500 a month — which, Keefe says, was $500 more than head coach Adam Shackleford wanted to pay him.
"I don't think he really wanted to hire me," Keefe says. "He felt threatened."
As it turned out, Shackleford's fears had merit. When the Shock joined the revived AFL this year, Shackleford was let go in favor of Keefe.
A gregarious, highly energetic individual, Keefe says he will "definitely" coach at least one more year in Spokane. Ultimately, Keefe wants to be an NFL head coach. His resume will add some gloss if the Shock beats the American Football Conference champs from Tampa Bay on Friday.
The Storm (13-5), coached by all-time AFL wins leader Tim Marcum, have won a record five AFL titles.
Keefe says quarterback Brett Dietz, wide receiver Hank Edwards and defensive lineman Jermaine Smith are outstanding. Dietz has passed for 5,476 yards and 120 touchdowns.
The Shock (15-3), the National Football Conference champs, have a top quarterback of their own in Rowley (4,922 yards and 114 TDs). Knee injuries sidelined Shock standouts Raul Vigil and Ben McCombs down the stretch, but there's plenty of talent left with the likes of receiver Huey Whittaker, offensive lineman Ed Ta'amu and former Washington State defensive back Alex Teems.
Keefe takes comfort in knowing that his parents will be proud of him regardless of Friday's outcome. After all, the Keefes have seen their son overcome far bigger obstacles than the Tampa Bay Storm.
"They could have easily wrote me off," Rob says, "but that's not the people they are. I owe everything to them."
ArenaBowl XXIII, Shock vs. Storm, at the Spokane Arena (Boone Ave. and Howard St.) on Friday, Aug. 20 at 5 pm. Tickets: $14-$31, depending on seats. Call 242-7462 or visit: spokaneshock.com/tickets.