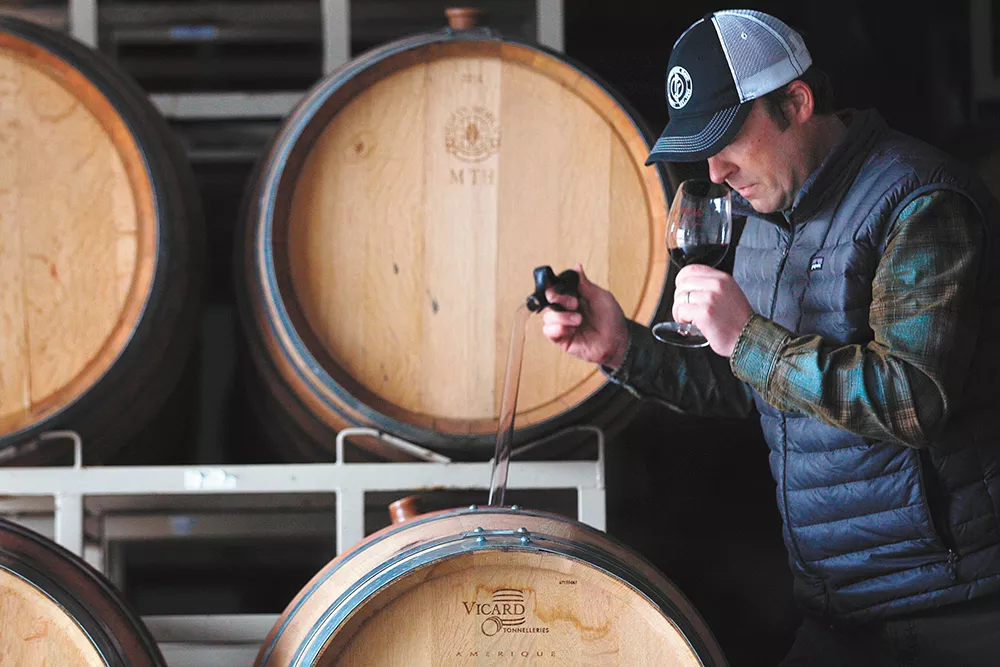 Though they both grew up in Bonner County, neither of Pend d'Oreille Winery's new owners ever planned on running the longtime Sandpoint winery.
Yet, after both working there in various positions for several years, Jim Bopp and business partner Kylie Presta are finding their rhythm at the winery, first opened back in 1995 by Steve and Julie Meyers.
"I feel a sense of anticipation," says Presta, who transitioned out of a career in renewable resources and firefighting in 2013 to conduct chemical analysis for the winery. She's since immersed herself in all aspects of the business.
Bopp's enthusiasm is understated, a reflection of his trademark calm demeanor: "I don't think it's terribly difficult," says Bopp of the winemaking process.
"You just have to be present" physically and mentally, he notes, adding that winemaking is both time-consuming and time-sensitive and requires a commitment to detail as well.
Sourcing grapes, for example, can be challenging, especially when you're more than 200 miles away from the vineyards you use, like the Benton City, Prosser and Yakima Valley American Viticultural Areas.
"Every year is a new game," says Bopp, a third-generation Sandpoint native who worked at the winery in the '90s before heading to college to pursue a secondary teaching degree. He realized upon returning to Sandpoint, however, that winemaking appealed to him more than teaching social studies and health.
Bopp rejoined the winery in 2007, as the business was expanding; production facilities moved near the regional airport, while the tasting room and retail space relocated across the street from the winery's original location to a historic building that its founders, the Meyers, had lovingly refurbished.
By 2013, Bopp was making wine for the winery's regular labels, plus his own Cottage Island Wine label. His petit verdot, the Deadhead Red (the name is inspired by his grandfather's Deadhead Logging Company), won double gold at the 2015 Tri-Cities Wine Festival.
The pair have continued some of the winery's longstanding traditions, including wine flights of three 3-ounce pours ($10) or five 1-ounce pours ($5). The winery's "Think Green, Drink Red" campaign for refillable bottles also continues, offering refills of two varieties: Bistro Rouge and Bistro Blanc.
Modest changes to the customer experience involve the tasting room. Bopp brought in his family's stately 1875 Decker baby grand, which is popular with regularly scheduled musicians. They've also downsized the gift shop area and added events such as paint n' sip and trivia nights.
Although Pend d'Oreille Winery's former owners housed a restaurant within its footprint, that remains a separate business; the Fat Pig opened in December 2017 and is run by separate owners. Bopp and Presta have, however, re-instituted a small plates menu that doesn't require a commercial kitchen, with wine-friendly, house-made spreads like Gorgonzola, date and pecan ($10) or marinated manchego cheese and salami ($12) on warmed sourdough or crackers.
Although the fruits of their labors won't be released very soon — the duo's sangiovese and grenache, for example, should be ready in a year-and-a-half — they're looking forward to their first "vintage party" on Oct. 20, from 3-6 pm, at the winery's production facility in Sandpoint. The occasion marks the first label under their purveyance.
"We are keeping it simple as we will be busy with crush and winemaking," Presta says. ♦
Pend d'Oreille Winery • 301 Cedar St., Sandpoint • Open daily 11 am-8 pm • powine.com• 208-265-8545