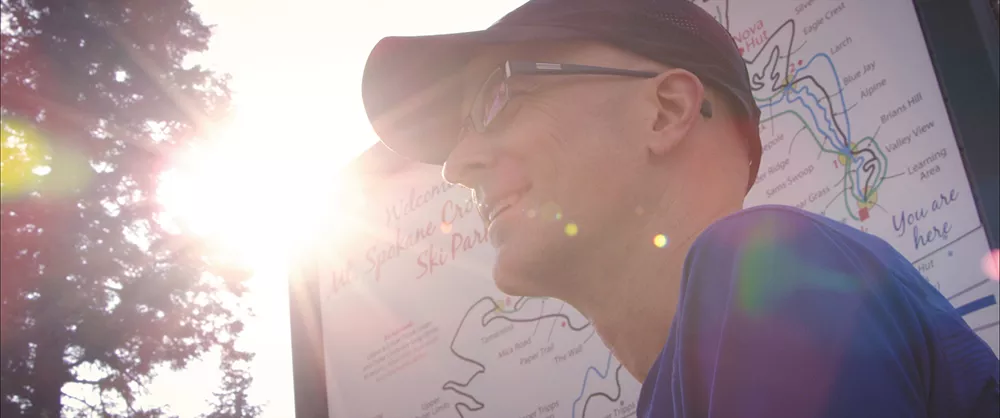 Every year, Spokane International Film Festival programmers put together a package of their favorite regional short films, both scripted and documentary, known as the Best of the Northwest.
2019's SpIFF is opening with that showcase of 11 short films — both narrative and documentary — of various lengths, focused on everything from perilous forest fires to gentrification in Portland to women running a pho restaurant.
We talked to the directors behind two of those featured shorts — Proof of Life and From Parts Unknown — both of which screen Friday night and tell remarkable Spokane stories.
— NATHAN WEINBENDER
The Northwest's Best shorts program opens SpIFF on Feb. 1 at 5:30 pm at the Bing Crosby Theater. Tickets are $15 at spokanefilmfestival.org.
Proof of Life
Three days before Brad Thiessen (pictured) was to participate in a 50K trail run in Riverside State Park, he was being wheeled into surgery. It was 2015, and the brain cancer he had successfully battled back in 2001 had returned, as he always knew it would.
Proof of Life, a 20-minute documentary by local filmmaker Adam Harum, chronicles Thiessen's long recovery from that third bout with cancer — he also overcame testicular cancer in between his brain cancer diagnoses — and how a community of trail runners became something of a support group for him.
It was Thiessen who, having just completed his last round of chemotherapy in late 2016, approached Harum to document his progress as he worked toward the 50K he had missed a year earlier. (Thiessen himself is credited as a producer on the film.) Harum and his crew began filming in early 2017 and shot through that October, and editing was completed last August.
"When I started documenting him, his body was at zero," Harum says. "I found his story and his angle on it so fascinating, and it's been pretty awesome to be a part of this with him."
Thiessen's is an inspirational story, yes, but what's most disarming about his personal outlook is how it avoids empty platitudes. The moral question driving Proof of Life — does surviving the trauma of a terminal disease improve your standing in life? — isn't one you often see in stories of sickness and recovery.
"I kind of became bitter, I think, at life," Thiessen admits in the film. "You feel like you're supposed to learn something; you're supposed to get wise. But I feel like I didn't."
"That was fascinating to me," Harum says, "the fact that he was able to admit that going through something like that doesn't automatically make you a better person. How you go forward from it does."
When Harum and his crew began the filming process, it wasn't with a clear end point in mind. That is, of course, the challenge of molding a nonfiction narrative, because real life doesn't always deal you a dramatically satisfying hand.
"Documentaries evolve as you film them, and then they evolve in editing," Harum says. "The dangerous thing people do is they try to craft the story as opposed to letting it happen. I kind of let it play out as it was, and as it went along, I saw aspects of him and what he was doing that were interesting."
Case in point: As the fateful 50K run draws closer, there's the possibility that it will be canceled due to dangerous wildfire smoke.
"You kind of go in blind, hoping the light shines at some point and the story forms," Harum says. "Reality is what you should be aiming for anyway."
Proof of Life won the grand prize at last year's Las Vegas Running Film Festival and took home a bronze award at the IMDb Independent Shorts Awards. It has also played as part of the Trail Running Film Festival in Seattle, and Harum says he's still submitting it to other festivals. But it means a lot, he says, to have it on the SpIFF docket, which is also where his narrative short Lifeline premiered in 2017.
"I can't give enough credit to SpIFF," Harum says. "I've toured around and gone to a lot of festivals ... and I've always been impressed by the films they present and how they do it. If you're a filmmaker and you don't want to show off your film to people, why are you doing it?
"I think Brad's story is inspiring, and it's something people should watch, and it's amazing that SpIFF is a venue to get that out into the world." (NATHAN WEINBENDER)
From Parts Unknown
"It gave me a feeling when I had no feelings going through my body."
So says Hillyard's Jesse Lawson of his decade on the ropes in the underground wrestling league he founded in 2006 (and left in 2015), now immortalized on-screen in a tender documentary portrait called From Parts Unknown.
Lawson, who performs in the film as the character "Madman" Manson, says Spokane Anarchy Wrestling (S.A.W.) is a product of suburban ennui and bleak economic prospects, of wanting to rally the listless neighborhood kids with "nothing to do other than sit at home and watch their parents do drugs." His efforts, motivated by a hard-luck hand of personal travail and tragedy, attracted a band of outsiders — "Sic Boy," "Chaos," "Mizery," "Sleazy P," "Porno Mike" and his cousin Jay "Trashman" Manson — united in their enthusiasm for powerslams and piledrivers.
"Pro wrestling is what I eat, sleep, and breath [sic] everyday of my life," Lawson, 29, admits on his Facebook page. "A lot of people don't understand it, but I have a bunch of people who do."
One is director Michael T. Workman, of Missoula, who first met Lawson at a match in Spokane after discovering S.A.W.'s YouTube videos of backyard mayhem.
"I'm fascinated by professional wrestling. I think [it] has inherent drama because of the storytelling, struggle and the theatricality," Workman says. "The stories of the wrestlers are an interpretation of the world they live in, their desires, their anger and their struggles."
Workman, 25, found them so compelling he ditched plans for a fiction film and instead convinced a reluctant Lawson to play the lead in a profile of his beloved — and bloody — art form.
"Jesse's story drew me in because of his openness when talking about his struggle with depression," Workman told We Are Moving Stories last year. "He is a sensitive, caring soul in a hyper-masculine space."
That paradox is the crux of From Parts Unknown, which proves to be not only a local tale of triumph but a timely vignette of a broader conversation unfolding now around toxic masculinity, gender stereotypes and what sociologist Charles Murray has termed the "coming apart" of the white working class.
"At its core," says Workman, "this film explores the pain that comes with having to leave what you love because it is destroying you and how you begin to build your life back after."
The physical toll of Lawson's impassioned investment in independent wrestling is sobering, but, like the best of cinéma vérité, it is the nuanced inner revelations of the film that nudge it beyond a mere "story about wrestling."
"Everybody knows what this sport is," Lawson affirms over the film's opening sequence. "It's fixed. But if you don't believe in what you're doing, none of them fans are going to believe it either." (CONNOR DINNISON)