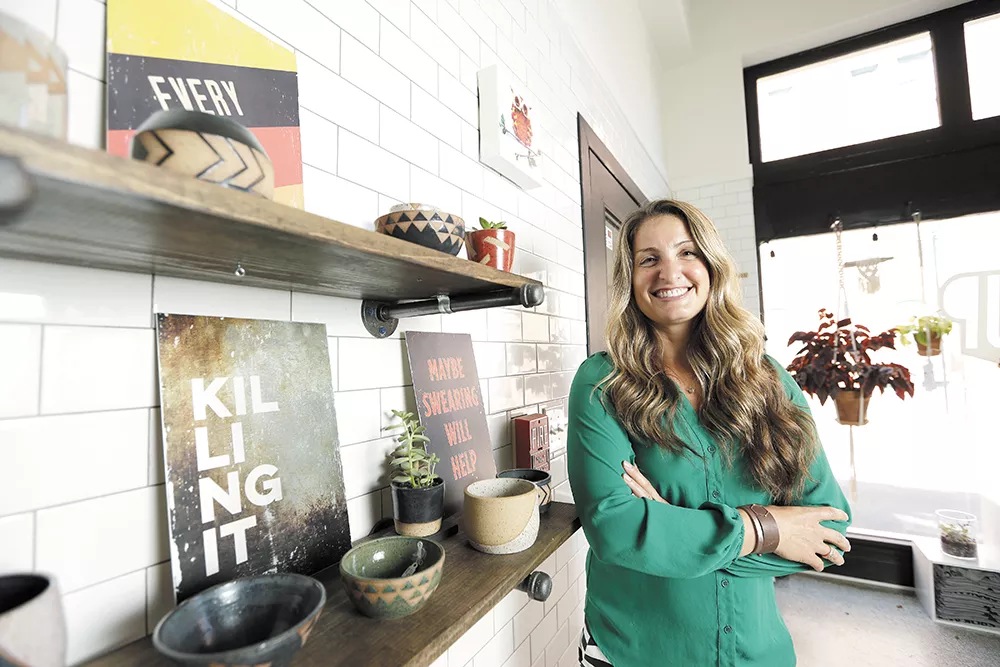 Staggs & Staggs Sign Co. began like many creative ventures do, as a fulfilling side project for local couple Eric and Alycia Staggs that continued evolving as word spread and demand grew.
The couple, based in Nine Mile Falls, now sells their handcrafted metal signs, both original design series and custom orders, to a mostly local fanbase who proudly hang the location-inspired art inside their homes and businesses.
Showcasing a love for the Inland Northwest's landmarks is the primary inspiration for many of Staggs & Staggs' designs, with simple typography and rustic, worn finishes making each handmade piece look like relics from another era. Popular designs feature names of local places like Priest Lake and Long Lake, lists of Spokane's historic neighborhoods or streets and the geographical coordinates of Spokane and Gonzaga University, among other Northwest-inspired themes.
"Taking something that's contemporary and making it appear that it's 50 years old; it's really fun to do," notes Alycia.
It helps that this rustic, industrial and vintage-inspired aesthetic continues to be a popular design element across style trends, including the mid-century modern revival and contemporary farmhouse look.
Many of Staggs & Staggs' locally themed pieces can be purchased in person at the Pop Up Shop (159 S. Lincoln) in downtown Spokane, while custom orders — for pretty much any design customers can think of, the couple say — can be ordered by contacting the studio directly, through Facebook, Instagram, Etsy or by email. Popular requests include signs bearing a newlywed couple's name and wedding date, or a family's favorite spot to recreate near water or woods.
Alycia Staggs is also the creative force behind the now decade-old local jewelry line Lexi Lou Jewels, which specializes in handmade keepsake jewelry featuring personalized photos transferred onto metal. It was when she began to get more requests from friends, family and customers to create larger metal pieces bearing special photos that she and Eric decided to take on the challenge, and Staggs & Staggs Sign Co. was born in 2015.
Even if a design is replicated, no two signs are the same, the couple say. They try to use salvaged, rusty pieces of metal when they can; if not, they source flat sheets of steel locally, along with other materials for each project. They attest to being able to make a sign in any shape and size and on a piece of metal in any condition.
"Each piece of metal has its own personality," says Eric. "No two pieces ever go down the same, no matter how hard you try... but that's part of the novelty of the piece."
Each sign is uniquely distressed by hand, whether that's adding holes, worn spots of paint, scratches and rusty patches. Most pieces sold as ready-made, like the designs at the Pop Up Shop, are priced around the $50 mark, with custom orders averaging 25 cents per inch.
Alycia's background is in design; she currently splits her time between the business and caring for their young son. To that end, Staggs & Staggs Sign Co. serves as an important creative outlet to balance her motherhood duties.
"I used to work downtown and was always out and around people, then I had a kid and was at home. So being able to meet people and make stuff for them, and be a part of other creatives in town," has been a great personal reward of the process, she says.