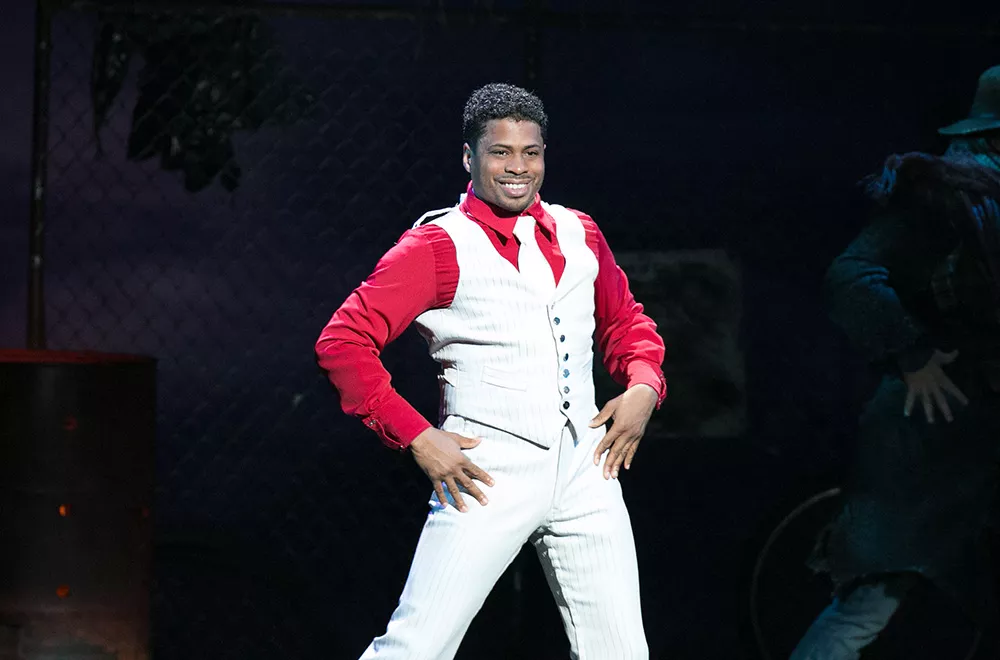 "Sweaty Eddie" sounds like the sort of role an actor would prefer to leave off his one-sheet, let alone reprise. Any character who warrants that kind of nickname stands little chance of being suave, dashing, glamorous or any of the other qualities audiences might demand of a Broadway lead.
That's not an issue for Chester Gregory. He played Sweaty Eddie (aka Eddie Souther) for 18 months in the successful Broadway run of Sister Act. After a year's break, the Gary, Ind., native chose to resume the role in the musical's nationally touring production.
"I love it because the majority of the roles I've played before have been extroverts," Gregory says. "I saw this personality test on Facebook — so who knows how valid it is? — and there were 23 questions to determine if you were an introvert. I was all 23 of them.
"So I'm a textbook introvert, at least according to Facebook," he laughs. "Playing Sweaty Eddie allows me to tap into those places, how I internalize things as an introvert, and it gives me a chance to evaluate my own personality and share that part of myself."
Sweaty Eddie earns his unenviable nickname because of his heart-thumping, hyperventilatory feelings for Deloris Van Cartier, Sister Act's nightclub singer who goes into hiding as a nun. Compared to the 1992 film starring Whoopi Goldberg on which the musical is based, Eddie is a much different and more prominent character.
"It's musical theater, so you have to have the love story. In the film he's a catalyst for her going into the convent, but here there are more layers to that. There's a moment when he sings 'I Can Be That Guy' when he lets the audience in to see what he feels on the inside, giving you an exterior view of his interior world."
Unlike Deloris, Gregory is used to leading a double life. While on hiatus from Sister Act, he starred in his own critically acclaimed The Eve of Jackie, a show about Jackie Wilson with a charismatic song-and-dance routine worthy of Wilson's reputation as "Mr. Excitement." When he did return to Sister Act, Gregory had just two days to shed his unnaturally outgoing persona as Wilson and re-inhabit the inhibited world of Eddie.
"It gave me a fresh perspective," he says. "For me, it felt like a second chance to discover this character and add very rich moments."
Separately, Gregory also performs under the artist name of CHESS. As opposed to Gregory-as-Jackie or Gregory-as-Eddie, CHESS (usually written with a stylized, stemless E) is closer to an alter ego, a way for this Michael Jackson-inspired entertainer to showcase another side of his talent.
"There's definitely a strategy behind it," says Gregory. "I wanted to escape what people might think when they hear something from a Broadway performer. They expect you to sing to the back row, for all the words to be super enunciated. With me using the name CHESS, I was able to dive into the music and explore what the song is about without any preconceived notions or history."
"Even though I've worked as Chester Gregory, that's me as the actor telling other people's stories. Under CHESS, that's me telling my own stories."
As CHESS, Gregory isn't simply a rising Broadway star moonlighting as a singer. He's approached it with an ambitious philosophy, releasing a free album of covers called Eclipse "to break the ice, so you can get the sound that I'm going for," soon to be followed by a three-part album with the umbrella title Trifecta.
"The first part of Trifecta is called Retrograde, the second is Equinox, the third is Solstice. They represent different stages of life: past, present and future," he explains.
"Retrograde has a darker kind of sound because it's about the past. The present is more about discovering love, and the future, the gratitude one, is about being happy in anticipation of the future because there's something to look forward to. That's the most upbeat."
He laughs and admits that not everyone would have themed the albums the same way. But the introvert is apparently an optimist too.
"I have to think of the future as bright," he says. "Else why keep going?" ♦
Sister Act: The Musical • March 27-30, showtimes vary depending on date • INB Performing Arts Center • 334 W. Spokane Falls Blvd. • $32.50-$72.50 • inbpac.com • 1-800-325-SEAT