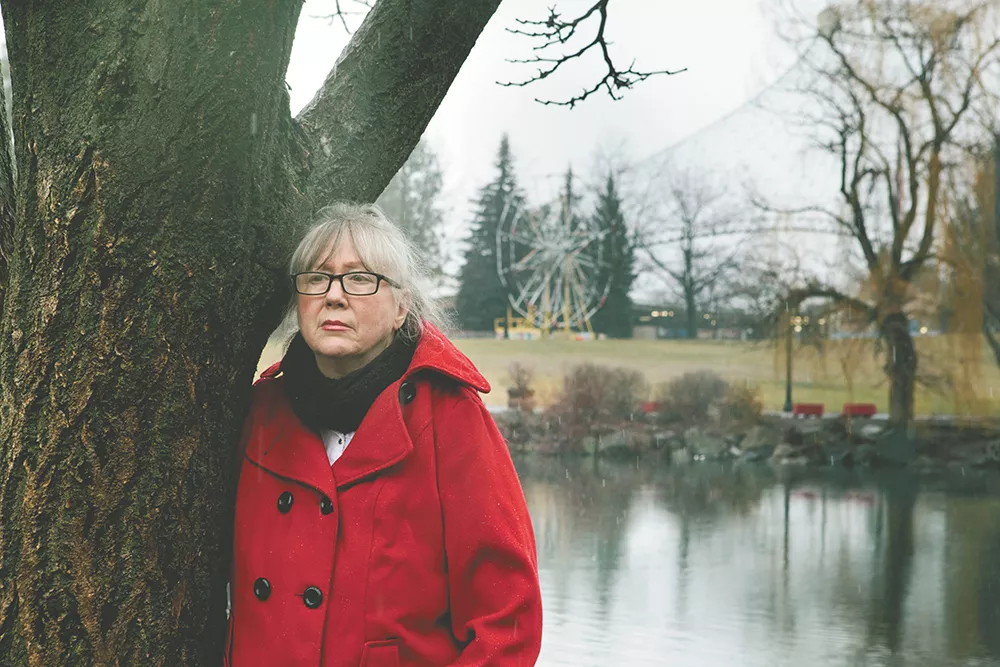 Rhoda Behrens was waiting for that phone call for five months. In December, it finally came. She was shuffling through mounds of court documents in her Nine Mile Falls home when the panic that had been lingering in the back of her mind was confirmed.
"Where do you want the body sent?" the voice on the other end of the line asked.
Her son was dead. He may have been murdered.
Like most mothers, she is grief-stricken. She is angry. She has trouble sleeping. Like most mothers, she fought to help her son, but in at least one way, she's not like most mothers. And her son is not like most sons.
Behrens adopted Richard Hoisington — she called him Richie — when he was a toddler, and raised him alongside several other special-needs foster children and adopted children. But Hoisington stood out. He was autistic and was diagnosed with several other mental disabilities. Behrens says he would sometimes try to eat electrical cords and insulation, and he was fascinated with weapons and fire.
"Richie was by far the most active and most destructive of my kids," she says. "He was so full of energy."
Hoisington was 26 when Behrens was removed as his guardian. The court instead appointed Safe Haven Guardianship Services. In general, that means Safe Haven was responsible for handling Hoisington's financial, medical and social decisions.
At various times in his life, Hoisington had been on a variety of medications to help with his paranoid thoughts, delusions and violent outbursts. On at least one occasion he attacked Behrens, resulting in a traumatic injury to her brain, according to court documents.
"He doesn't understand the consequences of his actions," Behrens says. "And he wasn't safe loose out in public without supervision."
On Dec. 16, 2015, police found Hoisington slumped in a recliner in his room in the Pioneer Pathway House apartments. Black and yellow electrical cords still held a rusty pipe tight against his neck. Charles Bennett, the man charged in his death, is sitting in the Spokane County Jail.
Behrens says she holds nothing against him.
"I bet he's no different from some of the kids who were in my home," she says of the more than 20 youths with mental disabilities she's cared for since 1978. "If it weren't for the way the guardians and the state handled Richie, he would be alive today."
Behrens adopted Hoisington at age 4. Court and medical records indicate that he suffered from several mental disabilities, paranoid thinking and manic — at times aggressive — behavior.
When he became uncontrollable as a child, Behrens admits that she locked him in a 6-foot steel mesh cage to calm him down. When Child Protective Services told Behrens to dismantle the "safe room," Hoisington ended up attacking her, causing the traumatic brain injury. She sued the state for $4.1 million, but a jury rejected her claim.
In 2001, Hoisington lit a fire in a restroom on Gonzaga University's campus. A federal settlement in 2004 provided Behrens with round-the-clock caretakers, and in 2006, when Hoisington turned 18, she was granted full guardianship.
In 2014, a court-appointed investigator recommended that Behrens be removed. Jim Woodard spoke with Hoisington in the Spokane County Jail; in his report, Woodard says Hoisington was insistent that he did not want his mother as a guardian, adding that Behrens "micro-manages" him to his detriment, a major factor in his recommendation.
"He didn't want to have contact with Rhoda," Woodard says. "The [state] statute says you're supposed to take the alleged incapacitated person's wishes into account and give them a great deal of deference."
Behrens adamantly disagreed with Woodard's investigation, saying he misrepresented statements from Hoisington's doctors and teacher. She adds that Hoisington was not capable of making those decisions for himself. Only she had the experience and ability to give her son the round-the-clock care she believed he needed, she says.
Leading up to the court's final decision, Dr. Kim Chupurdia, Hoisington's off-and-on psychologist for 10 years, wrote to the court in 2013 that "Richie becomes more delusional without medication and often can't separate reality from fantasy. He is very gullible and it is quite easy to tell him that something is happening, or has happened in the past, that is not true, and it becomes fact to him. In addition he can be very violent."
Chupurdia has sent numerous letters to the court since then. One, filed Oct. 30, 2015, states that "Rhoda Behrens has always been the single most qualified person to serve as Richie's guardian."
Behrens fought for years to get her troubled son mental health services. She says the court-appointed guardians could not provide the necessary supervision, and now she wants them held responsible in his death.
"Somebody had to watch him 24/7," Behrens says. "I want the guardians and the state held responsible. In my opinion, they are as responsible for his death as the person [the police] say did it."
Lynda Clark, the owner of Safe Haven, says that's not the role of a professional guardian.
"We are not like parents," she says. "Our role is totally different than that."
Charles Bennett climbed the narrow stairs up to the top. The old floors of the Pioneer Pathway House creak underfoot with each step; the stale smell of tobacco smoke is baked into the building's walls. He was coming to settle a debt with Hoisington.
These are low-income apartments, frequently occupied by those struggling with drug addiction. Inspirational signs hanging in the stairwell greet tenants as they come and go: "Balance"; "Accountability"; "Relationships"; "Respect." Bennett didn't live there, but got past the locked front door, court documents say.
At least two other people were already waiting in the fourth-floor apartment when Bennett arrived. Hoisington wasn't home.
"Where's Waterboy?" Bennett asked, referring to Hoisington's street name. Neither Jaymee Wright nor Jacob Lockard, the other two people waiting in his apartment, knew where he was, according to records.
"He's gonna die when he gets here," Bennett allegedly told them. He said Hoisington owed him $300 and accused him of raping a woman. He grabbed a rusty pipe and waited behind the door.
When Hoisington walked in, Bennett demanded the money. Hoisington had none, so Bennett told him to sit in a nearby recliner, Wright told investigators. Bennett put the pipe against Hoisington's neck and tightened it with electrical cords that stretched around the back of the chair, court documents say.
Wright told police she heard Hoisington ask what was going on.
"You're gonna die. I told you that," she recalled Bennett saying. Eventually Hoisington's breathing became short and shallow. Then it stopped.
When police arrived less than 12 hours later, the pipe was still tied to Hoisington's neck. A swastika and a Christian fish were drawn on his chest in shaving cream, and a small Bible rested on the chair near his shoulder.
In his statement to police, Bennett refuted Wright's account of the afternoon. Although he admitted to being in Hoisington's apartment that day, he says they mostly hung out and smoked pot.
The last day Rhoda Behrens saw her son, he was wearing a mask. It was last October, the day before Halloween, and Hoisington was hanging out at the STA Plaza. Behrens recognized him by his signature swagger and shuffle.
He was alone, and it appeared that he was calm. Not like the time a month prior when she saw him in the same place. He was with people she didn't recognize, demanding cigarettes, lighters and money.
"He was obviously high," she says, but she didn't approach him that time, or in October. "What was I going to do? If I gave him money, I didn't know what he was going to do with it."
Behrens' situation is a common theme that runs through guardianship cases, says Carol Hunter, a local attorney who specializes in elder law.
"Professional guardians often take on cases where you have families who are, for whatever reason, not able to be guardians," she says. "And because of that, you have people who can't be the guardian but still want to be, so there's this major friction of 'You're making the wrong decisions for my beloved family member.' It's a hard job."
Josh Guthmueller, one of the court-appointed guardians, says Hoisington functioned at a higher level than Behrens attests to. He wasn't required to see Hoisington every day, but estimates that he saw him between four and 10 times per month. Hunter says that professional guardians are usually only required to see their clients once or twice a month.
Behrens tells her story now, surrounded by several hundred pages of court documents and notes scattered across a table.
As she recalls the history of her relationship with her adopted son, she jumps sporadically from topic to topic — childhood and adulthood, violence and compassion, the good memories and the bad. She lingers on the good memories for a while.
She once watched him carry an abused dog out of a neighbor's house. She helped him nurse it back to health. He also loved picking flowers for her. And they used to have a blast on the Looff Carrousel in Riverfront Park.
For many years, Behrens struggled to keep her son safe in a world where troubled individuals don't have many people fighting for them. She's dedicated much of her time to reading the law, she says, filing dozens of handwritten appeals. Now, five months after her son was released from the psychiatric ward, he's gone.
"I spent all this time fighting, and all of a sudden it's just moot. My son's dead," she says, tears streaming down her face. "I'm going to have to fight this, and I'm afraid, but that's all I can do for Richie now, is fight for him and kids who are born like him." ♦