P
ardon the interruption for a little fanboy boosterism
, but one of my favorite all-time bands surprise-dropped a
brand new album on Bandcamp
today, and damned if I'm not going to tell you to go listen to it.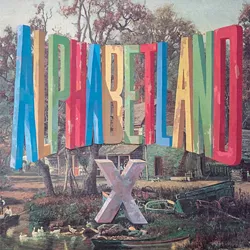 The band is X, pioneering Los Angeles legends who helped establish the West Coast punk scene in the late '70s and early '80s with a sound that was rooted in American rock's roots. John Doe and Exene Cervenka's searing lyrics explored life on the gritty fringe of society, while guitarist Billy Zoom gave their sound a serious retro rockabilly kick, and drummer DJ Bonebrake could swing as well as propel songs at Mach speed. (He also had a brother in Spokane, no idea if he's still here. Let me know if you know!)
It's been 40 years since X released its masterpiece
Los Angeles
, and 35 years since the original lineup put out a new album. But
today they did just that with ALPHABETLAND
, a compact 11 songs that fly by in less than a half-hour.
Upon first listen, it's got everything you want out of an X album: The distinct back-and-forth of Doe and Cervenka's vocals, anxious lyrics that capture life in Trump's America, some heartbreak set to raucous rhythms.
The album is available digitally, and you can order vinyl and CD versions that will be coming out in August as well. But you can listen to it for free at that Bandcamp link right now.