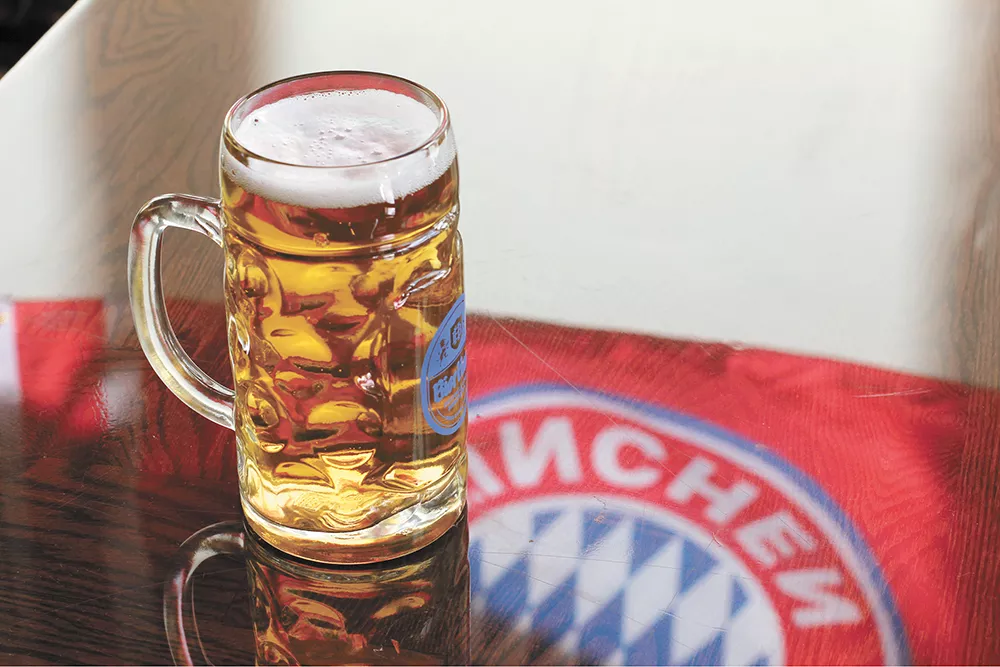 Ben Widmyer wore traditional lederhosen for the opening of Bier Haus Festhalle und Biergarten, the much-anticipated German restaurant on Coeur d'Alene's Sherman Avenue he opened to emulate the experience of a traditional German beer hall.
Widmyer, a standout football player who first made headlines as a Coeur d'Alene High School student, became familiar with German beer halls while playing American football in Germany, where he was also joined by his brother.
"German beer and the bar is what started it all," says Widmyer, who owns a local real estate development company and knows well the importance of location. Restaurant ownership and an entrepreneurial spirit also run in the family; Widmyer's parents own Fort Ground Grill in Coeur d'Alene.
Bier Haus is cozy, with an assortment of wooden seating, exposed wood beams, a bar fabricated to appear old, and simple décor like German flags and mounted antlers. A beer garden is planned for the backside exterior of the restaurant in warmer weather.
The beer list is split between regional German-inspired beers and classic German beers, like Spaten and Hofbrau. Among the local brews, try Post Falls Brewing Co.'s Northern Cross Doppelbock or St. Wilbur Weizen from Bayern, a Missoula-based brewery after which Widmyer patterned Bier Haus. The pub also serves a handful of bottled beer, cider and both red and white wine by the glass and bottle.
The menu features a range of German-inspired foods. Using sausages from Bavarian Meats in Seattle, Bier Haus offers numerous wurst options: traditional pork bratwurst, smoked knackwurst, cheddary kase krainer, currywurst and the herby weisswurst made with veal, pork, and parsley. There's also a wiener; more of a hotdog than a sausage. Choose two wursts and a side — potato salad, sauerkraut, fries, Bavarian mac and cheese — for $10. Top it with one of six sauces, including spicy brown mustard and curry ketchup.
Bier Haus makes its own red sauerkraut — or choose traditional-style made with white cabbage — and gravy for the jaeger schnitzel ($16). Try the Bavarian Reuben with havarti, sauerkraut and German ham ($11), or share a Bavarian pretzel with house-made beer cheese sauce ($8). ♦
Bier Haus Festhalle und Biergarten • 515 E. Sherman Ave., Coeur d'Alene • Open Sun-Thu 11 am-8 pm, Fri-Sat 11 am-10 pm • bierhauscda.com • 208-966-4301