You wanna see? She'll show you right here, right now. In a crowded downtown coffee shop, on the sidewalk outside City Hall, in a shoe store or the basement of a club, Bethany Montgomery is always anxious to perform.
The 22-year-old recent Eastern Washington University grad quit her day job and, along with two co-founders, is working full time on building a movement focused on using spoken-word poetry to raise awareness of minority issues and elevate minority voices in Spokane.
"Our motto is express, expose, ignite," Montgomery says. "We're expressing our truths, we're exposing people to issues they weren't aware of, and we're igniting people with our words to go out into the community and do something about the injustices of underrepresented demographics."
Since January, Montgomery, AJ McKinney and Lynn'Marie White have been performing at any open mic, talent show or event that they can find. Each of them speaks from a different perspective — Montgomery, for example, is black and queer — but all agree that Spokane's poetry scene is missing black voices.
"There wasn't anybody who looked like me to represent me. I don't want to take nothing away from Spokane's poetry community," Montgomery clarifies. "We're just adding and bringing a different dynamic to it."
They call themselves Power 2 the Poetry. Hang out in downtown Spokane for long enough, and you're likely to see the trio perform. They're also hosting a poetry event at the downtown public library Feb. 20 from 6 to 7:30, as well as a poetry slam at Auntie's Bookstore Feb. 28 at 7.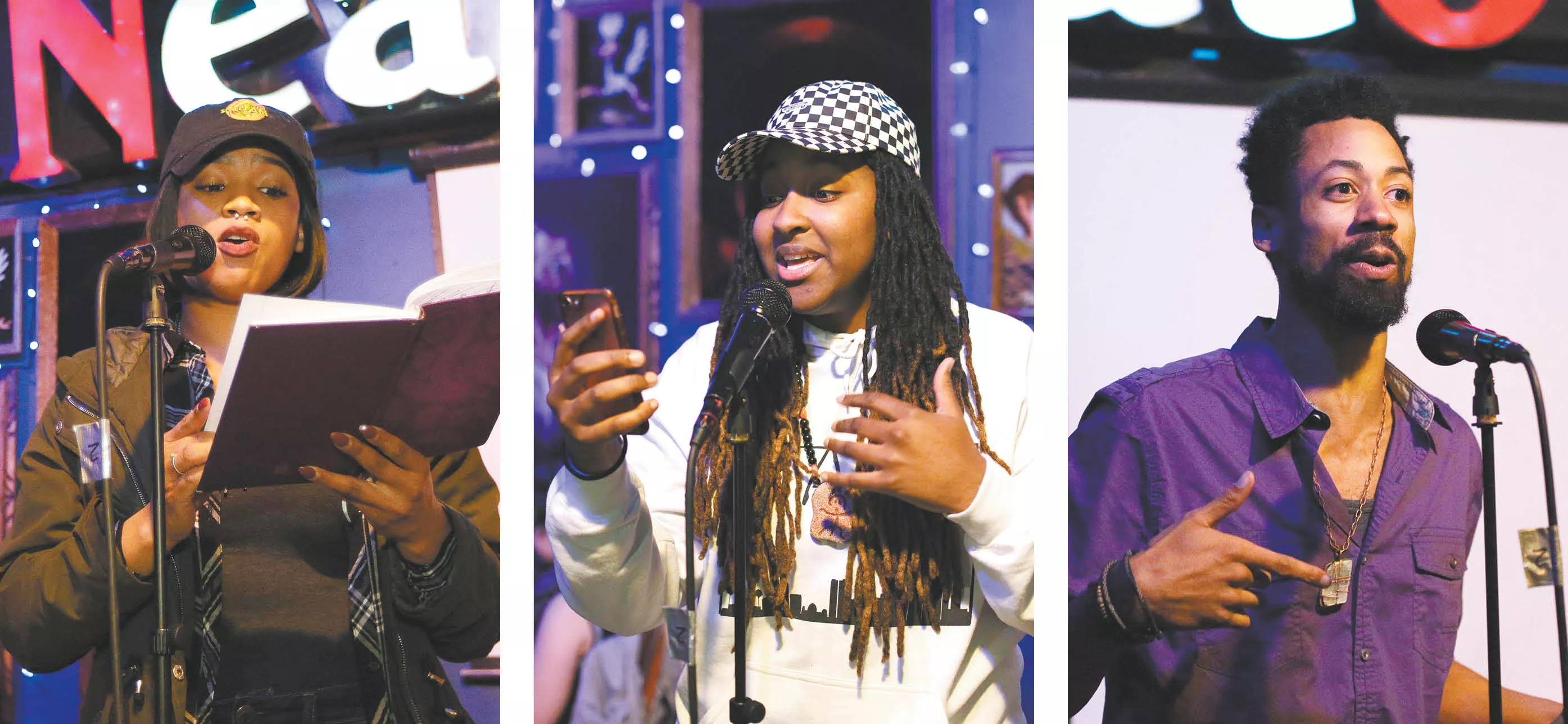 The low roar of the party upstairs seeps into the basement of the House of Soul, where Montgomery, McKinney and White tell about their own experiences and how they came together.
Later this evening, each will perform upstairs for those who've gathered at the downtown club to celebrate the three-year anniversary of the Black Lens — Spokane's African American newspaper.
McKinney, 26, and Montgomery met as students at EWU. He'd come from Texas after traveling around the country with his godfather, he says.
"From Seattle to California to Texas to Baltimore, Maryland and Philadelphia, Florida, New York City and D.C.," McKinney says. "I've been all over the country, and that's what started encouraging me to speak up more."
He says he first started writing poetry around 16 years old to impress a girl. The relationship didn't work out, but McKinney stuck with the art as an outlet. Then, during a visit to a college campus in Federal Way, he stepped on stage for an open mic for the first time.
"I recited a poem right there," he says. "I just made it up. That's my thing. Anyone can give me a topic, and I'll do a poem right there on the spot."
Montgomery came to Cheney from Tacoma on a scholarship to play basketball, which she says took up most of her time until a health condition forced her into early retirement.
With a nudge from McKinney, she revived a lost interest in poetry.
"It was always just for me, it was my escape, it was what I used to heal," she says, adding that when she and McKinney began talking seriously about a movement, she had a briefcase full of old poems she'd written but only showed a few people. "I would only ever share them with my mom, and then I started sharing them with my girlfriend, and she was like 'People need to hear you.'"
Starting in December of last year, the two began talking more seriously about elevating their passion from casual hobby to a public movement.
Then, almost by almost pure chance, they met the third member — White.
This past New Year's Eve, McKinney got into a breakdance battle at the Red Room Lounge. He faced off against White.
Today, the two dispute who actually won, but afterward they started talking.
"He started spittin' poetry to me," White says. "I don't remember exactly what he said, but it flowed pretty well, and he knew what he was talking about."
White mentioned to McKinney that she's been writing poetry and short stories since she was a kid living in Detroit.
"I was born and raised in the ghetto, lived in a trap house for most of my life until I moved here," White says. "I was always a writer, and that was my escape from reality when I lived in Michigan."
Finally, she gave in to McKinney and Montgomery's pleas to perform.
The softest spoken of the three, White draws from her childhood experience helping to raise her siblings and her brother's murder in Detroit as inspiration for her poetry.
To this day, she says, she doesn't know who killed her brother.
"There was a witness," she says, "But the witness disappeared. My brother's case was never fought for, so nobody knows the real story."
While Montgomery has devoted her full attention to building up Power 2 the Poetry's brand, White is currently finishing her final quarter at Spokane Falls Community College, she says, and working. McKinney, too, has a day job as a security guard. But in their free time, they're either rehearsing or performing.
Montgomery goes last. After an introduction from Sandy Williams, publisher and editor of the Black Lens, McKinney and White deliver their performances to those gathered for the newspaper's anniversary party.
"I came across some young people," Williams says from the stage. "One of the things I've wanted for many years was to have a connection with the younger generation. I've been at this for a while, and I'm ready to pass the torch. So I'm excited that there's some young folk, who are showing up, who are some powerful people."
McKinney, who goes by AJ the Wordsmith, asks the crowd to shout out topics: "Police! Unity! Village! Black Lives Matter!" voices from the crowd yell.
White is up next. She interlaces her spoken word slam with a song. The piece is called "23 at War," about the struggle of growing up in violence and poverty.
"Born and raised in Detroit city where shots are poppin' off and the end results are never pretty," she says. "Another body we've got to bury, another friend and this shit's scary."
Then Montgomery grabs the mic, her long braids dangle past her shoulders, and she launches into a fiery piece about Black Lives Matter.
"Yes we do understand that all lives matter, too, but there are still too many people confused," she says on stage, her fist raised in the air. "Because black men, women and children are being killed in the streets, murdered in cold blood by the crooked police. So you see, too many do not understand what this thing, black lives matter, means."
Since that performance, the trio has delivered slams in front of the Spokane City Council and took first place in the EWU talent show. Their Facebook page is packed with videos of impromptu gigs.
Next, they're hoping to form relationships with Spokane's chapter of the NAACP, the school district and the police department, Montgomery says.
"We want to come into schools and do workshops, let them have performances and let them know that they matter, and their voices matter," she says. "We're a movement promoting freedom of expression and providing a platform for the underrepresented demographic." ♦
Power 2 The Poetry Black History Month Open Mic • Tue, Feb. 20 at 6 pm • Spokane Downtown Public Library 3rd Floor Stage • 906 W. Main Ave. • power2thepoetry.com