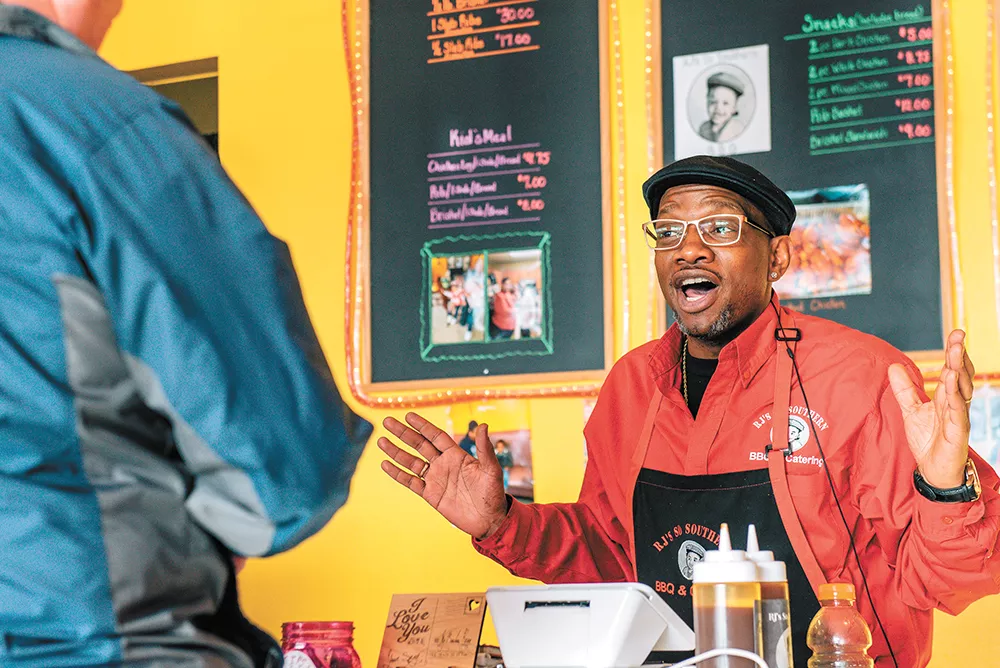 First-time visitors to RJ's So Southern BBQ & Catering might be a little confused when they first walk through the doors.
Look one way and you spot a menu full of chow mein, fried rice and egg rolls. Look another direction and you find a list of what you're really looking for: ribs, pulled pork, brisket and all the traditional sides.
RJ's, which opened in fall 2017, is housed inside the friendly environs of Mr. Wok at the Y in North Spokane.
"I'm from the South, from Nashville, Tennessee," says Reggie Perkins, the loquacious owner of RJ's. "A barbecue place inside of a Chinese place — I'm not going to say it was unheard of. Hell, it was never even thought of!"
It's working well so far for Perkins. The entrepreneurial fellow moved to Spokane seven years ago, thanks to his wife's job, and says it's been a dream to have his own restaurant for most of his life. "I loved to be in the kitchen as a kid," Perkins says. "The things you see me cooking now are things I learned over the years."
The self-taught chef is a one-man gang at the restaurant, taking orders, dishing up plates and serving them to a steady stream of customers during a recent lunch rush. When he has a slight pause, he stands in the middle of the tables and announces "Welcome to Tennessee!" to everyone within earshot.
The dine-in menu is divvied up between "plates" and "snacks." All the plates, whether ribs ($14), brisket ($16) or meat samplers ($17 or $22), are served with two sides and some of his homemade cornbread. The snacks are for those with smaller appetites, and include dishes like two-piece smoked chicken baskets ($5-$8.75) and brisket sandwiches ($9).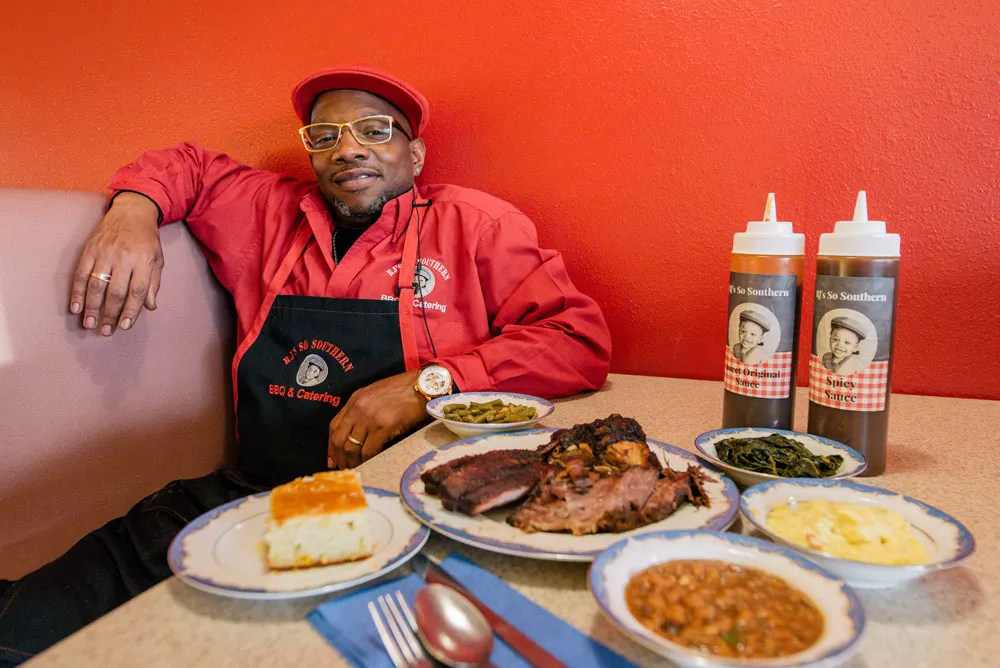 "My ribs, I do what I do to them and, honestly, I do have some trouble sometimes with my ribs," Perkins says. "I have what I call trouble-making ribs, because my ribs and the bones don't want to hang out together."
Translation: Perkins aims for fall-off-the-bone tender with his ribs. When I visited, I had a three-meat sampler, and while the brisket and ribs were good, the star was the smoked chicken. It was incredibly flavorful. A dish I rarely order at barbecue spots is a must-have at RJ's. And you can say the same for his baked beans, a barbecue staple given a sweet flavor in Perkins' hands. He says he's given out plenty of samples of those beans to visitors — even those ordering Chinese food — and they've become so popular that people are ordering them by the pan-load.
"Let's break it down," Perkins says, setting off on a description of several of his house favorites. "My macaroni and cheese? Homemade. My collard greens I pick and I wash while my meat jumps in the pot, waiting to meet up. My corn — me and my wife go to Green Bluff. I buy my corn. I don't use bad corn. I shuck my corn. My barbecue sauce? Homemade. I don't know if you've heard about my baked beans — I call them the 2018 'shimmy makers,' because 10 to 20 to 80[-year-olds], they shimmy in my restaurant for my beans."
Perkins considers his move to Spokane a bit of divine providence. Since he's been in the Lilac City, his fiancé became his wife, he quit drinking and became a father to now 2-year-old RJ, the restaurant's "face of the company." Now he wants to grow the business and keep showing off what Tennessee barbecue tastes like, because he is nothing if not proud of his food.
"This is my passion," Perkins says. "I'm what Spokane, Washington, has literally been waiting on. I try not to be arrogant, and I try not to be cocky, but I've been to every barbecue place in Spokane. I'm not going to say they don't have good barbecue. I'm just going to say I have the best barbecue." ♦
RJ's So Southern BBQ & Catering • 9222 N. Newport Highway, Suite C • Open Wed-Fri 11 am-8 pm, Sat 2-8 pm • facebook.com/RJSoSouthernBBQCatering • 615-715-4310