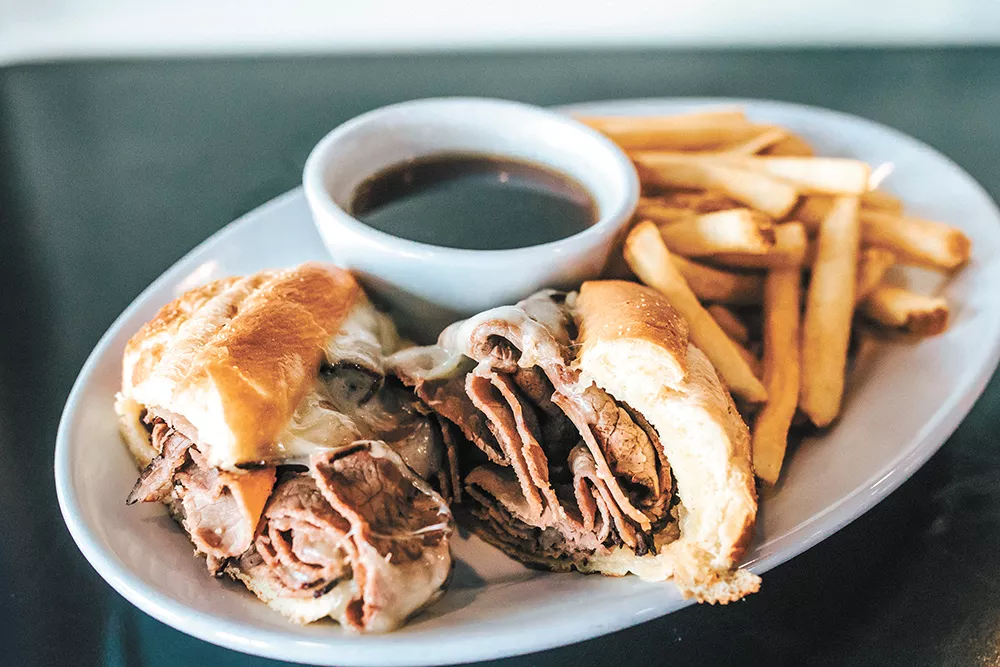 Norm Thomson's boat is called the Normally Shipfaced, so when it came to naming his and wife Carrie Thomson's new bar in Spokane Valley, Stormin' Norman's Shipfaced Saloon was a no-brainer.
Replete with sea animals painted on the ceiling, oars arrayed around a boat-shaped bar and red lip-shaped urinals from Europe, the new joint gives off cheeky, nautical and fun vibes. The building itself is hard to miss even as traffic zips by on Trent; it's painted a bright red color and bears the bar's name across an awning in huge white letters.
"The boat's Shipfaced, we might as well make our bar Shipfaced," chuckles Norm.
Stormin' Norman's is family-friendly during the day, opening at 8 am daily to serve breakfast and mimosas, with 10 house blends, like the Mermaid Mimosa ($13), a concoction of Midori, pineapple, Blue Curacao, Prosecco and pineapple garnish.
The breakfast menu consists of traditional morning staples, like egg sandwiches ($10), omelettes ($10), biscuits and gravy ($8) and sides, yet Norm raves about what he calls his "World Famous Fireball French Toast" ($13). Yes, that's French toast fried with Fireball liquor to give it a kick.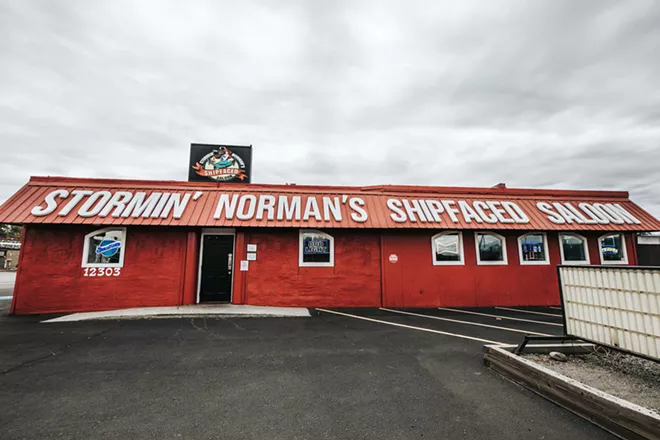 "Even people in Ireland know about it," Norm says of the fiery meal. "Because when I was in Ireland, I told them about it myself," he jokes.
The lunch and dinner menu offers pub fare like burgers ($9-$11), fish and chips ($14) and pizza ($9-$15), among other dishes. The restaurant's fettuccine alfredo ($10.50) and meaty spaghetti ($12) were inspired by cuisine the couple enjoyed during travels in Spain. Happy hour runs daily from 3-7 pm.
Activities offered at Stormin' Norman's reflect the Thomsons' fun-loving nature. On Friday and Saturday nights, people can sing their lungs out at karaoke. Carrie says a live DJ gets people dancing, and they'll often open the patio door so there's more room for everyone.
For cerebral partiers, Wednesday night offers pub trivia. For the brave of heart is a challenge called the "101 Shots Club," as advertised on a neon sign above the bar. Contestants can sign up anytime, but the current challenge ends on Feb. 7. The bar caps the number of shots from the list at five per day; anyone who can check off the entire list of 101 shots each season is considered a winner, eligible for a range of prizes. Shots on the list include "Buffalo Sweat," Tabasco and 151-proof rum, and "The Three Wisemen": Jim, Jack and Jose.
With 20 television screens inside for sports viewing, plenty of parking for bikers, and more than 16 beer taps, Stormin' Norman's caters to a wide demographic. A stage in the bar's parking lot hosts its summer concert series of once-monthly shows from May to October. The owners aim to bring in older, well-known rock bands to keep drawing a crown. Steppenwolf played on Sept. 15.
The Thomsons, who themselves met at a bar in Spokane 25 years ago, finished renovating the bar in 85 days, only keeping the dance floor from what used to be known as the Valley Bar. The grand opening in early August drew nearly 400 people, so when asked about their goals for the bar, the couple sound confident.
"We want to iron out all the kinks that naturally come when you first open a business and just keep doing what we're doing. I'm pretty happy with the way things are going," says Carrie.
Norm chimes in: "We want it fun, and we want it happy." ♦
Stormin' Norman's Shipfaced Saloon • 12303 E. Trent • Open Sun-Wed, 8 am-midnight, Thu-Sat 8 am-2 am • 862-4852 • storminnormansshipfacedsaloon.com