Beyond green and brown fields where horses graze, off a winding road that turns from pavement to gravel, sits Lori and Larry Isenberg's home.
The secluded cabin is nestled among the trees about 20 minutes southwest of Coeur d'Alene's city center. The Isenbergs have lived there for the past 10 or 15 years, neighbors estimate. On social media, Lori Isenberg, 64, has posted photos of the couple working in their sprawling garden, of colorful flowers, of their pond and of the hummingbirds that come to visit.
She calls it "our little paradise," in a post from July 4, 2011.
Seven years later, the garden is left untended, the house is empty and the couple's once picture-perfect life has vanished. And so have they.
Larry is now dead after he ended up in the frigid waters of Lake Coeur d'Alene during an early-morning boat ride with Lori on Feb. 13. Police found the 68-year-old's body in the Sun Up Bay near Worley, Idaho, 16 days after Lori reported the incident to police.
Meanwhile, Lori, who is the last known person to see her husband alive, is charged with embezzling half a million dollars from a North Idaho housing nonprofit, according to a Coeur d'Alene Police report. Detective Steve Harris lays out the case against Lori: "ghost companies," forged checks, personal items bought with the nonprofit's credit cards and tens of thousands of dollars transferred to an account in Larry's name.
Now, with two missed court dates, and a $500,000 warrant for her arrest, Lori has disappeared. And bounty hunters are pursuing her.
The Kootenai County Sheriff's Office is still investigating Larry's death, Detective Dennis Stinebaugh confirms, though he would not comment further, declining to say whether Lori was under investigation, because the case is still ongoing.
"We don't have any charges against her at this time," Stinebaugh says.
Neighbors who spoke to the Inlander about the circumstances surrounding Larry's death and Lori's disappearance say they've been left in the dark. One woman, who declined to give her name but says she knows the couple well, says Lori began moving items out of their home the day after Larry disappeared.
"We can't even grieve his loss because everything is so weird," the woman says. "It's surreal."
In 2009, Lori Isenberg was the executive director of the North Idaho Housing Coalition (NIHC), a nonprofit that buys foreclosed homes, pays contractors to renovate them and resells or rents them to people with low and moderate incomes. NIHC receives about $3.5 million annually in federal funding, according to the police. At that time, Virginia Tate worked as NIHC's accountant, Detective Harris writes in a report.
But within the past 18 months, Lori suggested to the NIHC board that she do the accounting and general contracting in order to save money, Harris writes, and the board agreed. Tate would conduct monthly financial reviews.
"By removing the general contractor and the accountant, Lori effectively removed all checks and balances, giving her the freedom to run the NIHC independently," Harris writes in his report.
By the fall of 2017, Lori was dodging Tate's calls and would not provide the necessary accounting paperwork, Tate tells Harris. When an unidentified individual dropped off some documents at her office, Tate says they were missing "several critical pieces of information and contractor bills," Harris writes. "Tate said it was apparent that Lori was trying to conceal something and also noticed some bills were altered."
Tate continued to untangle Lori's alleged crimes and relayed her findings to Harris. According to police records, Tate found:
Checks forged with her signature, as well as the signatures of NIHC board members.
Payments made to "ghost companies" that Lori created in her name and her daughters' names.
Credit cards opened without the board's approval with charges for personal items. Some cards were opened in her husband's and daughter's names.
$41,629.67 in deposits from the NIHC account to a Chase credit card belonging to Larry Isenberg.
A residence in Coeur d'Alene owned by NIHC that is rented to Lori's daughter, April Barnes, that had several months of unpaid rent. (A woman, who identified herself as April Barnes when contacted at the residence by the Inlander, declined an interview.)
Lori's termination in January was first reported by the Coeur d'Alene Press hours before her husband's fatal boat ride. In an email published by the Press in March, Lori gives her account of what happened.
The couple watched the sunrise at Sun Up Bay, she writes. Then they cruised around the lake until, at one point, Larry noticed something wrong with one of the boat's motors. When he went to fix it, he fell in, she continues. She then began "frantically looking for him," with no success.
"I cannot describe the pain I feel," she writes. "It is like half of me is gone."
After about an hour of panicked driving, Lori writes, the motor stopped working. When she looked around the boat, she noticed "blood spattered all over, and realized I had banged up my head and had a bad bloody nose the whole time I was running around the boat." Eventually, she finds her husband's cell phone and calls police.
On Feb. 26, Harris arrests Lori from her home. Two of Lori's daughters, Barnes and Traci Tesch, are listed as suspects in Harris' report. Lori emphasized to the detective that her daughters had no knowledge of her crimes.
"Lori said she set up dummy companies to pay for her kids' medical expenses," Harris writes. "She said she took the money but gave it to her children. Lori estimated stealing approximately $200,000 from NIHC over a couple years."
A network of bounty hunters trained to find people who don't want to be found is looking for Lori Isenberg.
Before she skipped out on her $75,000 bond, she had been checking in by phone twice a week with Quick Release Bail Bonds in Coeur d'Alene, according to owner Chris Skinner.
"She has no prior record, and comes off as the most normal person you could encounter," Skinner says. "She had jobs where she was trusted by people and seemed to have a normal life for a long time. Lots of family in the area. It's the sort of bond we write all the time."
Skinner and his network of bounty hunters now have 180 days from the time the judge issued the warrant to bring Lori back to court or pay Kootenai County $75,000.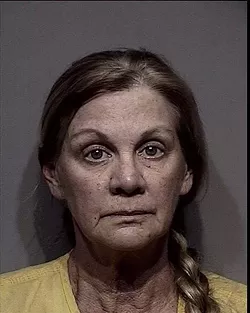 "She's crafty, and is full-blown fleeing prosecution," Skinner says. "I think we have a good chance of catching her, but I don't want her to know much more than that. We believe she's been planning this for a while."
Skinner says it's reasonable to believe that Lori is no longer in Idaho, as she has some family in California. She's transferred at least three homes to her sister in California, according to county records. He says he has no idea if she's left the country.
Skinner doesn't wish to speculate whether her husband's death has anything to do with her decision to run. The Kootenai County coroner has yet to release a cause of death, and no charges have been filed in connection with Larry's demise.
For Larry Isenberg's family, the unanswered questions and public attention make grieving that much harder.
"Run all you want with my stepmom. What she did was wrong and none of the family condones it or knew anything about it. That was her deal and her side of the family and her daughters. The Isenbergs are dealing with a huge loss and missing a cherished, good man," Larry's son Dean Isenberg writes via Facebook. "My dad was one of the best men on the planet, my best friend, and best friend to countless others. If you met him for five minutes, good, bad or indifferent, you'd remember Larry Isenberg until your dying day. That's just who he was." ♦
---
TIMELINE

Jan. 26
Lori Isenberg is terminated from the North Idaho Housing Coalition after board members allegedly discovered forged checks, altered bills and bills to fake companies.
Feb. 13
Larry Isenberg is reported missing by his wife, Lori, during an early-morning boat ride on Lake Coeur d'Alene. His body would be recovered March 1.
Feb. 26
Lori Isenberg is arrested at her North Idaho home, charged with 40 counts of forgery and one count of grand theft.
May 25
Lori Isenberg misses court for the second time, drawing a $500,000 warrant for her arrest. She is accused of embezzling half a million dollars from the Housing Coalition.