W
hen Navy veteran Steve McLaughlin
ran for commissioner of public lands in 2016, his connections to hard-right groups became a subject of controversy. In particular, media outlets scrutinized his connections to right-wing groups, including a campaign speech he gave at the 2016 Marble God and Country Celebration.
Marble God and Country celebrations are annual multi-day festivals up in the far north of Stevens County, infused with patriotism, religion and hard-right rhetoric.
Marble events have featured controversial speakers like Rep. Matt Shea and
slavery-defending neo-Confederate pastor
John Weaver. But when questioned on his campaign speech, McLaughlin downplayed the event, claiming that all it proved was that he would speak to
anybody
.
"They're concerned about the future of our country,"
he wrote in an email to the Southern Poverty Law Center, a hate-watch group despised by many conservatives. "So I just went there and did it – I didn't know what it was all about. And then I left."
But as the SPLC noted, no recording could be found of his speech that year. And after McLaughlin lost his race for lands commissioner, he returned to give another speech to Marble in 2017. And then another in 2018.
Last year, however, someone
was
there secretly recording the Marble event. Rep. Shea was recorded warning the crowd that "liberty must be kept by force" and that "communists are training, they're planning, they're organizing and they are lying in wait." Radio Free Redoubt broadcaster Jack Robertson, under the pseudonym John Jacob Schmidt,
called for patriots
to arm themselves with an "AR-15 and a thousand rounds of ammo" to defend against Antifa. Mark Herr, the president of the Tennessee-based Center for Self-Governance, compared those lumping right-wing groups in with "white-supremacists"
to Hitler
.
And McLaughlin was recorded warning the audience that wolves were being used as a tool of the UN "Agenda 21" and "Agenda 2030" conspiracy "to hijack the West and depopulate" the rural areas and concentrate people to the big cities so a few elites could "seize the major land holdings in the West for their own private gain."
Over the next few months, these recordings leaked out, not only to reporters like myself but also to activists like Hank Seipp, director of the Western Wildlife Council. Seipp says he felt he needed to counter the propaganda.
"You have a fresh pack of wolves, brand new, in a protected area of the state, and you have somebody spreading anti-wolf rhetoric," Seipp says. <!———————EndFragment———————>
In April,
Seipp uploaded the recording of McLaughlin and Shea's talk to the Western Wildlife Council page, outraged by the way McLaughlin was talking about wolves.
"Here is a link of a recording of Steve McLaughlin, Matt Shea and others at a meeting in the Marble Mountain Community," Seipp wrote in the post. "In these meetings, they discuss everything under the sun from cougar, bear and, any other critters with sharp teeth. Also in the area, it is known to be a breeding ground for racism and other issues that are being watched by law enforcement."
McLaughlin sent him this message, threatening to file criminal charges and add him to a supposed defamation lawsuit.
And, initially, the threat worked. Seipp took down his post and his link to the recording.
"Without talking to my lawyer, I figured I'd do what he wanted temporarily," Seipp says. He wanted to be cautious. Even if he won in court, it could cost him a lot of money.
"Just getting through the regular part of the trial is $45,000," Seipp says. "With his bullying, he could cost me $45,000. And Matt Shea is a lawyer — he could afford to write a legal complaint. And that cost is expensive."
But at the same time, he also reached out to the
Inlander
to tip them off about the threat.
"What Hank Seipp did at my request was take it down. He did what I asked him to do," McLaughlin says. "Now Hank Seipp is pushing it further. By coming to you to write this up to make an issue of it. If he wants to escalate it, he can."
<!———————StartFragment———————>The conflict between Seipp and McLaughlin brings together some of the most incendiary issues that dominate debate in northeast Washington: Privacy, far-right politics and, of course, wolves.
THE LEGAL QUESTION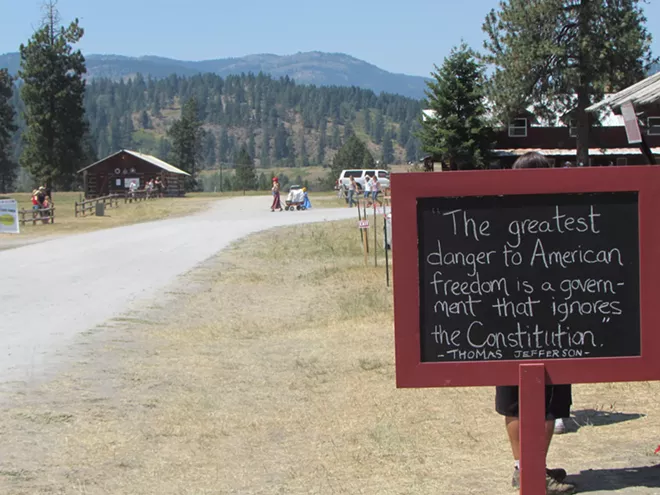 "T
he real issue was the fact that
I was recorded without my permission," McLaughlin says. To McLaughlin, the recording that Seipp uploaded was a clear violation of state law.
But Seipp says his own attorney came to a different conclusion.
"Their response was, 'sue his ass,' for making me take it down and threatening me," Seipp says.
After all, Seipp says he didn't make the recording himself. He got it from another source — a public official, he says — who was concerned about Shea and McLaughlin's rhetoric. If true, that means that Seipp is almost certainly legally protected, for the same reason journalists can generally upload leaked documents without getting prosecuted for it. In 2001, the U.S. Supreme Court ruled that a radio host could
legally broadcast
an otherwise illegal recording, because he hadn't been involved in creating the recording himself.
Whether the unnamed person who secretly recorded the speeches at Marble violated the law is a trickier question. Washington state has a "two-party consent law," meaning that I generally can't secretly record a private conversation with you without your permission.
But the key phrase there is
private.
There's a difference between, say, recording a conversation being shouted on a street and secretly recording your boyfriend in bed.
"Really, it starts going to what is 'private communication,'" says Seattle-based attorney
Robert Rhodes
. "The setting of the speech will become critical. Was there any expectation of privacy? What's the purpose of the setting?"
McLaughlin says he'd "specifically asked if it was a private event" before attending the Marble rally, and that his speech was delivered in front of only about a dozen people. He says the Marble celebration was by invitation only. Yet, Marble didn't advertise its 2018 event on Facebook as invitation-only. To the contrary, Marble proclaimed
that
"admission is free" and noted guests could register and sign a liability waiver at the gate.
In fact, at one moment during McLaughlin's speech, a member of the audience celebrated the fact that a woman was there feverishly taking notes on his speech, so she could spread McLaughlin's arguments.
Ultimately, Rhodes says, any legal argument about the legality of the recording of McLaughlin's speech would come down to common sense. Of course, attorneys will disagree on what common sense is.
"I think it's going to be arguable," Rhodes says. "It's not a matter of whether you're going to win, it's whether you have a right to sue. You can be sued wrongfully on a lot of things."
But even if the recording wasn't illegal, McLaughlin says, it was unfair for Seipp to share. Anything he might have been recorded saying during his 2016 campaign was fair game, but sharing secretly recorded speeches from last year crossed the line.
"I'm a private person. I'm a private citizen. I'm not campaigning," McLaughlin says. "It's an ethical issue in my opinion."
ENGRAVED IN MARBLE
A
long with feeling that his privacy had been violated
, McLaughlin was particularly upset that Seipp seemed to be trying to connect him to extremism.
"
The bottom line is it that, in the post, he talked about tying me to white supremacists," McLaughlin says. "That's what got me fired up... Do you think that if I was a supremacist that I would have been in the Navy. I've got friends from every part of the country. I've got friends all over the world."
<!———————StartFragment———————>While Seipp hadn't explicitly accused McLaughlin of being a white supremacist, he had claimed that the Marble area, where McLaughlin had given his speech, "is known to be a breeding ground for racism."
But while there's been plenty of rhetoric critical of the government at Marble, McLaughlin says he's never heard anybody express racist ideology there.
"A couple of my favorite people up there are
not white
," McLaughlin says.
In the past years, multiple media outlets have raised questions about the Marble community's ideological ties to hard-right ideology. As the
Inlander
reported in 2015
, Marble Community Fellowship's founder Barry Byrd helped write a 1988 manifesto called the
Remnant Resolves
that, among other things, calls Jews "anti-Christs" and warns that the "interracial marriage pollutes the integrity of marriage." The Byrds used to attend the Ark, a Colville church that was part of the Christian Identity movement, a radical sect that sparked the Christian Identity movement.
Still, the Byrds have since distanced themselves from the Ark and have fervently condemned racism.
Today, Marble has generally been more closely allied with the
"patriot" movement
of the far-right than white supremacy, give or take a
slavery-defending
guest speaker. Yet, last August, Spokane Sheriff Ozzie Knezovich broadcast a series of
radio conversations
with former state Sen. John Smith, who'd grown up immersed in white supremacy. He claimed that when he first moved to northeast Washington, members of Marble tried to recruit him.
"They believed the world was controlled by this group of global Jewish bankers," Smith said. "And the way they were going to end that was ultimately through a civil war that was facilitated by a slow takeover of county government."
Doug Taft, an African-American member of the Marble community, disputed these claims in a
Chewelah Independent
op-ed, saying Smith's accusation was "
absurd and borders on the ludicrous
."
"Since the nearly 24 years that I have been a resident here, I have never heard of any such nonsense in private or public discourse," Taft wrote.
But then in October, news broke about a "Biblical Basis for War" a document authored by Rep. Shea just a few days after his Marble God and Country
speech
in 2014 accusing moderates and liberals of being the real "extremists" and leading the audience in "Are you ready to fight?!" chants. The document mixed Old Testament calls to kill
the men of conquered cities
with modern condemnations of abortion and communism. Shea claimed he'd been taken out of context, but never was willing to answer basic questions about what lines like "if they do not yield – kill all males" meant. Much of the resulting firestorm of international coverage referred to Shea's
close connection to Marble
, and several cited Smith and Knezovich's radio conversations.
<!———————StartFragment———————>Knezovich and Smith both tell the
Inlander
that they received a letter from an attorney associated with Marble, but their attorneys found the legal threats laughable.
"They don't have two legs to stand on," Knezovich says about Marble. "They are as they are. You've seen the volumes of material out there. It's a typical Christian Identity tactic, threaten your opponents or anybody who speaks against you and make them go away."
Marble ally Shea likely didn't help matters when he recently
linked
to a white nationalist website in an attempt to smear a
Guardian
journalist who'd reported on Shea offering to run background checks for allies fantasizing about violence against
left-leaning Spokane residents
.
McLaughlin believes Marble has been unfairly portrayed by
Smith, Knezovich and media outlets, and it's not fair to try to conflate him with extremists.


"The bottom line is there were numerous elected officials up there, there were numerous business people up there, former elected officials," McLaughlin says. "I don't want anybody putting words in my mouth."
But Seipp maintains there's a connection between those with the most extreme anti-wolf rhetoric and the most extreme anti-government rhetoric.
"Wolves are the poster boy of government meddling," Seipp says.
<!———————StartFragment———————>

WOLVES AMONG US

T
he Inlander already had a copy of the recording
McLaughlin's speech when Seipp shared it with us last month. And compared to the
other speeches
given at Marble that weekend, McLaughlin's speech was relatively inoffensive — unless, that is, you're a wolf.
Much of McLaughlin's speech focused on sharing what he referred to as the "untold story of economic devastation that wolves are having on our ranching families."
Ranchers have been particularly angry at the way wolves in the Pacific Northwest have been killing their cattle and other livestock. Washington Department of Fish and Wildlife records show that last year, wolves killed at least 11 cattle and one sheep, and injured 19 cattle and two sheep. Almost all of that happened in
northeast Washington
.
During his Marble speech, McLaughlin said that his loss in the public lands commissioner race had freed him up to be an "attack dog" on some of the issues that ranchers care about.
"I'm a conservationist," McLaughlin said. "I believe in conservationism. But I don't believe in environmentalism." <!————————————EndFragment————————————>
McLaughlin asked his audience to imagine how a calf feels being devoured by a hungry wolf.
<!————————————StartFragment————————————>
"Think about being eaten alive, in a horror story," McLaughlin said. "<!————————————EndFragment————————————>And you're the one being eaten alive."
His speech went beyond painting wolves as a threat to cattle and into painting wolves as a threat to humans. Any time you see a wolf looking at a camera in a picture, McLaughlin warned, "that wolf wants to have you for lunch."
<!———————————StartFragment———————————>
"In Arizona and New Mexico, kids in rural areas have to be locked into cages at bus stops… because the wolves come up and are looking for kids to eat," he said. "That's coming to a neighborhood near you."
Gradually, he said, wolves will begin to habituate with humans and become more and more aggressive.
"They're going to start taking and feinting attacks on you. Taking little nips," McLaughlin says. "'Yum. Those tasty people.'" <!———————————EndFragment———————————>
And finally, he echoed other speakers at the Marble event by suggesting that those on the left would escalate from simple rhetoric to outright violence.
<!————————————StartFragment————————————>
"They're insulting me: 'You're delusional and misinformed,'" McLaughlin said. "Pretty soon it'll be, 'you're an idiot.' Soon after that it will be, 'I will find you and kill you.' I had three death threats in my campaign last time. I am not afraid of these guys coming after me. I pity them if it comes to that."
<!————————————EndFragment————————————>"That's what I'm talking about!" a member of the audience cheers in response.
Julia Smith, wolf coordinator for the Washington Department of Fish and Wildlife, says these claims are ridiculous. Some wolf packs in northeast Washington
do
attack cattle, she says, but attacks against humans "are
virtually unheard of
." She's interacted with hundreds of wild wolves — and scaring them off is usually as simple as walking toward them.
If you were to rank Washington state wildlife by how dangerous they were to humans, "wolves are almost at the bottom of the list." And she laughs when asked about the bus stop cages in New Mexico. She used to work in Arizona and New Mexico. The cages were real, she says, but the danger was not.
"There's absolutely no basis or need to put up cages to protect kids or anyone else from wolves. It was a little bit of a public frenzy fear-based reaction," Smith says. "Many of those structures were removed because they were used by teenagers for more nefarious purposes."
In North America, there have only been two confirmed deaths from wild healthy wolves in decades. By contrast,
cattle kills
more than 20 people a year — and if you include car accidents, deer kill 120.
Moose
attack far more people.
<!———————EndFragment———————>
But everyone involved acknowledges that wolves killing cattle is a real issue for ranchers. And both Seipp and McLaughlin say they want to work with the other side to find solutions.
"My primary focus was to keep animals on both sides of the fence alive," Seipp says. "Growing up as a farmer myself, I worked every morning, feeding cows and taking care of chickens. I understood that nobody likes to sustain losses."
He says there are plenty of nonviolent ways — including tracking wolves and moving cattle away from them when they're in the area — to prevent attacks against cattle. In fact, human presence, he says, is one of the best ways to deter wolves.
McLaughlin says he's on a panel with the Department of Fish and Wildlife to come up with solutions, and is willing to work with everybody — including Seipp. McLaughlin stresses he's "not trying to make wolves go extinct,' but says government policy desperately needs to change.
"What I am trying to do is figure out how we can reduce conflict between
Canis Lupis
and livestock," McLaughlin says. "<!———————EndFragment———————>Tell Hank, I'm willing to work with him, if Hank is willing to sit down and seek solutions."
Here, for the record, is Seipp's original Facebook post:
The Wolves of Marble Mountain



Is this the beginning of the real battle that has been brewing for a while now?

Here is a link of a recording of Steve McLaughlin, Matt Shea and others at a meeting in the Marble Mountain Community. In the not too-far distant history, I published this link as well as a picture of many of the players that meet there on a semi-regular basis taken at one of those meetings.

In these meetings, they discuss everything under the sun from cougar, bear and, any other critters with sharp teeth. Also in the area, it is known to be a breeding ground for racism and other issues that are being watched by law enforcement.



Though wolves have made their way home near this community, is it the best choice? Considering the area and the folks that frequent the area? Or is this the beginning of a battle over our wildlife and the beginning of a route that may be coming from our federal authorities and, the very people who wish harm on our native wildlife? Is this the future Ruby Ridge of Northern Washington? Is this the beginning of a time where our federal government is forced to protect wolves and take a stand against those who feel public land belongs to their cows, mining companies, timber companies or the energy companies? Though wolves are a welcomed sight in Western Washington, the location of these wolves couldn't be worse when you consider the hombres they have to try to coexist with. I would like to hear your thoughts about this as this is alarming on many levels.