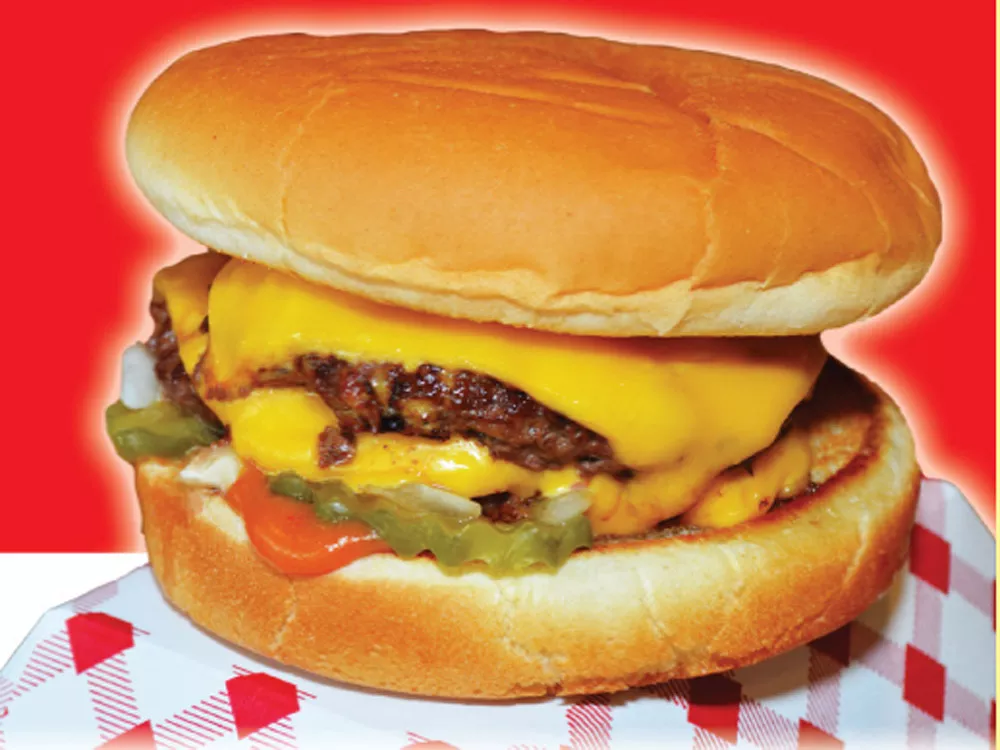 If you're on Francis Avenue and you head one block north on Wall Street in search of a transmission mechanic, you'll have to chomp on a 100-percent beef burger instead, because Phil Costello, a Mead native and owner of Stop N Go Family Drive In, has leased the shop to house his company's second location.
The shop has been cleaned out, the equipment removed and the office extended into a seating area. Shiny chrome columns, black-and-white checkered flooring, red tables and white walls with black-and-red accents provide a sharp, retro style devoid of irony or kitsch.
Cars pull in and out of the corner store with ease. Stop N Go's emphasis is on drive-thru service, especially in the evening, when families are looking for a quick dinner, and later, when those returning from the neighborhood's bars are looking for a quick snack.
"We don't use any crazy ingredients in our burgers. No preservatives. No ammonia. Just beef and fat. It's as healthy as a burger and fries can get," says Costello, who opened the original Spokane Valley Stop N Go in 2010.
The menu also offers fish-and-fries or chicken-and-fries baskets ($4.50 each). For lunch, I opted for the fish meal and a single patty cheeseburger ($1.25). The burger was the perfect size for a kid or maybe someone needing a quick bite after last call. A double cheeseburger ($2.25) or triple patty ($3.25) would be just right for an adult meal. Each burger is topped with minced onion, pickles, mustard and ketchup.
The fish basket contained hand-cut pieces of lightly breaded cod (with an optional fresh-cut lemon slice) sitting atop a bed of straight-cut fries. The fry sauce is distinctive, with an emphasis on smoke and heat rather than tomato and sugar, while the tartar sauce has a slightly more complex flavor than typical mayonnaise-heavy dressings.
They keep it simple here, and simple is good. All transactions are cash-only, which helps keep the price low. Counter service is quick and the employees are invested in the restaurant's success. Travonn Thomas, who works the counter, mentioned that she has heard horror stories about working in fast-food restaurants, but her experience at Stop N Go has been great, she says. "This is a real family establishment."

Stop N Go Family Drive-In • 6325 N. Wall St. • 11 am-2:30 am daily • Also located at 6505 E. Sprague Ave., Spokane Valley • Mon-Fri, 10 am-9 pm; Sat 10 am-8 pm; Sun 11 am-6 pm • stopngodrivein.com