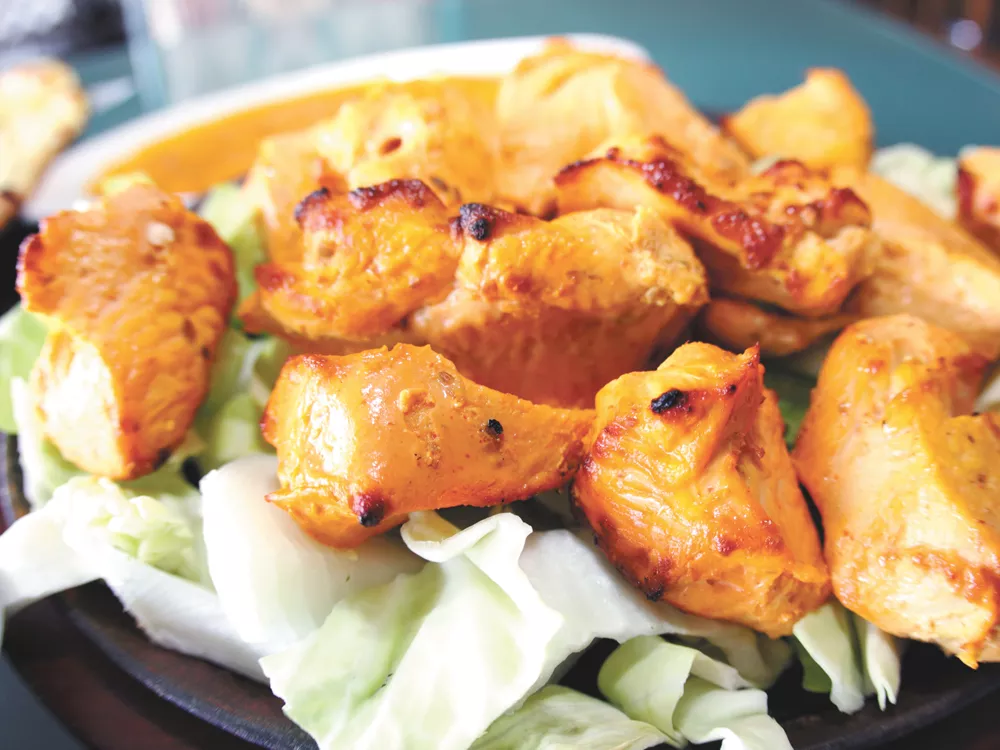 Pargat Singh's delectable dishes had been sitting dormant for far too long, but as of last month, our area is able to enjoy his recipes and techniques once again. Five years after selling his share of the now-defunct Bombay Palace in downtown Spokane, Singh opened Swagat Indian Cuisine in Spokane Valley.
Gary Singh, Pargat's son and the manager of the restaurant, says they picked the Valley as a location hoping to attract patrons from Airway Heights to Coeur d'Alene.
My guest and I ordered meat samosa as an appetizer ($4.50), which consists of two crispy pastries stuffed with lamb meat and peas, accompanied by mint, tamarind and onion chutneys.
The pastry itself was flaky, and the contents were mildly and precisely spiced to open our meals.
For my entrée, I ordered the saag paneer ($10). Cubes of housemade cheese and spinach were melded together spot-on and cooked in a thick curry. The taste of the spinach didn't get lost, as is sometimes the case, and each layer of flavor worked separately and synergistically. My guest opted for the lamb boti masala ($13), a knockout dish made up of lamb marinated in yogurt, then baked on the tandoor and incorporated into a tangy tomato sauce.
Try the rice pudding for dessert ($2.50) and delight in the taste and unique textures of the crushed rice, coated generously with creamy, sweetened milk and just a smattering of grated pita chips, or close your meal with two scoops of scratch-made mango ice cream ($3).
Swagat offers a lunch special that isn't to be missed: a buffet from 11 am-3 pm that includes tandoori chicken, chicken curry, three vegetarian entrees, a trio of chutneys and various other rotating dishes, as well as other entrees, appetizers and desserts ($10).
There are 87 items on the menu, which might be overwhelming for some. But "swagat" means "welcome" in Punjabi, so if you're new to north-Indian fare or if it's just been a while, the helpful servers will be happy to guide you on this multiple-course culinary adventure. food@inlander.com
Swagat Indian Cuisine • 14415 E. Sprague Ave., Spokane Valley • Sun-Thu 11 am-9 pm, Fri-Sat 11 am-9:30 pm (315-8785)