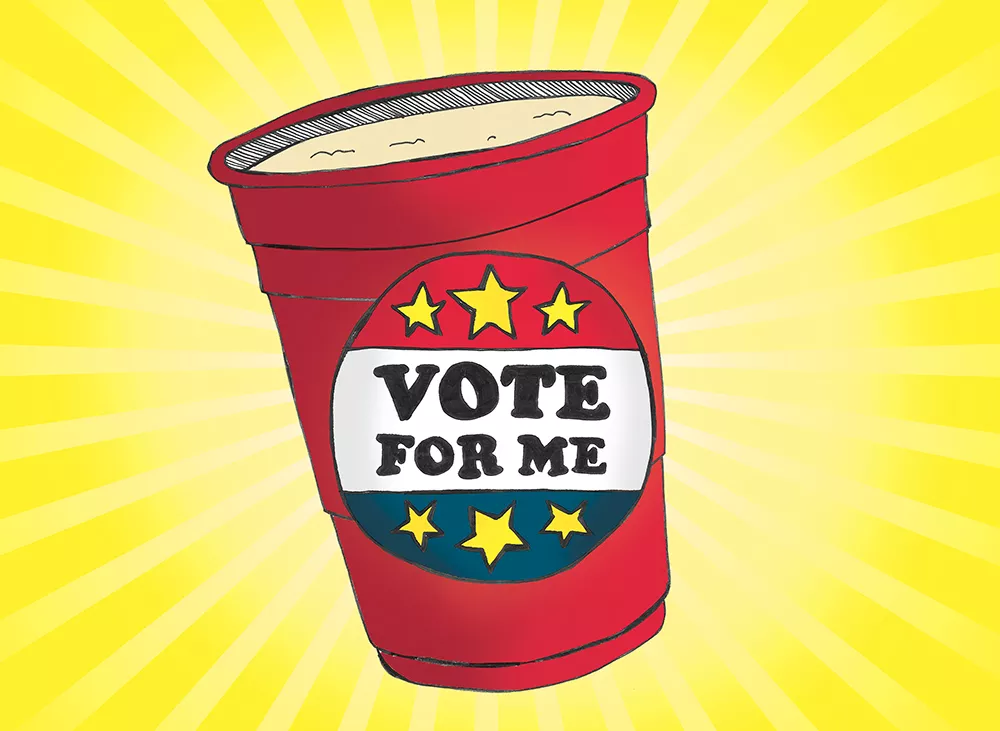 Election season has begun and it's a time of glad hands. Hands that are clasped in handshakes. Hands that slap backs. Hands that gently touch your shoulder as they weave their way through the crowd at an election kickoff party. Hands that hold plastic cups filled with beer and wine. Hands that write checks, and in a few short months will fill out ballots.
All these people and all this alcohol are here because of The Politician. The president of the Spokane City Council wants to keep his gavel for another four years and has invited his friends and supporters out to have a drink, listen to him speak and maybe even contribute to his campaign fund before the night is over.
More than 300 people file into the large room. They fill out forms stating what kind of support they'll offer and fill out nametags. Some mingle while others queue up for plastic cups full of beer (red or blond) or wine (red or white).
The lights are dimmed. It's time from speeches from friends of The Politician, who praise him for steering money toward economically depressed parts of town, allowing people to keep goats and chickens in their yards, supporting the arts and befriending nearby Indian tribes.
The Politician takes the stump. The audience fumbles with their cups of wine and beer and applauds him. The Politician is in a spirited mood. It's Mardi Gras; he's wearing a colorful tie. He talks up all that he's done for economic development, public safety and basic functions of government. He asks you to stand with him as he stands with workers and immigrants and all kinds of people. The crowd cheers jubilantly.
Then it's time for the ask: Won't you write a check for The Politician? There's more fumbling with plastic cups full of beer and wine as checks are stuffed into envelopes.
The main event is over. People start to go home, but The Politician isn't done. He looks tired from glad-handing and drinks water from a plastic cup. His tie loosened, he sits for a moment in a fold-up chair and chats with a little girl. But in a moment, he's back at it after getting one more cup of wine.
More people go home. The wine bottles have been corked. The kegs of beer have been sealed. Joni Mitchell plays on the stereo. Volunteers throw cups into plastic bags and pick at nametag stickers that supporters have dropped and are now stubbornly stuck to the wooden floor. The night is over. It's time for one more handshake goodbye.♦