Gleason Fest is more than just an afternoon of outdoor music. It's the namesake festival of Steve Gleason, Spokane native and former NFL player who was diagnosed with Lou Gehrig's disease in 2011, and its proceeds benefit ALS research.
It always boasts a diverse array of artists — Portugal. The Man, Pickwick, Grouplove, Blue Scholars and Lukas Nelson have all headlined past fests — and this year is no exception. And Gleason himself, an avid music fan, usually shows up.
Here's a rundown of the major artists hitting the stage in Riverfront Park on Saturday.
BLIND PILOT
Portland's Blind Pilot follows in the sonic footsteps of groups like the Lumineers and Mumford and Sons, making the kind of rustic but polished and jangly folk-pop that people in the Pacific Northwest typically flip for. It's the project of songwriter Israel Nebeker, whose band accentuates his acoustic compositions with the occasional pluck of a mandolin or the warmth of a horn section. A typical live set is going to encompass a full spectrum of emotions: "Umpqua Rushing," the lush opener of the band's heartbreaker of an album And Then Like Lions, is a diary entry about the disintegration of a long relationship, while the gentle serenade "3 Rounds and a Sound" is destined to accompany the first dance at countless future weddings.
JOSEPH
It's true that siblings tend to have an innate and unexplainable connection, and it's especially true of the sisters in the band Joseph, whose voices were probably destined to blend together regardless of genetic makeup. Natalie Closner was working as a solo musician in Portland (and, for a short time, in Spokane) when she asked her younger twin siblings Allison and Meegan to sing with her. They all knew they had something, and their success came quickly: They were signed to Dave Matthews' ATO label and sold out plenty of shows on their early national tours, including a couple at the Bartlett. The band recently released an EP of covers, reimagining everything from the Rolling Stones' "Moonlight Mile" and Tears for Fears' "Everybody Wants to Rule the World" in unexpected ways. It's further proof of their musical malleability.
DEEP SEA DIVER
I first became aware of Jessica Dobson when she was a touring musician for the likes of Beck, the Shins and Spoon, but I really became a fan when I heard her solo project, Deep Sea Diver. Though it's hard not to hear traces of the artists Dobson has previously played with, Deep Sea Diver is an entirely different (and entirely unexpected) beast. The band's 2016 album Secrets is 45 minutes of shimmering synths and funk-inspired basslines, pushed along by the ever-insistent beat of drummer Peter Mansen (also Dobson's husband). And then there's Dobson's guitar, alternately soft and spiky, swirling around everything and occasionally needling you with a thrilling blast of feedback. Their name is apropos: Follow them below the surface, and you'll find depths previously unexplored. They're one of Seattle's coolest working bands.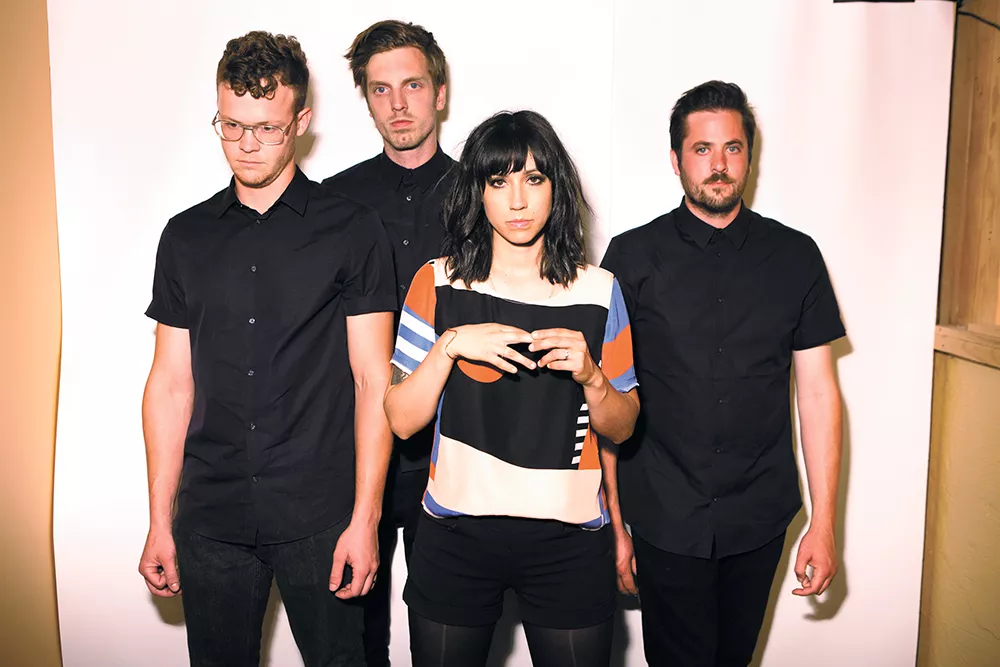 THE SHOOK TWINS
Another sister act, and another fusion of folk and pop, built upon the haunting intertwined vocals of identical twins Katelyn and Laurie Shook, who have been a summer festival staple since starting out in Sandpoint nearly 15 years ago. They consider their voices to be their primary instruments — beguiling ones, at that — though when they perform as a duo they tend to lean on beatboxing and electronic looping, with appearances from glockenspiel, ocarina, djembe and a large, gold-colored shaker that's shaped like an egg. The Shooks last released a six-song EP in 2017 and a new single called "Stay Wild" earlier this year, an ethereal mid-tempo ballad that floats along and an unexpectedly catchy "doo-doo-doo" chorus. ♦
Gleason Fest • Sat, Aug. 11 at 4 pm • All ages • $27.50 general, $70 VIP • Riverfront Park Lilac Bowl • 507 N. Howard • gleasonfest.org • 869-8630