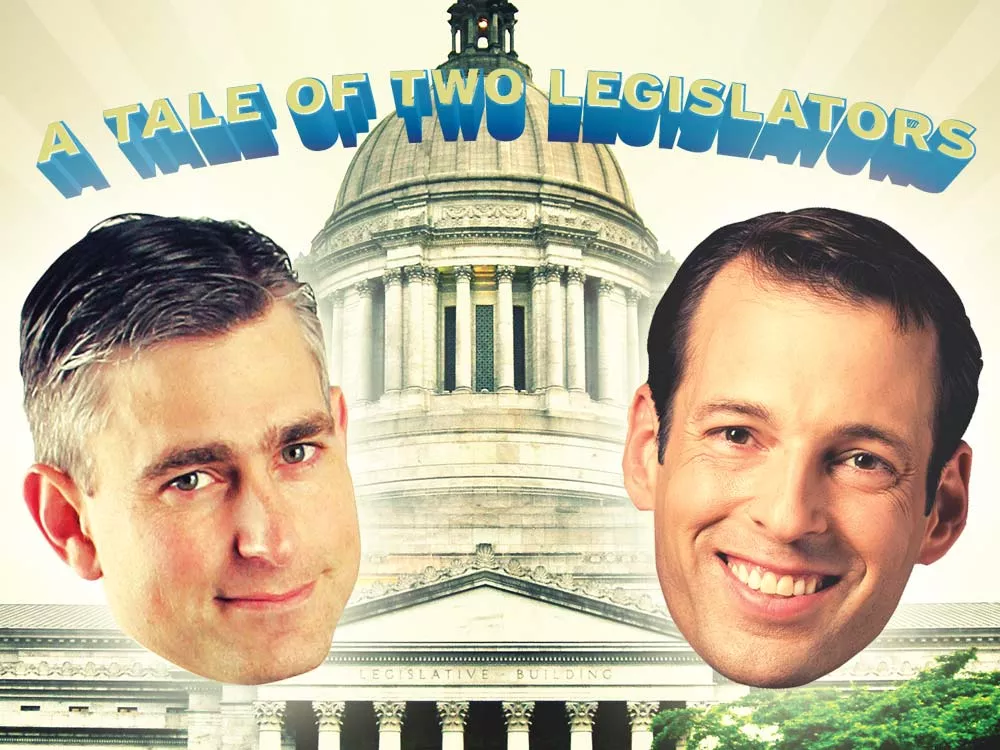 This legislative session in Olympia was the worst of times. State lawmakers went into 30 days of overtime to close a $5 billion budget gap, cutting funding to education, social services and parks.
It wasn't for the faint of heart. So you might feel for Spokane's two freshmen legislators, who not only had to help close that monstrous budget gap but also had to learn how to be legislators in the process.
We asked them the same questions on the following pages to get their takes on their first session.
What grade would you give the Legislature this session?
SEN. MICHAEL BAUMGARTNER, R-6TH DISTRICT:
I would give the Legislature a B for the session. The biggest accomplishment is that, for the first time in nearly 15 years, we have a fiscally responsible budget that spends less than it takes in in revenue. It's fiscally responsible today, but also one that provides a blueprint going forward. A bill that I prime-sponsored would do some government reorganization and consolidation of government agencies, and will also for the first time allow some potential contracting out of some nonessential government services. We spend up to nearly $2 billion per biennium on IT infrastructure and I think we could save a great deal of money on that by looking at specialized private-sector solutions, especially in a state like Washington, with so many great technology companies.
REP. ANDY BILLIG, D-3RD DISTRICT:
Overall, I'd say a C. We're in the midst of a severe revenue crisis with our state. With that in mind, we came up with the most responsible budget that we could. So that's the positive. The negative is that this budget is going to hurt a lot of people. Teachers, students, home-care workers, low-income folks who were on the Basic Health plan. There are many people that are going to be hurt by this budget, and that's disappointing to me. In terms of laying the groundwork for economic prosperity for our region in the future, I think we actually did OK. Look at the medical school. That was a huge economic and health-care win for our community.

Compared to other cities, how did Spokane make out in the budget?
BAUMGARTNER:
I think Spokane did exceptionally well, specifically because we got half of the needed medical-school funding in the capital budget. That was a big deal. We need that medical school, not just for the shortage of doctors that we have here in Washington but also because it's just a key piece to our economy. Once that medical school's up and running, we think it has the potential over the next few years to have a $2 billion impact on Spokane and Eastern Washington's economy.
BILLIG:
I don't really look at it as from one city to another, especially with the medical school, which is something that is positive for all of Eastern Washington and really for all of the state. We have a deficiency of doctors throughout the state. We need more than 500 doctors a year and produce only 150 in our state.

What bill are you most proud of?
BAUMGARTNER:
Certainly the bill I am most proud of is the government reorganization bill, Senate Bill 5931. It's going to better allow us to contract out nonessential government services. One of the reasons I campaigned for the state Senate was because I realized the government was spending too much money on things that it didn't need to be doing and not enough money on things it should be doing. In fact, that bill was the last big reform bill to go through. It was the most contentious of the last bills to be negotiated. The Senate Republicans were not going to vote on the capital budget or the operating budget until that bill got passed. So it didn't happen until the last minute.
BILLIG:
House Bill 2078. We refer to the operating budget as the best we could do given our current restraints. But I wasn't comfortable with not pushing back against those constraints. And that's what HB 2078 was about — closing tax loopholes for out-of-state banks and [using] that money for smaller class sizes in the K-3 years. And while it reached the constitutional majority of 52 votes, it did not get the two-thirds majority required by Initiative 1053. This highlights a problem that we have. We have a revenue problem with our state. There's a myth that there's a spending problem. This is a revenue crisis. We are at the lowest point in terms of taxation and spending for our state, per capita, since 1985.

What did the Legislature do this year that will have the most direct impact on citizens?
BAUMGARTNER:
The Legislature has decided to make a conscious effort to de-fund higher education. Higher education is getting $400 million less than it gets today. And that's on top of real cuts to higher education in the last budget. The Legislature shifted the cost to students and families by giving universities tuition-setting ability. It's the absolute wrong thing to do. We need to create a knowledge economy.
BILLIG: One of the big wins in the budget is to preserve the Apple Health for Kids program. That's incredibly important throughout the state and particularly our region, and that was one of my priorities [since] 650,000 low-income children are on that program. Some versions of the budget had it being cut severely, and the final version was preserved almost entirely intact.
How much bipartisanship was there in Olympia this year?
BAUMGARTNER:
There was a lot on the Senate side, not very much on the House side. There certainly wasn't bipartisanship on everything. I can think of a couple of things we wanted to push through that got shot down. Washington is likely to be the only state that allows illegal immigrants to get drivers licenses. We couldn't even get it to a vote. Republicans are still in the minority.
BILLIG:
I was impressed with the level of bipartisanship. I was vice chair of the transportation committee. I was in the transportation budget-writing meetings. The chair, Rep. Judy Clibborn, made the choice it was going to be bipartisan. It was three Democrats and two Republicans sitting in a room, writing the budget. It was a better product in the end because of that bipartisanship.

Were you ever frustrated with the legislative process?
BAUMGARTNER:
The driver's license issue is frustrating to me. It shouldn't be a partisan, political issue. I think it's a national security issue. I know that if that had gotten to the floor for a vote, it would have passed. But that's part of the process. Something else that was shot down in a partisan manner was we had a bill where teachers were laid off based on quality instead of the current system, which is solely a seniority-based system. Those are two things that didn't get through because of partisan politics.
BILLIG:
At times I got very frustrated with how hard it is to pass a bill. There are many, many places where a bill can die, but no places where it gets an express route to passage. While that was frustrating, I came to appreciate that it's very much there for a good purpose. It forces deliberation and weeds out the bills that aren't quite ready to be passed. Only a bill that can pass many hurdles gets through. That's actually a protection for us as a state. While the pace is sometimes frustrating, it really is there for a great reason.
What's up next?
BAUMGARTNER:
The huge thing that's next for me is I have a baby boy due in two weeks. In the interim, I'll be doing some of the ongoing work I do with the U.S. military. I have a trip to go advise another brigade combat team going to Afghanistan here in about a week. I'll be out in Michigan. Unless my baby's born — then I'll be skipping the trip.
BILLIG:
I'm looking forward to working on a number of projects. [An] aviation bio-fuels project. Washington state is a leader in the nation in aviation bio-fuels. The second thing is I've got a bill I'll be working on to foster increased participation for young voters. The third thing is broad, but it's really an education tour, meeting with parents and teachers and students to dive down deeper so we can keep moving forward to preserving our great schools.