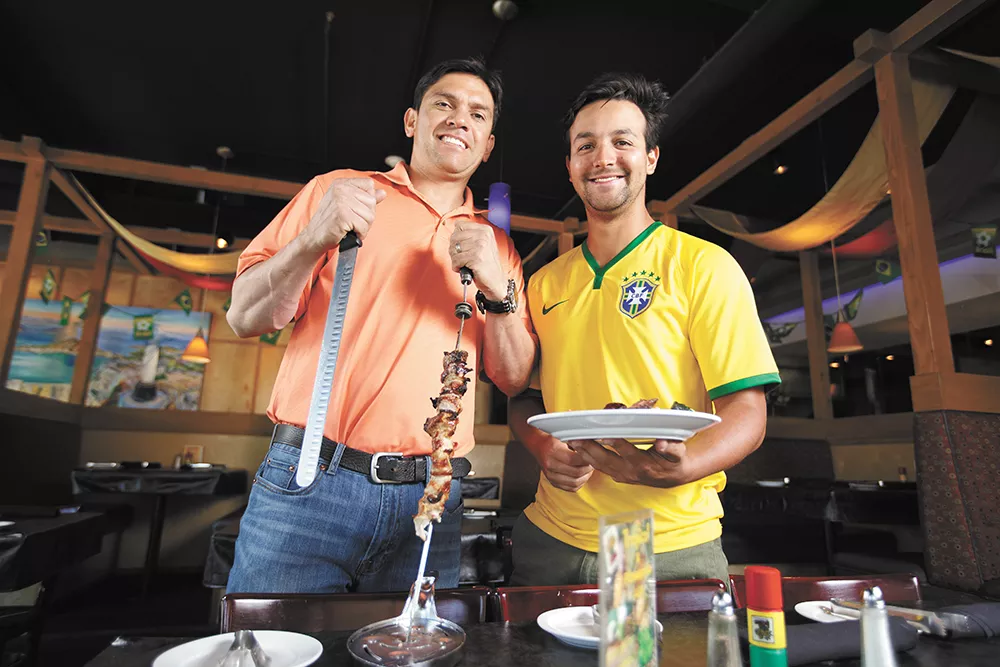 Americans still don't quite get the fascination with the FIFA World Cup. But every four years, the rest of the world cares deeply — responsibilities are essentially put on hold across the globe as 31 of the 32 teams are slowly eliminated over a month's time. This year, the U.S. National Team is in the pickle that is Group G, having to play second-ranked Germany and fourth-ranked Portugal. First, they have to take on a highly skilled Ghana team that has knocked them out of the past two World Cups. The top two teams from each group advance. It will be a major challenge for the 13th-ranked American team to move on, but if they do, they might have a chance to go far.
As much as you might love to head south to Brazil for the matches, your best bet to recreate that experience could be to head east to Coeur d'Alene. When we stopped by last week, the tournament hadn't started, but the Grille From Ipanema, the area's only Brazilian restaurant, had World Cup decorations up.
Lime-green banners featuring this year's World Cup logo and the correct spelling of "Brasil" fly high around the ceiling of the main dining room.
Owner and major soccer fan Adriano de Souza, originally from Curitiba, Brazil, says he's more than ready for the tournament to begin. This is a man who, after attempting to stay up and watch every game possible during the 1998 World Cup, was hospitalized due to exhaustion and dehydration.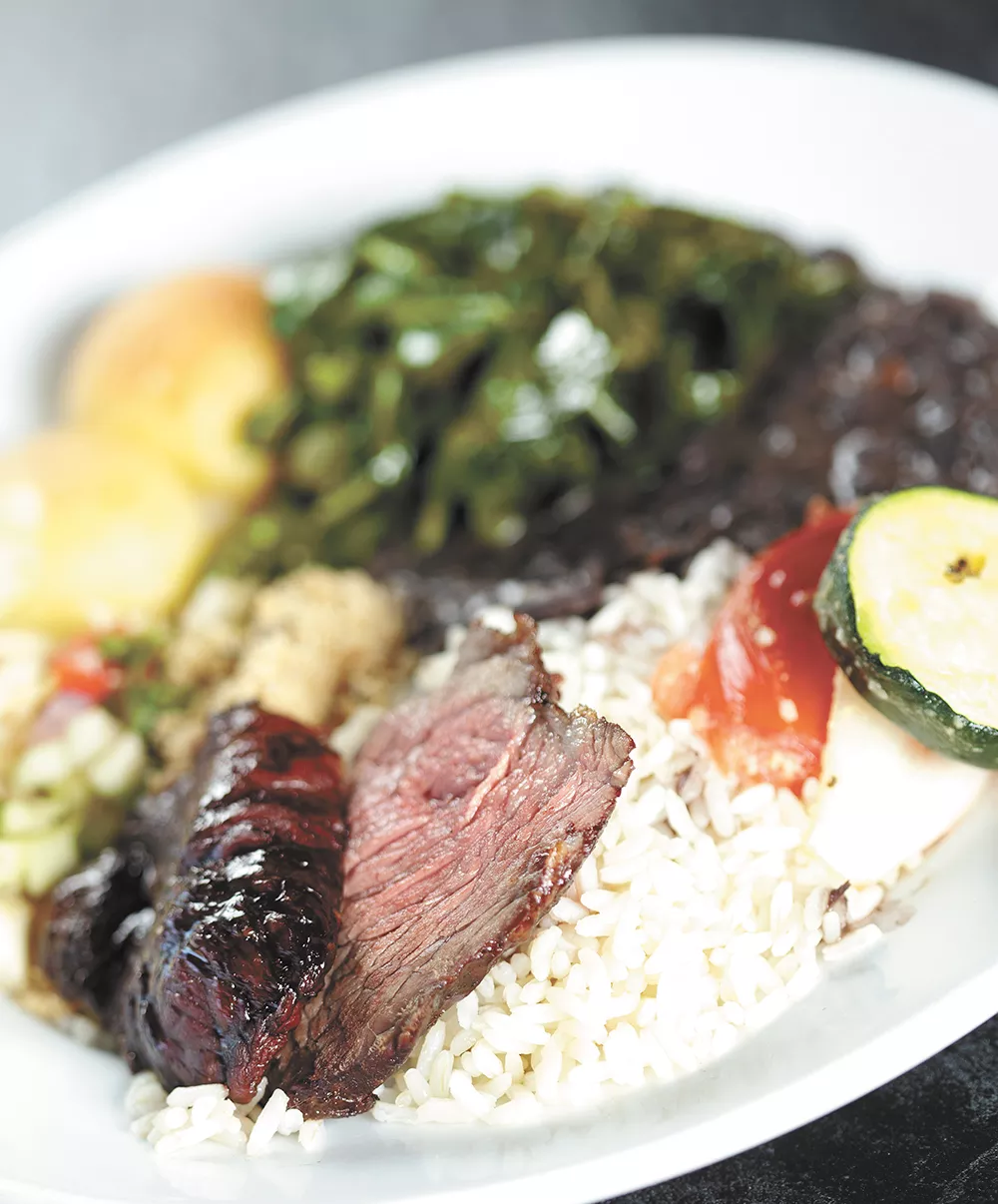 "Brazil is very open. As hosts we will embrace the world, sharing our culture with them," de Souza says.
De Souza is so excited about the tournament being held in Brazil, he's heading down to watch four matches, along with his brother and their two young sons.
"The last time Brazil hosted was in the '50s, so we thought, 'This will never happen again in our lifetime, let's go for it,'" says de Souza, who has worked as a chef in the U.S. for 15 years and opened his restaurant in 2011.
On this day, a group of Brazilians are watching a friendly (a match that's not part of a formal competition) against Serbia on the bar TV — the Brazilian Globo Channel streaming through the Internet. Portuguese is flying around the room as various calls are made on-screen. It's lunchtime and the lunch buffet ($10) is open, featuring traditional southern Brazilian foods like white rice, black and brown beans, collard greens, deep-fried bananas and sliced fruits and vegetables. Servers with long skewers carry various churrasco (Brazilian barbeque, $13 for lunch, $22 for dinner), succulent meats like garlic steak, chicken hearts and BBQ beef, from table to table. For dessert there's cinnamon-glazed pineapple, so delicious it may make you cry.
Although de Souza says he will root for the American team as well, Brazil will always have his heart. In his home country, de Souza says it's a party when the World Cup takes place. There are no pesky open container laws, so everyone is just drinking and barbecuing (similar to what is served at his restaurant), walking around celebrating life and summertime. Because Brazil has won the World Cup a record five times, the country expects nothing less than perfection from its team, especially now since they're hosting.
And if Brazil loses?
"Depression," de Souza says. "No one talks to anybody." ♦
---
SIPPING BRAZIL
Becoming acquainted with rum's harder-to-pronounce cousin, cachaça (pronounced "ka-SHAH-suh"), may be a good idea if you want to celebrate like the Brazilian locals hosting the 2014 FIFA World Cup.
Brazil's national cocktail, the caipirinha (pronounced "kai-pee-REEN-ya"), combines sugar, limes, and cachaça — hard liquor distilled from sugar cane — to create a refreshing yet powerful drink. Though similar to rum in that it is made from sugar cane, cachaça is fermented sugar-cane juice, left with a stronger scent and taste after it is distilled.
There are many different stories about the caipirinha's possible origins, some asserting that the cocktail was created by Brazilian sugar-cane plantation workers searching for the most appetizing way to drink cachaça. Others claim it originated while mixing ingredients to treat patients suffering from the Spanish flu.
No matter its exact origins, Spokane offers some places to try it for yourself. Mizuna Restaurant and Wine Bar (214 N. Howard) serves Novo Fogo cachaça and makes caipirinhas (or even strawberry caipirinhas) upon request. You can also sip a caipirinha while catching a match on the TV in the bar at Clover (911 E. Sharp).
— FRANNY WRIGHT
---
WHERE TO WATCH
Bing Crosby Theater (901 W. Sprague): USA vs. Portugal, Sun, June 22, 3 pm, $5/adults, $3/kids under 14
Borracho Tacos & Tequileria (211 N. Division): All matches during business hours
Geno's (1414 N. Hamilton): All matches, with happy hour food and drink specials during all U.S. games
Grille from Ipanema (611 Front Ave., CdA): All matches during business hours
Knockaderry (1011 W. Broadway): All matches during business hours
USA vs. Ghana
Mon, June 16, 3 pm, ESPN
USA vs. Portugal
Sun, June 22, 3 pm, ESPN
USA vs. Germany
Thu, June 26, 9 am, ESPN